Manila might retake control of China-held grid operator
'COMPREHENSIVE STUDY': Australia separately said it would provide surveillance drones to the Philippine coast guard and is considering taking part in joint drills
The Philippine government would take back control, if needed, of the company that runs the nation's power transmission network partly owned by State Grid Corp of China (國家電網), Philippine President Ferdinand Marcos Jr's office said.
Marcos met with Philippine Senator Raffy Tulfo who heads a committee investigating the situation at National Grid Corp of the Philippines (NGCP) following recent incidents of power outages in the Southeast Asian country.
Marcos backed Tulfo's proposal to "conduct a comprehensive study or hold hearings," Marcos' communications office said in a statement posted on its Facebook page on Wednesday.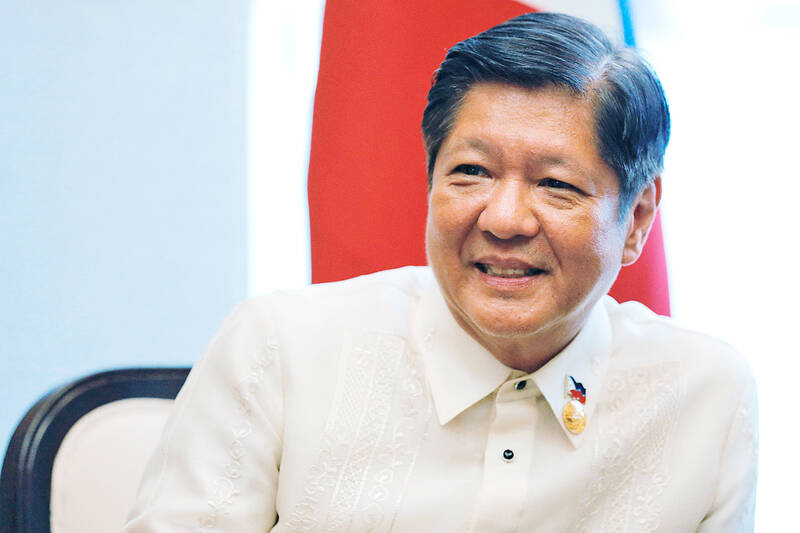 Philippine President Ferdinand Marcos Jr waits for a bilateral meeting on the sidelines of the ASEAN summit in Labuan Bajo, Indonesia, on Wednesday last week.
Photo: Reuters
Tulfo "aimed to examine the security aspect, particularly on who truly controls the corporation," the statement said.
"If necessary, the government will take back control of the entity," it said.
China's State Grid has a 40 percent stake in NGCP after winning, with other investors, a 25-year concession to run the Southeast Asian country's power transmission network in 2007.
The remaining 60 percent is held by Philippine investors including Synergy Grid & Development Phils Inc president Henry Sy Jr and Prudential Guarantee & Assurance Inc chairman Robert Coyiuto Jr.
Chinese Ministry of Foreign Affairs spokesman Wang Wenbin (汪文斌) did not directly respond to a question on the Philippines' plans when asked during a regular briefing in Beijing.
"China supports Chinese companies in expanding cooperation with the Philippine side and achieving mutually beneficial results," Wang said, adding that Manila is a "friendly partner" of Beijing.
Previous efforts by officials for the government to reclaim control of power grid operations did not prosper and the Philippine Department of Energy has proposed to amend a 2001 law to ban foreign-owned or foreign government-backed enterprises from engaging in power transmission.
At a hearing of the energy committee on Wednesday, Philippine Senator Risa Hontiveros said they might need to scrutinize "not just China's control of NGCP, but the performance of the company itself," adding that "this time we might need to see if we have to revoke its franchise."
NGCP is "ready to answer any and all questions raised concerning how we do business," company spokesperson Cynthia Alabanza said, adding that the firm had invested 300 billion pesos (US$5.38 billion) to strengthen the transmission system.
Separately, Australian Minister for Foreign Affairs Penny Wong (黃英賢) said her country would provide surveillance drones and other high-tech gear to the Philippine Coast Guard and is considering whether to take part in joint patrols in the disputed South China Sea.
Wong, who held talks in Manila with Philippine Secretary of Foreign Affairs Enrique Manalo, also thanked the Philippine government for its help in the discovery of a ship that sank during World War II in the northern Philippines, killing nearly 1,000 Australians "in a very sad chapter in our history."
The US and the Philippines, which are longtime treaty allies, have been holding talks on proposed joint naval patrols in the South China Sea, where China has fortified its vast territorial claims by transforming disputed reefs into missile-protected island bases and deploying Chinese Coast Guard and militia ships on constant patrols.
Aside from China and the Philippines, Taiwan, Vietnam, Malaysia and Brunei are also embroiled in the territorial disputes.
Additional reporting by AP
Comments will be moderated. Keep comments relevant to the article. Remarks containing abusive and obscene language, personal attacks of any kind or promotion will be removed and the user banned. Final decision will be at the discretion of the Taipei Times.