Coast guard ships to get radio overhaul
SPECIAL ALLOCATION: More than 100 vessels would receive new equipment for NT$3.2 billion under the Sea-Air Combat Power Improvement Plan, a source said
The Ministry of National Defense has allocated NT$3.2 billion (US$104.04 million) to upgrade the radio equipment of more than 100 coast guard ships and boats from this year through 2026, a source familiar with the matter said, speaking on condition of anonymity.
The allocation is part of a special budget of the Sea-Air Combat Power Improvement Plan, which allows the government to spend more than NT$240 billion on military programs.
The Chunghsan Institute of Science and Technology — which is responsible for obtaining radios for coast guard vessels — has called three conferences with potential contractors, the source said yesterday, adding that it expects to award the project in August.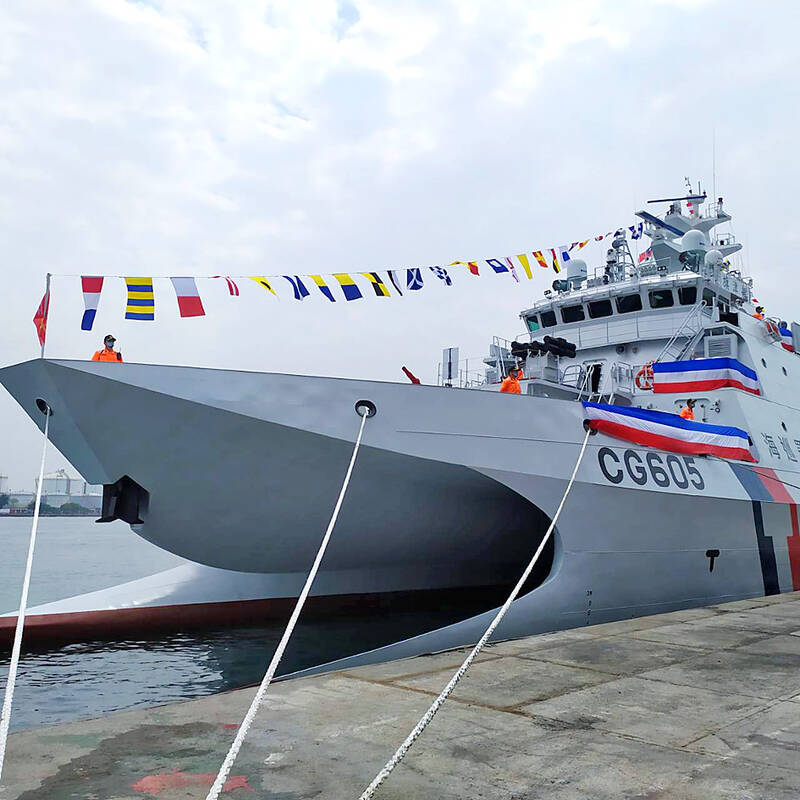 An Anping-class coast guard vessels is pictured in Kaohsiung on April 8 last year.
Photo: Hung Ting-hung, Taipei Times.
The institute's solicitation included 124 self-designed CS/PRC-37C manpack radios, 130 shipborne mobile radio base stations, equipment for two network operations centers, 10 repeaters and six dispatch counsels, they said, citing information disclosed to the private sector.
Although local media previously reported that the budget would only cover 12 Anping-class offshore patrol vessels, all 35-tonne-class boats and larger vessels would receive the upgrades, the source said.
More than 100 of the coast guard's 185 ships would receive them, they said.
The Hai Wei Project is under the sole control of the defense ministry under Article 4 of the National Defense Act (國防法), which gives it the authority to manage and direct the Coast Guard Administration (CGA) if it is mobilized for national defense, they said.
The Anping-class vessels are the coast guard's version of the navy's 600-tonne Tuo Chiang-class corvettes, which can be refitted with Hsiung Feng II and Hsiung Feng III cruise missiles, they said.
If war breaks out, the coast guard would be incorporated into the navy's Task Force 62 under the armed forces' regulations governing the defense of Taiwan proper and Penghu County, the source said.
A separate source said that a Taiwan-US coast guard partnership continues to emphasize disaster response and maritime law enforcement, despite Taipei's ambitions to transform its coast guard into a second navy.
Meanwhile, Institute for National Defense and Security Research analyst Shu Hsiao-huang (舒孝煌) said the CGA should lobby to be invited to the US-led Rim of the Pacific exercises, as it would allow the coast guard to broaden its participation in Indo-Pacific security matters through its relationship with the US Coast Guard, which regularly plays a significant part in the drills.
Additional reporting by Wu Su-wei
Comments will be moderated. Keep comments relevant to the article. Remarks containing abusive and obscene language, personal attacks of any kind or promotion will be removed and the user banned. Final decision will be at the discretion of the Taipei Times.