NATO planning to open Japan office to deepen relations
NATO is reportedly planning to open a liaison office in Japan to coordinate with close partners across the Indo-Pacific region including Australia, South Korea and New Zealand.
The plans are likely to attract criticism from the Chinese government, which has previously warned the Western alliance against extending "its tentacles to the Asia-Pacific."
Nikkei Asia yesterday reported that NATO and Japan plan to upgrade their cooperation on tackling cyberthreats, disinformation, and emerging and disruptive technologies.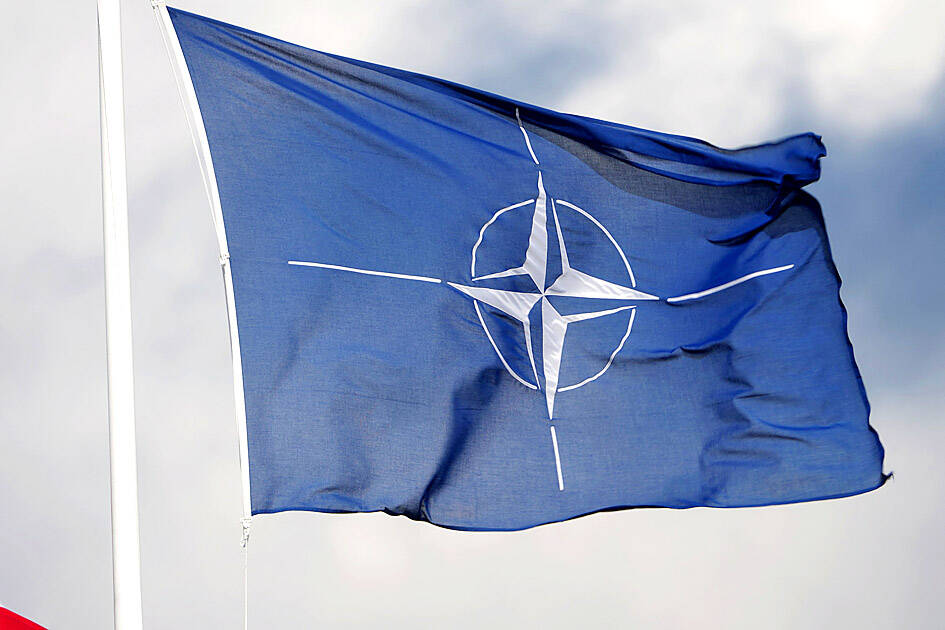 The NATO flag flutters at the Tapa military base in Estonia on Sunday.
Photo: Reuters
NATO's planned new liaison office in Tokyo — to open next year — would be the first of its kind in Asia and would allow the military alliance to conduct periodic consultations with Japan and key partners, such as Australia, Nikkei Asia reported.
The move would be consistent with NATO's increasing interest in developments in the Indo-Pacific. In its "strategic concept," unveiled last year, NATO said that China posed "systemic challenges" to Euro-Atlantic security, even though Russia remained "the most significant and direct threat to allies' security."
NATO vowed to "strengthen dialogue and cooperation with new and existing partners in the Indo-Pacific to tackle cross-regional challenges and shared security interests."
NATO accused China of carrying out "malicious hybrid and cyberoperations" and "remaining opaque about its strategy, intentions and military buildup."
Australian Prime Minister Anthony Albanese has accepted an invitation to travel to the next NATO summit in Vilnius in July.
"Australia shares with NATO members a commitment to supporting democracy, peace and security, and upholding the rule of law," a spokesperson for Albanese said last month.
Comments will be moderated. Keep comments relevant to the article. Remarks containing abusive and obscene language, personal attacks of any kind or promotion will be removed and the user banned. Final decision will be at the discretion of the Taipei Times.