NSB head warns of increased risk to Taiwanese from China's anti-spy law
Beijing's widened anti-espionage legislation is likely to pose heightened risks to Taiwanese visiting or transiting through China, National Security Bureau Director-General Tsai Ming-yen (蔡明彥) said yesterday.
The amended Counterespionage Law, which was passed by the Chinese National People's Congress on Wednesday last week and is to take effect in July, would have an impact on the safety of Taiwanese in China, Tsai told lawmakers at the Legislative Yuan in Taipei.
The legislation broadens the definition of spying to encompass being affiliated with "surrogates" of foreign intelligence agencies, "Internet-based espionage" and "activities that affect China's economic interests," he said.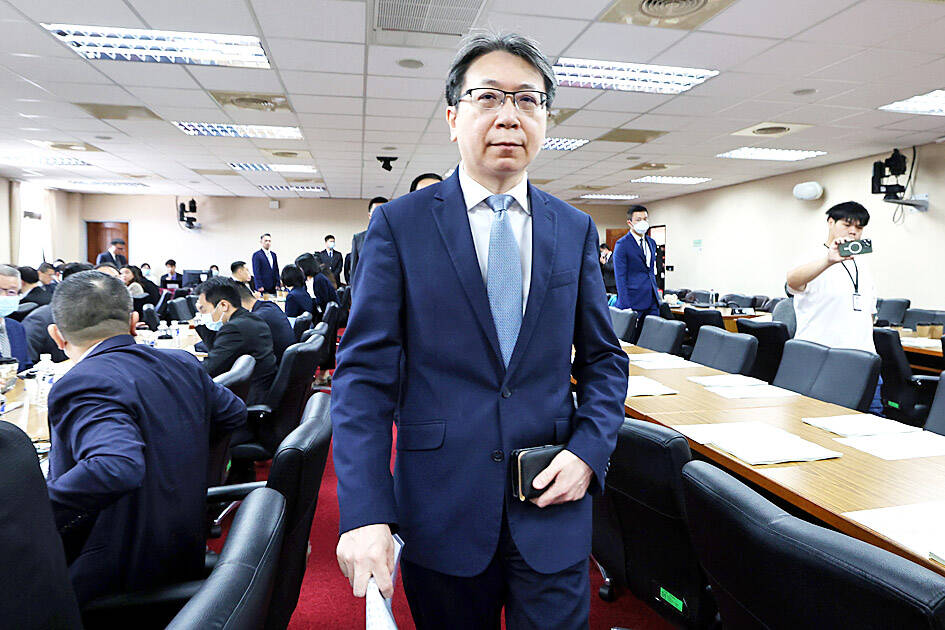 National Security Bureau Director-General Tsai Ming-yen is pictured at the Legislative Yuan in Taipei yesterday.
Photo: CNA
These developments are worrying for Taiwanese entrepreneurs, journalists and human rights advocates visiting or transiting through China, and could cause cross-strait relations to deteriorate, Tsai said.
Former military service members, civil servants, and former and current members of civic groups should be aware that their smartphones or other electronic devices could be searched by Chinese customs officials for incriminating images or texts, he said.
People could face legal repercussions for things they have done or said outside of China's jurisdiction, he told legislators.
Beijing's strategy of facilitating unification through cross-strait exchanges conflicts with its efforts to retain its hold on power by regulating interactions among Chinese, which would make dealing with China more fraught for Taiwanese, he said.
An official familiar with the matter said that the amended law's definition of spying can include speaking negatively about China on the Internet, conducting a public opinion survey, or taking cellphone pictures of rare earth mining sites.
Being overly solicitous to representatives of China's state-owned enterprises, hiring former employees of Chinese businesses, visiting Xinjiang or Tibet, or drawing a map for personal use could lead to criminal charges, the official said on condition of anonymity.
Taiwanese business owners could face false accusations of spying from their competitors, they added.
China's counterespionage act — which appeared to have been written to target foreign nationals — empowers authorities to define almost any undesirable activity as spying, National Cheng Kung University political science professor Hung Chin-fu (洪敬富) said.
The legislation is likely to have far-reaching consequences for China, including scaring off potential investors and sparking a capital flight from the country, he added.
Comments will be moderated. Keep comments relevant to the article. Remarks containing abusive and obscene language, personal attacks of any kind or promotion will be removed and the user banned. Final decision will be at the discretion of the Taipei Times.