'Smart' military base upgrades delayed
SECURITY: More than half of the 61 sites that should have had monitoring installed to prevent unauthorized access were not upgraded by the end of last year as planned
The Ministry of National Defense's smart monitoring system upgrades for important bases are severely behind schedule, the Legislative Yuan's Budget Center said in its latest report.
The ministry had commissioned the Chungshan Institute of Science and Technology (CSIST) to plan and install a "smart" monitoring system to prevent people from snooping around military bases or impersonating military officials to steal information, the report said.
The system has become necessary because personnel cuts have made it impossible for the patrols to fully cover the bases.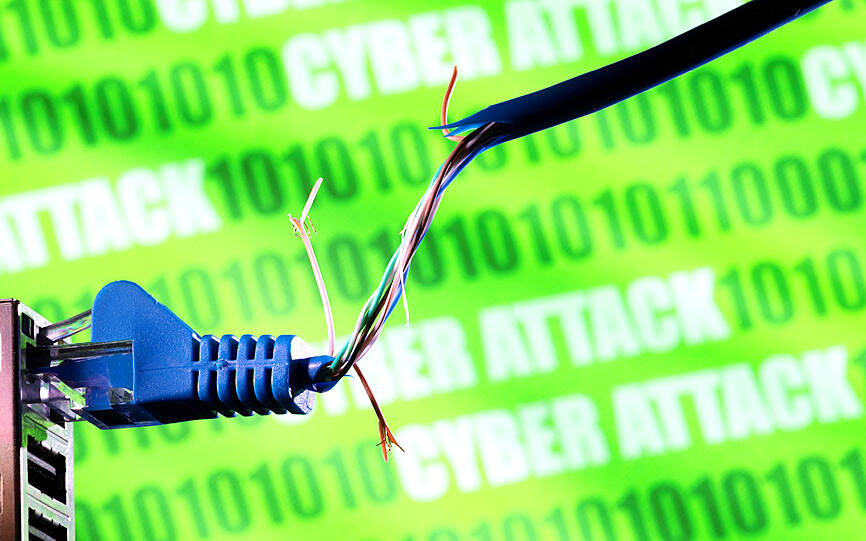 A broken Ethernet cable is pictured in an illustration photograph taken on March 8 last year.
Photo: Reuters
The ministry commissioned the CSIST to build the first batch of smart monitoring systems in 2019, to be used at the military's Information, Communications and Electronic Force Command, as well as bases with important electronic and communication offices.
In 2020, the ministry said it planned the second phase of the project, which would include essential bases across all three branches of the armed forces, bases for reservists and military police offices.
The project had funding of NT$12.8 billion (US$416.4 million at the current exchange rate), it said, adding that the second round of upgrades were to cover 283 bases and be completed from 2020 to 2025.
Upgrades to 61 bases should have been completed by last year, but the Budget Center said the ministry considered the project to be less than satisfactory from 2019 to 2021, citing a lack of completed system designs and specifications, a failure to complete designs based on military needs, and general issues resulting in delays.
More than half of the 61 sites that should have been upgraded by the end of last year were not completed on schedule, the center said.
The CSIST was also accused of using Chinese-made components during a review last year, resulting in funding for the project being frozen until the ministry provided a report on its investigations.
The most recent ministry report confirmed that the encryption driver for license plate identification and its wireless mice were made in China, adding that it has already swapped out the software.
The license plate identification system is touch-operated, and its function should not be significantly affected by the software change, a separate ministry report said.
The dispatch of personnel, equipment delivery delays and the relaunch of a CSIST equipment bid would further delay the process, it said, adding that it has completed inspections at nine facilities and has yet to inspect 17.
There are 35 facilities that are still installing the system, and the ministry it expects to reach last year's target by June, it said.
Comments will be moderated. Keep comments relevant to the article. Remarks containing abusive and obscene language, personal attacks of any kind or promotion will be removed and the user banned. Final decision will be at the discretion of the Taipei Times.