Australia says ties with China will not reach past highs
Australia is working to stabilize relations with China, but could not return to the thriving economic relationship with its biggest trading partner that existed 15 years ago, Australian Minister of Foreign Affairs Penny Wong (黃英賢) said yesterday.
Icy bilateral relations that deteriorated during the previous conservative Australian government's nine years in power have shown signs of improvement since Wong's Labor Party was elected almost a year earlier. Minister-to-minister meetings have resumed, China has recently lifted restrictions on Australian coal imports and Canberra hopes a three-year-old tariff barrier on Australian barley would be lifted within months.
However, Wong said that trade relations could not return to the level when conservative Australian prime minister John Howard was in power from 1996 until 2007. Trade was then separated from political and strategic priorities.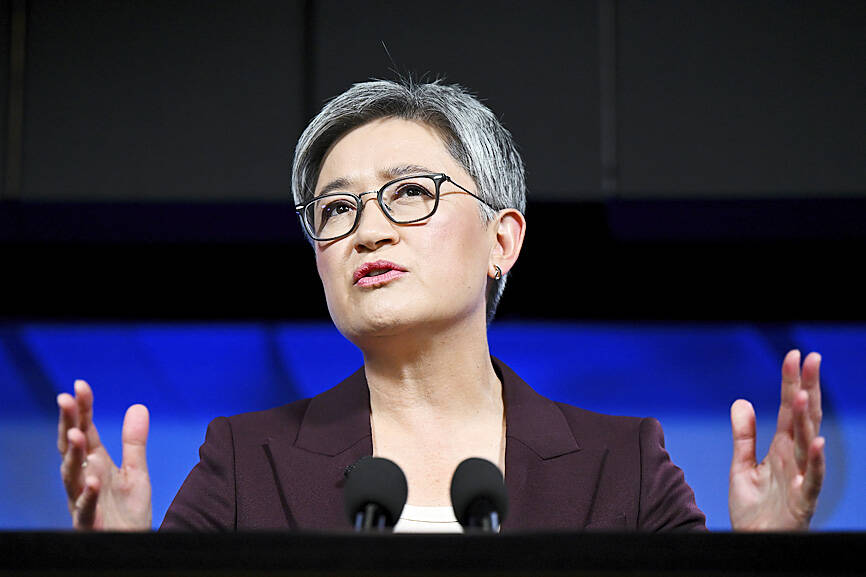 Australian Minister of Foreign Affairs Penny Wong addresses the National Press Club in Canberra yesterday.
Photo: AP
"I have been very clear that we seek to stabilize the relationship," Wong told the National Press Club. "I think both countries know we are not going to go back to where we were 15 years ago."
During Howard's era, "you could have your strategic relationship with the United States and the economic relationship with China and the worlds stayed separate — we don't live in that sort of world anymore," Wong said.
China has imposed a series of official and unofficial trade barriers to Australian exports in the past few years, particularly since the previous government angered Beijing by calling for an independent investigation into the causes of and responses to the COVID-19 pandemic.
While Australian businesses and state leaders were impatient for Chinese barriers to be lifted for exports including wine, wood and seafood, Wong described diversifying to other markets as "a smart thing to do."
"Even with increased diversification, China will remain Australia's largest trading partner for the foreseeable future, and a valued source of foreign investment, where it meets our national interests," she said.
Australia has blocked the sale of assets including critical infrastructure to Chinese companies on national security grounds in recent years.
Canberra is working toward maintaining a predictable, rules-based Asia-Pacific region "where no country dominates and no country is dominated," Wong said.
Comments will be moderated. Keep comments relevant to the article. Remarks containing abusive and obscene language, personal attacks of any kind or promotion will be removed and the user banned. Final decision will be at the discretion of the Taipei Times.