Jakarta drafting Taiwan pullout plan for citizens
The Indonesian government has drawn up a contingency plan to evacuate Indonesians in Taiwan amid rising concern over tensions across the Taiwan Strait.
The emergency plan would involve evacuating 350,000 Indonesian nationals from Taiwan as "geopolitical conditions surrounding Taiwan have not abated," Indonesian newspaper Kompas reported on Friday.
"To anticipate various possibilities, a contingency plan has been prepared in collaboration with the Indonesian Economic and Trade Office in Taipei," Indonesian Ministry of Foreign Affairs Director for Indonesian Citizen Protection Judha Nugraha was quoted as saying.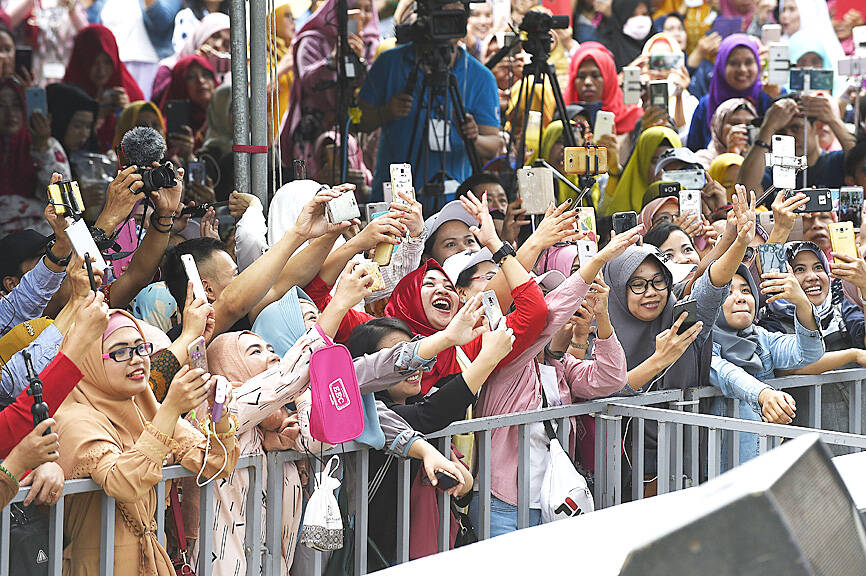 People take photographs of Indonesian entertainer Fildan Rahayu, not pictured, on stage at an Eid al-Fitr event in Daan Forest Park in Taipei on June 9, 2019.
Photo: Chen Chih-chu, Taipei Times
The plan was revealed after China last week conducted three days of military drills around Taiwan following President Tsai Ing-wen's (蔡英文) meeting with US House of Representatives Speaker Kevin McCarthy in California.
An evacuation would be complicated, as a possible siege by China would cut off flights and shipping, the only transportation options in and out of Taiwan, the paper said.
The evacuation of citizens should be organized by the governments of each country, Yuyun Wahyuningrum, the Indonesian representative on the ASEAN Intergovernmental Commission on Human Rights, was cited as saying.
ASEAN is preparing two declarations for the protection of migrant workers: one concerns the protection of migrant workers in times of crisis and the other of migrant workers on fishing vessels, he said.
Taiwan's stability is vital to Indonesia not only because of safety concerns for its citizens, but also because of economic reasons, with Taiwan accounting for about 7 percent of Indonesia's GDP in 2021, Kompas said.
If a conflict breaks out across the Taiwan Strait, it would affect global supply chains and its impact on shipping routes would shake Indonesia's economy, it added.
After cross-strait tensions mounted following then-US House speaker Nancy Pelosi's visit to Taiwan in August last year, Japan was also in talks with Taiwan regarding how to evacuate Japanese nationals from Taiwan in the event of a Chinese invasion.
The Philippines has also confirmed that it has a plan for evacuating its 150,000 citizens from Taiwan in case of an emergency.
The Ministry of Foreign Affairs yesterday said that Chinese intimidation of Taiwan has seriously endangered the security, peace and stability of the Taiwan Strait, and aroused grave concern from neighboring countries, such as Indonesia and the Philippines.
The ministry said it would maintain close contact with representative offices in Taiwan to exchange views on the regional situation and provide necessary assistance to protect their citizens in Taiwan.
Referring to remarks by Chinese Ambassador to the Philippines Huang Xilian (黃溪連) on Friday that security cooperation between the US and the Philippines is an intervention in the cross-strait situation that would endanger Filipino workers in Taiwan, the ministry said Huang is using Taiwan to stoke fear and cover up the fact that China is undermining regional peace and stability.
Comments will be moderated. Keep comments relevant to the article. Remarks containing abusive and obscene language, personal attacks of any kind or promotion will be removed and the user banned. Final decision will be at the discretion of the Taipei Times.