Europe ramps up stance on China
European foreign policy officials yesterday sought to present a tough stance against China's threats against Taiwan, after comments by French President Emmanuel Macron drew a backlash for being perceived as weak.
China has over the past few days held intense military drills around Taiwan.
German Minister for Foreign Affairs Annalena Baerbock, addressing the issue at a news conference in Beijing alongside Chinese Minister of Foreign Affairs Qin Gang (秦剛), said any attempt by China to control Taiwan would be unacceptable and would have serious repercussions for Europe.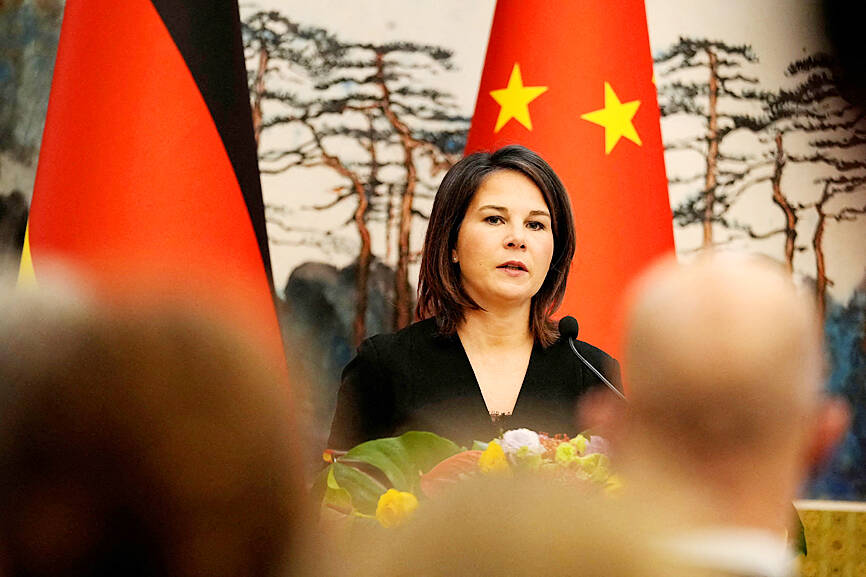 German Minister of Foreign Affairs Annalena Baerbock speaks at a joint news conference with Chinese Minister of Foreign Affairs Qin Gang in Beijing yesterday.
Photo: REUTERS
EU High Representative for Foreign Affairs and Security Policy Joseph Borrell echoed her remarks in a statement prepared for a speech due to be delivered in Beijing at the Center for China and Globalization think tank that had to be canceled due to him testing positive for COVID-19.
"A military escalation in the Taiwan Strait, through which ... 50 percent of world trade goes every day, would be a horror scenario for the entire world," Baerbock said, adding that it would have "inevitable repercussions" for European interests.
In interviews published after his trip to China last week, which was meant to showcase European unity on China policy, Macron cautioned against being drawn into a crisis over Taiwan driven by an "American rhythm and a Chinese overreaction."
While many of the remarks were not new, the timing of their publication, and their bluntness, annoyed many Western officials.
"The European Union's position [on Taiwan] is consistent and clear," Borrell said in his prepared remarks. "Any attempt to change the status quo by force would be unacceptable."
Borrell also said that Europe's future relationship with China depended on Beijing trying to use its influence to find a political solution to the Ukraine crisis.
"It will be extremely difficult, if not impossible, for the European Union to maintain a relationship of trust with China, which I would like to see, if China does not contribute to the search for a political solution based on Russia's withdrawal from the Ukrainian territory," Borrell said.
"Neutrality in the face of the violation of international law is not credible," he said, adding an appeal for Chinese President Xi Jinping (習近平) to speak with Ukrainian President Volodymyr Zelenskiy and for China to provide more humanitarian aid to Ukrainians.
Xi has met Russian President Vladimir Putin twice, but not spoken with Zelenskiy, since Russia invaded Ukraine.
China stated its opposition to attacks on civilians and on nuclear facilities in a position paper on Ukraine published in February, but it has refrained from openly criticizing Russia for its invasion.
"President Xi's visit to Moscow has demonstrated that no other country has a bigger influence on Russia than China," Baerbock said.
"It is good that China has signalled to get engaged in finding a solution, but I have to say clearly that I wonder why China so far has not asked the aggressor Russia to stop the war," she said. "We all know President Putin has the opportunity to do so any time he wants to."
Comments will be moderated. Keep comments relevant to the article. Remarks containing abusive and obscene language, personal attacks of any kind or promotion will be removed and the user banned. Final decision will be at the discretion of the Taipei Times.