US senator 'willing to fight for Taiwan'
AMBIGUITY NOT WORKING: Lindsey Graham called for a defense agreement with Taipei, as using US forces to defend Taiwan is 'in our national security interests'
US Senator Lindsey Graham on Sunday called on the US to keep an open mind about sending troops to defend Taiwan in the event of a Chinese attack.
In an interview on Fox News, he said that China's military exercises over the past few days are "setting conditions to blockade Taiwan in the coming months or weeks."
"We need to respond forcefully," he said.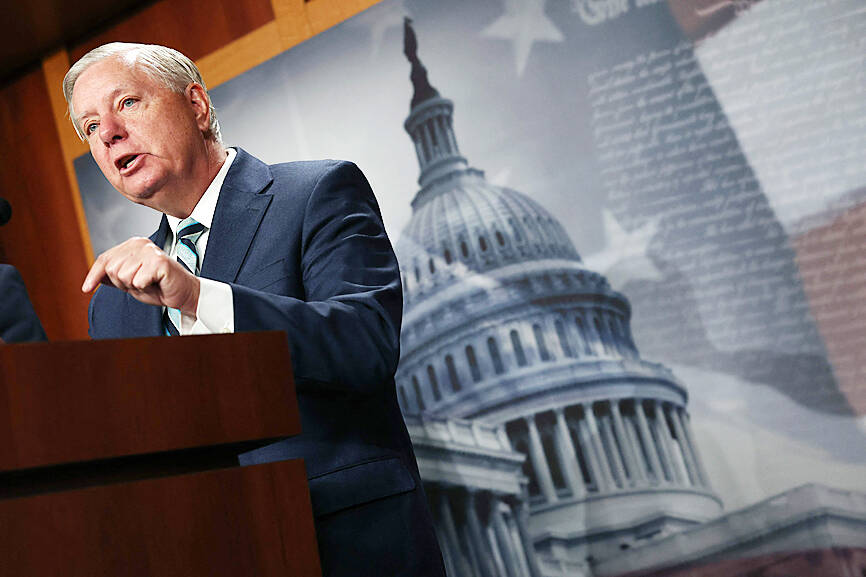 US Senator Lindsey Graham speaks at a news conference in Washington on March 29.
Photo: AFP
If China enforces a blockade, the US should cut off oil shipments to China from the Middle East, he said, adding the US should train Taiwanese more aggressively and deploy more forces in the region to deter China.
"I believe in a 'one China' policy, but I would be willing to fight for Taiwan," because it is a democracy that the US has supported for decades, Graham said.
"Strategic ambiguity is not working," he said, calling for a defense agreement with Taipei, as using US forces to defend Taiwan is "in our national security interests."
China on Saturday launched three days of drills around Taiwan in response to a meeting between President Tsai Ing-wen (蔡英文) and US House of Representatives Speaker Kevin McCarthy in California last week.
Minister of Foreign Affairs Joseph Wu (吳釗燮) yesterday said that using Tsai's stopover in the US as an excuse to conduct military drills would only exacerbate the antipathy of Taiwanese toward China.
The Ministry of Foreign Affairs strongly condemns China's intimidation as it contravenes the UN principle that international disputes should be resolved peacefully, Wu said at a meeting of the legislature's Foreign Affairs and National Defense Committee in Taipei.
Stopping over in the US on the way to visit Latin American allies is a long-term practice of Taiwanese presidents, rendering the Chinese excuse "invalid," he said.
Taiwanese bear no hostility toward China, but threatening Taiwan "will only cause the two sides of the Strait to drift further apart," he said, urging China to stop its military drills.
Nations around the world have repeatedly in the past two or three years highlighted the importance of peace and stability across the Taiwan Strait in statements issued after international summits, Wu said.
These nations oppose any attempt, particularly through force, to unilaterally change the cross-strait "status quo," so they would not approve of China's military harassment of Taiwan, he said.
Meanwhile, the ministry yesterday thanked the American Institute in Taiwan and the US Department of State for voicing support for Taiwan amid Beijing's provocations.
The US on Sunday urged China to exercise restraint and not change the "status quo," adding that it has enough resources to ensure peace and stability in the region.
It is a sovereign nation's fundamental right to send its head of state to visit other countries — an issue which China has no right to comment on, the ministry said in a statement.
Taiwan would continue to work with like-minded nations to curb authoritarianism, and ensure a free and open Indo-Pacific region, it added.
The ministry also thanked Belgian lawmaker Georges Dallemagne, cochair of the Belgium-Taiwan Friendship Group, for voicing support for Taiwan in an article published in the Liberty Times (the sister newspaper of the Taipei Times) yesterday.
An English version appears in today's Taipei Times on page 8.
"There is absolutely every reason to ... defend the 'status quo' of Taiwan," he wrote.
Comments will be moderated. Keep comments relevant to the article. Remarks containing abusive and obscene language, personal attacks of any kind or promotion will be removed and the user banned. Final decision will be at the discretion of the Taipei Times.