US Indo-Pacific forces watching for China backlash
The Joint Intelligence Operations Center of the US Indo-Pacific Command is operating under "a heightened state of vigilance" as the US braces for possible diplomatic and military backlash from China over President Tsai Ing-wen's (蔡英文) expected meeting with US House of Representatives speaker Kevin MacCarthy next week, the Washington Post reported yesterday.
The last time the center took such action was during then-US House of Representatives speaker Nancy Pelosi's visit to Taipei in August last year, command spokesman Kyle Raines was quoted as saying.
Intelligence personnel have heightened their watch for hostile actions and are preparing for an increase in information requests from commanders in the region, he said.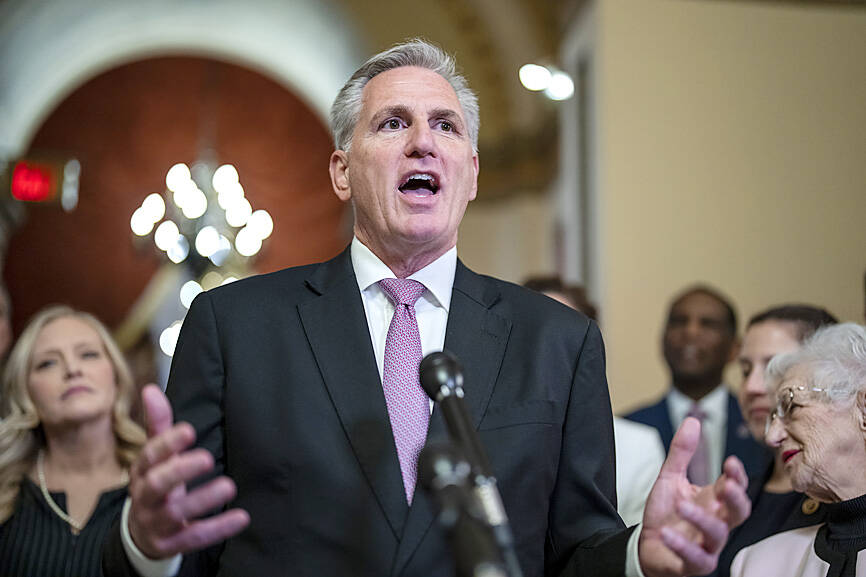 US House of Representatives Speaker Kevin McCarthy talks to reporters in Washington on Friday last week.
Photo: AP
Beijing's response could vary from harsh language, sanctions on MacCarthy and US officials, or a show of force that "matched or exceeded the dramatic display when missiles were fired over Taiwan" following Pelosi's visit, the Post said.
Tsai's anticipated meeting with McCarthy is likely seen by Beijing as less provocative than Pelosi's visit, and would "refrain from extreme aggression," a senior US intelligence official was cited as saying on the condition of anonymity.
However, the uncertainty over China's intentions indicate that the cross-strait situation is tense, the report said.
Tsai arrived in New York City on Wednesday afternoon for a two-night stay on her way to visit Central American diplomatic allies Guatemala and Belize, and on Wednesday next week is to arrive in Los Angeles where she is expected to meet with McCarthy during a two-night stay before returning to Taipei.
Tsai meeting the US House speaker outside of Taiwan has lessened the potential for an aggressive response by China, as opposed to what was seen after Pelosi's visit to Taipei, National Security Bureau Director-General Tsai Ming-yen (蔡明彥) said yesterday.
Tsai Ming-yen was responding to Chinese Nationalist Party (KMT) Legislator Charles Chen's (陳以信) questions at a meeting of the legislature's Foreign Affairs and National Defense Committee.
China is likely to behave more diplomatically in light of upcoming state visits to Beijing by officials from Malaysia, Singapore, Spain and France, along with European Commission President Ursula von der Leyen, he said.
The heads of these states said they would cancel their trips if China engages in reckless military activity, he added.
Beijing traditionally resorts to hostility whenever Taiwan makes significant diplomatic gains, Tsai Ming-yen said in response to a question from KMT Legislator Johnny Chiang (江啟臣).
The Chinese People's Liberation Army could heighten "war preparedness patrols" by military aircraft or conduct large-scale war games, Tsai Ming-yen said.
Although Taiwan cannot discount the possibility that China might move large concentrations of ships and aircraft around the nation upon Tsai Ing-wen's return, there is no evidence of that kind of activity happening now, he added.
Meanwhile, intelligence showed that China is paying protesters US$200 to gather at Tsai Ing-wen's hotel and other locations, Tsai Ming-yen told lawmakers.
Beijing mobilized a wide variety of groups, including Chinese immigrants, members of the Alliance for China's Peaceful Reunification and organized crime groups, in a bid to disrupt her transit through the US, he said.
The US has closely coordinated with Taiwan to ensure Tsai Ing-wen's safety, he said, adding that the New York and Los Angeles police departments are sharing information with the bureau.
Comments will be moderated. Keep comments relevant to the article. Remarks containing abusive and obscene language, personal attacks of any kind or promotion will be removed and the user banned. Final decision will be at the discretion of the Taipei Times.