US sees Taiwan as a global partner: AIT
GLOBAL PARTNERSHIPS: Tsai Ing-wen spoke with the New Jersey governor as the AIT head hailed Taiwanese expatriate civic and business leaders as essential to US diversity
The US is working with all of its partners, including Taiwan, to uphold key principles of democracy, American Institute in Taiwan Chair Laura Rosenberger said on Wednesday as she hosted President Tsai Ing-wen (蔡英文) in New York.
Rosenberger, who previously served as senior national security director for Taiwan and China to US President Joe Biden, assumed the new post on Monday last week.
She met Tsai on the tarmac at John F. Kennedy International Airport along with Representative to the US Hsiao Bi-khim (蕭美琴) before the visitors traveled to their hotel, where they were greeted by supporters waving Republic of China flags.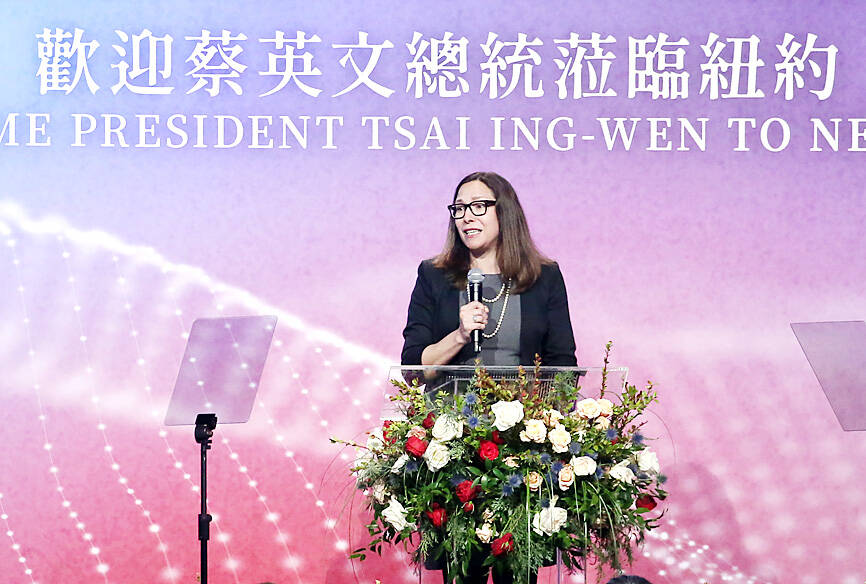 American Institute in Taiwan Chair Laura Rosenberger speaks at a banquet at The Glasshouse in New York on Wednesday attended by President Tsai Ing-wen, New Jersey Governor Phil Murphy, members of overseas Taiwanese communities and others.
Photo: CNA
Tsai is stopping over in New York on her way to visit diplomatic allies Guatemala and Belize for what is billed as the "Meeting democratic partners, fostering shared prosperity" tour.
Tsai later that evening attended a banquet at The Glasshouse event space for Taiwanese expatriates along with other guests, including Rosenberger, New Jersey Governor Phil Murphy and New York State Senator Iwen Chu (曲怡文).
During the banquet, Rosenberger hailed Taiwanese businesses and civic leaders in the US as critical to the diversity and richness of US society and the stability of unofficial Taiwan-US relations.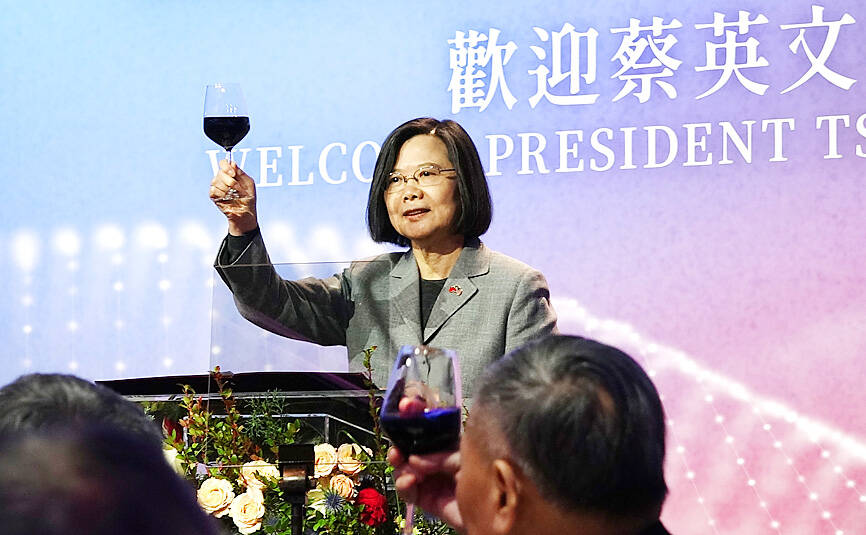 President Tsai Ing-wen makes a toast during a banquet at The Glasshouse in New York on Wednesday.
Photo: CNA
Describing Taiwan, the US' eighth-largest trading partner, as a "technological powerhouse," Rosenberger said she was excited about the recent launch of negotiations on the US-Taiwan Initiative for 21st-Century Trade, as well as expanding cooperation on critical supply chains by increasing investment and trade.
The US would work to build global partnerships that include Taiwan, she said.
This includes providing diplomatic assistance programs for Taiwan's partners, ensuring Taiwan's meaningful participation in international forums and working closely with like-minded partners to help them understand Taiwan's important role in the global economy, Rosenberger said.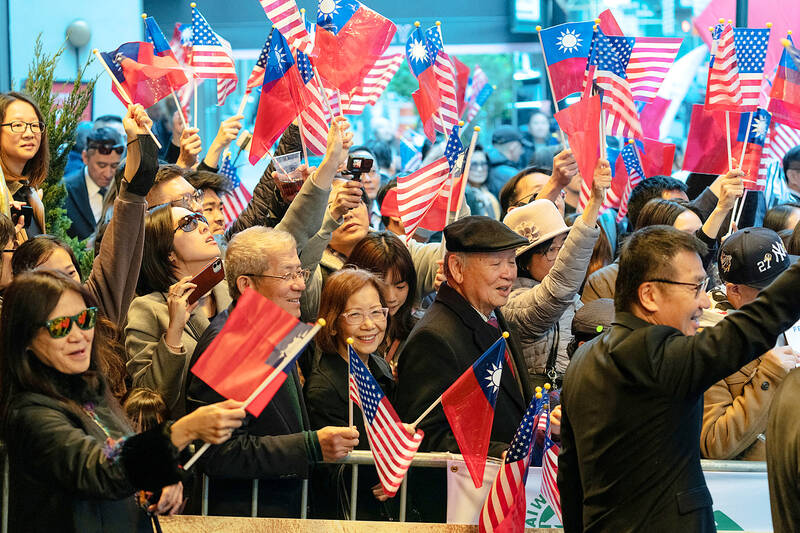 People greet President Tsai Ing-wen as she arrives at the Lotte Hotel in New York City on Wednesday.
Photo: Reuters
She also said that Taiwan is a symbol of democracy and shared values that the US is grateful to have as a partner.
Saying that maintaining peace and stability is the main driver of long-standing US policy, Rosenberger thanked Tsai for her commitment to peace, stability and prosperity for the US and the world.
Tsai thanked those in attendance for supporting Taiwan, saying that the nation would continue to uphold the values of freedom and democracy.
Taiwan has shown the world that it does not provoke or back down in the face of threats and pressure, Tsai said.
The more united Taiwanese are, the safer Taiwan will be, and a safer Taiwan means a safer world, she said.
When facing significant challenges, Taiwan is reassured that "we are stronger" when standing in solidarity with other democratic nations, she added.
Tsai also discussed the nation's growing international importance, as many countries around the world have sought partnerships with Taiwan for its role in the global supply chain.
Tsai cited Taiwan Semiconductor Manufacturing Co's (台積電) recent investment in Arizona as an example, which is a demonstration of continuing Taiwan-US economic cooperation.
During the event, Tsai also had a 30-minute conversation with Murphy, deputy secretary-general to the president Xavier Chang (張惇涵) said.
Tsai thanked the governor for attending the banquet and for his long-term support of Taiwan, Chang said.
She also expressed hope that Taiwan and New Jersey continue to deepen exchanges in technology, green energy and other fields, he added.
Murphy, who visited Taiwan multiple times while working in Asia, spoke about the deep friendship between Taiwan and New Jersey, whose many Taiwanese expatriates add to the state's vibrancy, the Central News Agency reported.
Murphy also said he fully supports Washington's effots to ensure peace and stability around Taiwan, and to keep lines of communication open, it reported.
Additional reporting by Chen Yun
Comments will be moderated. Keep comments relevant to the article. Remarks containing abusive and obscene language, personal attacks of any kind or promotion will be removed and the user banned. Final decision will be at the discretion of the Taipei Times.