No South China Sea settlement in Manila-Beijing talks
Philippine diplomats yesterday confronted their Chinese counterparts in closed-door talks with a slew of protests over China's aggressive behavior in the South China Sea, including targeting a Philippine coast guard ship with a military-grade laser, but no major resolution was reached on the issues, an official said.
Territorial disputes in the busy waterway have long loomed as a potential flashpoint in Asia and have become a sensitive front in the regional rivalry between China and the US.
Washington lays no claims in the contested waters, but has challenged Beijing's extensive claims including by deploying its warships and fighter jets and repeatedly warning that it would help defend the Philippines — a treaty ally — if Philippine forces, ships and aircraft were to be attacked. Taiwan, Vietnam, Malaysia and Brunei also have overlapping claims in the South China Sea, while Beijing claims it virtually in its entirety.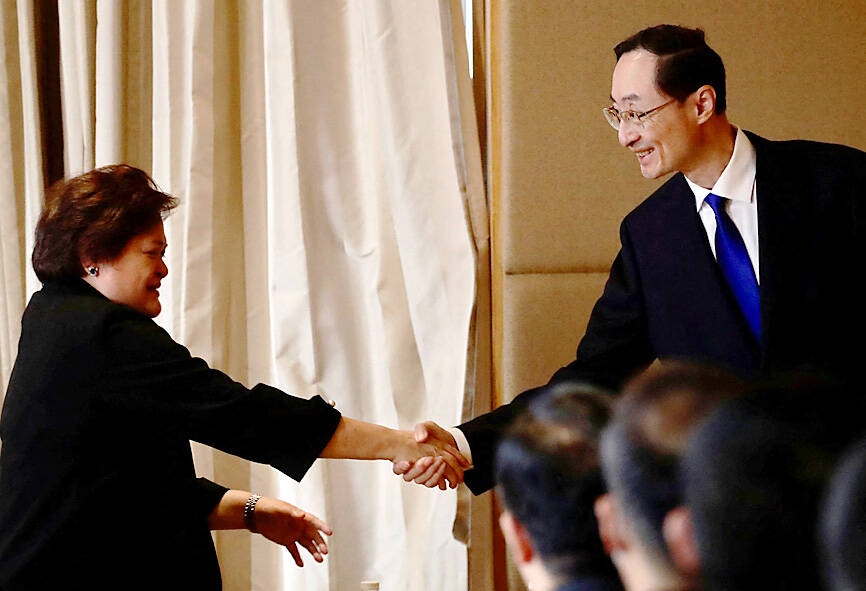 Philippine Undersecretary of Foreign Affairs Theresa Lazaro, left, shakes hands with Chinese Vice Minister of Foreign Affairs Sun Weidong during bilateral talks in Manila yesterday.
Photo: REUTERS
A Chinese delegation led by Vice Minister of Foreign Affairs Sun Weidong (孫衛東) held two days of talks starting on Thursday with Philippine counterparts led by Undersecretary of Foreign Affairs Theresa Lazaro and reviewed overall relations.
On the second day, the two sides focused on their territorial disputes, the Philippine Department of Foreign Affairs said.
The talks opened with both sides citing an agreement between Chinese President Xi Jinping (習近平) and Philippine President Ferdinand Marcos Jr, who made a state visit to China in early January, to manage the territorial conflicts amicably while enhancing economic ties and other aspects of a nearly half-century of diplomatic relations.
"We should not allow specific differences to define our bilateral relations or allow certain disputes to stand in the way of overall cooperation," Sun said in an opening speech before journalists were asked to leave the meeting room. "We need to properly deal with these issues through friendly consultations."
A Philippine official involved in the talks said that their country's diplomats outlined several incidents underscoring China's assertiveness in the disputed waters in the closed-door talks.
That included a Feb. 6 incident in which a Chinese coast guard ship aimed a military-grade laser that briefly blinded some crew members of a Philippine patrol vessel off a disputed shoal.
The Chinese representatives responded mostly by reiterating Beijing's claim of sovereignty in most of the South China Sea, where they said that Philippine vessels had intruded, the official said.
Some "practical cooperation agreements" were proposed to prevent a further escalation of the disputes, but those still needed to be vetted by other Philippine officials, the official said without providing other details.
The official spoke on condition of anonymity because of a lack of authority to publicly discuss what transpired in the meetings.
Shortly after the laser incident, the foreign affairs department condemned the Chinese coast guard's action and sent a strongly worded protest to the Chinese embassy in Manila.
Comments will be moderated. Keep comments relevant to the article. Remarks containing abusive and obscene language, personal attacks of any kind or promotion will be removed and the user banned. Final decision will be at the discretion of the Taipei Times.