Japan's PM offers Ukraine support as Xi backs Russia
Japanese Prime Minister Fumio Kishida yesterday made a surprise visit to Kyiv, stealing some of the global attention from Asian rival Chinese President Xi Jinping (習近平), who is in Moscow to show support for Russia against the West over the Kremlin's invasion of Ukraine.
The two visits, about 800km apart, highlighted the nearly 13-month-old war's repercussions for international diplomacy, as countries line up behind Moscow or Kyiv. They follow a week in which China and Japan both enjoyed diplomatic successes that have emboldened their foreign policy.
Kishida, who is to chair the G7 summit in May, is to meet Ukrainian President Volodymyr Zelenskiy in Kyiv, coinciding with Xi's talks with Russian President Vladimir Putin.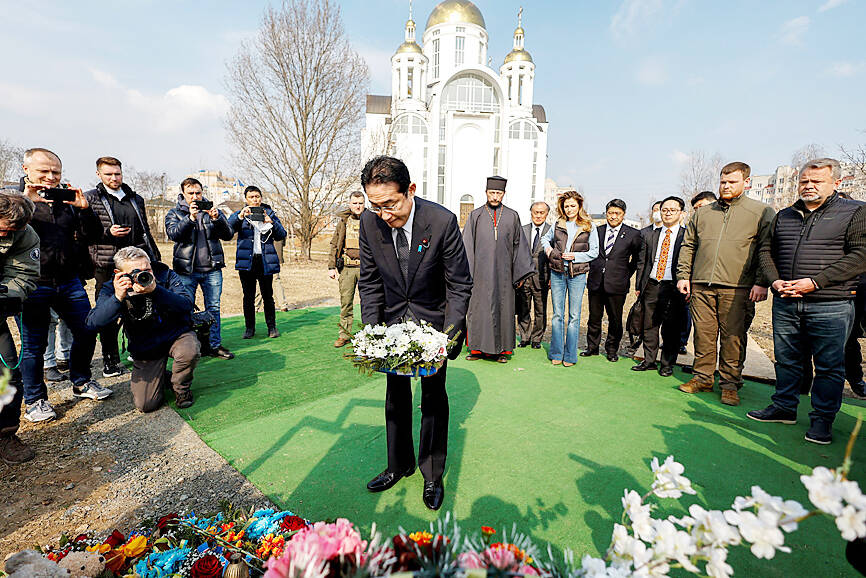 Japanese Prime Minister Fumio Kishida lays a wreath of flowers at a mass grave in Bucha, Ukraine, yesterday.
Photo: Reuters
Kishida will "show respect to the courage and patience of the Ukrainian people who are standing up to defend their homeland under President Zelenskiy's leadership, and show solidarity and unwavering support for Ukraine as head of Japan and chairman of G7," during his visit to Ukraine, the Japanese Ministry of Foreign Affairs said in announcing his trip to Kyiv.
Kishida told Ukrainian officials that he plans to "provide maximum support in order to restore peace in Ukraine."
Kyodo News said he visited a church in Bucha, a town outside Kyiv that became a symbol of Russian atrocities against civilians, laid flowers at a church there and paid his respects to the victims.
"I'm outraged by the cruelty. I represent the Japanese citizens to express my condolences to those who lost their lives," he was quoted as saying.
US Ambassador to Japan Rahm Emanuel wrote on Twitter about the "two very different European-Pacific partnerships" that unfolded yesterday.
"Kishida stands with freedom, and Xi stands with a war criminal," Emanuel said, referring to last week's action by the International Criminal Court, which issued an arrest warrant for Putin, saying it wanted to put him on trial for the abductions of thousands of children from Ukraine.
Japanese public television channel NTV showed Kishida riding a train from Poland to Kyiv. His trip comes just hours after he met with Indian Prime Minister Narendra Modi in New Delhi and a week after a breakthrough summit with South Korean President Yoon Suk-yeol.
In New Delhi, Kishida called for developing and Global South countries to raise their voices to defend the rules-based international order and help stop Russia's war.
Japan, which has territorial disputes over islands with China and Russia, is particularly concerned about the close relationship between Beijing and Moscow, which have conducted joint military exercises near Japan's coasts.
Comments will be moderated. Keep comments relevant to the article. Remarks containing abusive and obscene language, personal attacks of any kind or promotion will be removed and the user banned. Final decision will be at the discretion of the Taipei Times.