North Korea fires short-range ballistic missile
North Korea yesterday fired a short-range ballistic missile, Seoul's military said, its fourth show of force in a week as South Korea and the US stage major military drills.
Seoul and Washington have ramped up defense cooperation in the face of growing military and nuclear threats from the North, which has conducted a series of increasingly provocative banned weapons tests in the past few months. South Korea and the US are in the middle of 11 days of joint drills known as Freedom Shield, their largest in five years.
North Korea views all such exercises as rehearsals for an invasion, and has repeatedly said it would take "overwhelming" action in response.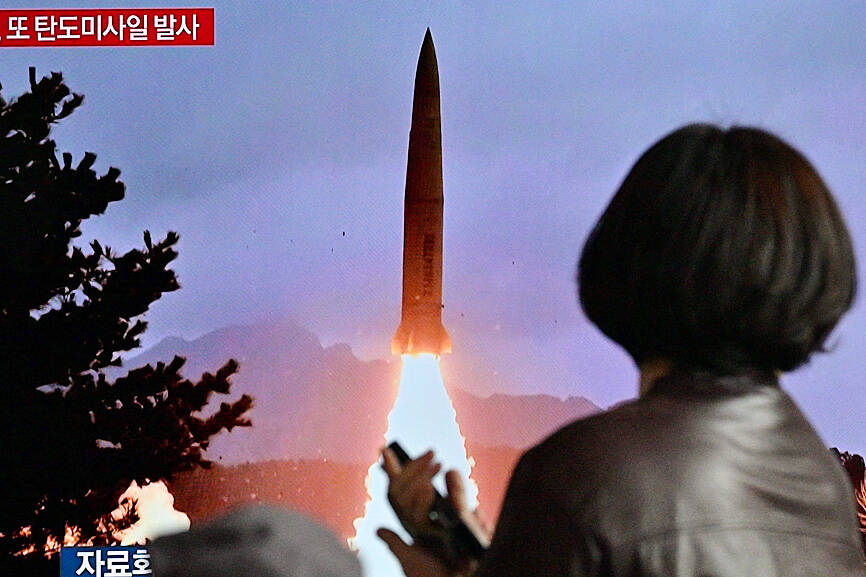 A woman walks past a TV showing a news broadcast with file footage of a North Korean missile test at a railway station in Seoul yesterday.
Photo: AFP
"Our military detected one short-range ballistic missile fired from around the Tongchang-ri area in North Pyongan province at 11:05am towards the East Sea," the South Korean Joint Chiefs of Staff (JCS) said, referring to the body of water also known as the Sea of Japan.
The missile appeared to have fallen outside Japan's exclusive economic zone, Kyodo News reported, citing unnamed government sources.
The missile flew 800km and was under analysis by US and South Korean intelligence, the JCS said in a statement, calling the launch "a serious provocation" that contravened UN sanctions.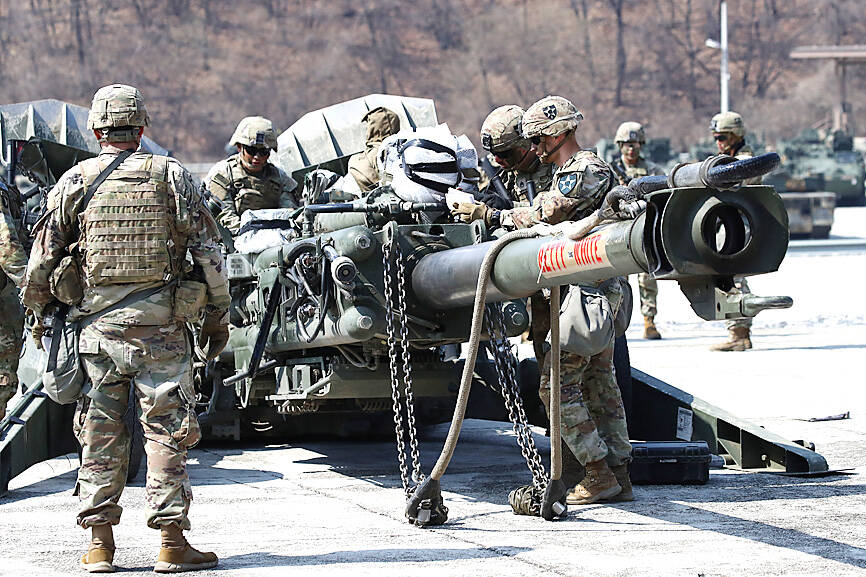 US soldiers from the Second Infantry Division work on a M777 howitzer during a field artillery battalion gun raid exercise as a part of the joint Freedom Shield exercise with South Korea at Rodriguez Range in Pocheon yesterday.
Photo: EPA-EFE
"Our military will maintain a solid readiness posture based on its ability to overwhelmingly respond to any provocation by North Korea, while carrying out intensive and thorough combined exercises and drills," it said.
Tokyo also confirmed the launch, with Japanese Vice Minister of Defense Toshiro Ino telling reporters that Japan had "lodged a vehement protest to and strongly condemned [North Korea] through our embassy in Beijing."
In Taipei, the Ministry of Foreign Affairs in a statement yesterday condemned the North for undermining regional peace and stability.
Since last year, North Korea's frequent missile launches and preparations for nuclear tests have heightened tensions in the Korean Peninsula and the Indo-Pacific region, the ministry said.
As democratic partners in the Indo-Pacific region, Taiwan and South Korea face military threats from communist dictatorships, it said.
Taiwan would continue to monitor the North's provocations and cooperate with like-minded countries to promote peace, prosperity and denuclearization of the Korean Peninsula, as well as to curb authoritarianism, it added.
The South Korean Ministry of National Defense said hours after the launch that it had staged joint air drills with the US featuring at least one US B-1B long-range bomber.
The missile launch came a day after North Korean state media reported that more than 800,000 young North Koreans had volunteered to join the army to fight "US imperialists."
On Thursday, Pyongyang test-fired its largest and most powerful intercontinental ballistic missile, the Hwasong-17.
The UN Security Council is today expected to hold an emergency meeting about the launch at the request of the US and Japan, Yonhap news agency reported.
Additional reporting by Liu Tzu-hsuan
Comments will be moderated. Keep comments relevant to the article. Remarks containing abusive and obscene language, personal attacks of any kind or promotion will be removed and the user banned. Final decision will be at the discretion of the Taipei Times.