Legislators agree to ease some rules for residency
Lawmakers across party lines have reached a consensus on some articles of a draft amendment that would loosen requirements for permanent residency.
The legislature's Internal Administration Committee is to meet today to continue its review of draft amendments to the Immigration Act (入出國及移民法). Committee members have so far reached a consensus on some parts of the amendment, including the required length of stay in Taiwan for people to be eligible for permanent residence.
Under the amendment, holders of an Alien Permanent Resident Certificate would no longer be required to have lived in Taiwan for 183 days of every year, as long as they have been in Taiwan for that length of time on average over five years, the committee said.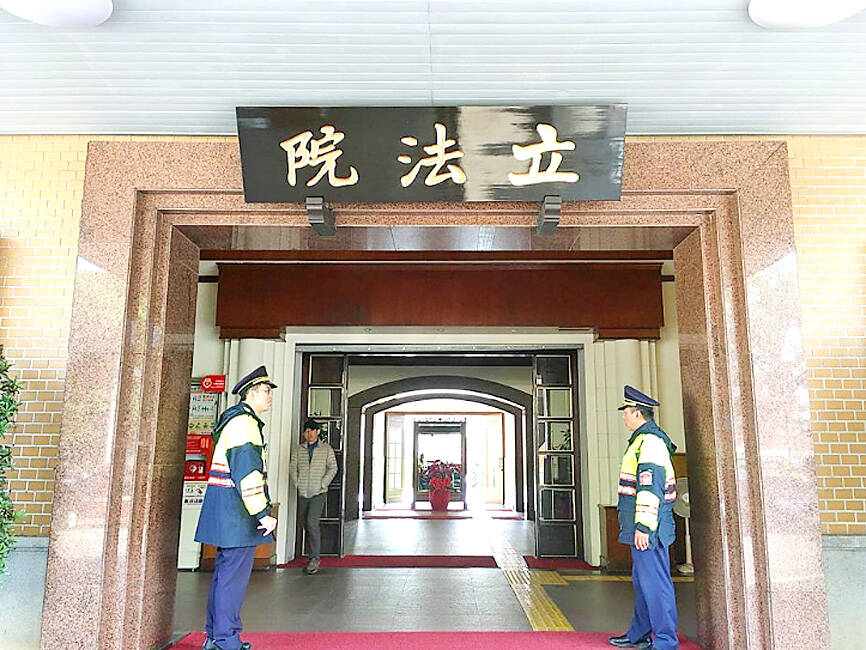 Police guard an entrance to the Legislative Yuan in Taipei in an undated photograph.
Photo: Lin Liang-sheng, Taipei Times
This would add a degree of flexibility for foreign residents who stay in the country for longer periods in some years, but in other years go abroad for work or family matters, it said.
Committee members also reached an agreement on a stipulation that would change the rules for Taiwanese who do not have household registration in Taiwan (for example, those born abroad to Taiwanese parents).
Currently, they need to be in Taiwan for one year prior to applying for permanent residency, but the amendment would reduce the required length of stay to 335 days.
This would allow them to spend one month outside the country, in case there is a family emergency or other issue, the committee said.
Lawmakers also agreed to change a rule that affects foreigners who have divorced a Taiwanese if they have children in Taiwan from the marriage.
The current regulations stipulate that foreign divorcees can continue to reside in Taiwan only if they obtain custody of their dependent children after divorce. This would be annulled under the amendment.
Foreign divorcees who divorced due to domestic violence and have not remarried would also be allowed to continue their residence.
Comments will be moderated. Keep comments relevant to the article. Remarks containing abusive and obscene language, personal attacks of any kind or promotion will be removed and the user banned. Final decision will be at the discretion of the Taipei Times.