Joe Biden says ICC arrest warrant for Putin justified
US President Joe Biden on Friday said it was justified that the International Criminal Court (ICC) had announced an arrest warrant for Russian President Vladimir Putin on the war crime accusation of unlawfully deporting Ukrainian children.
The court, based in The Hague, Netherlands, said that it had also issued a warrant for Russian Presidential Children's Rights Commissioner Maria Lvova-Belova on similar charges.
Moscow dismissed the orders as "void."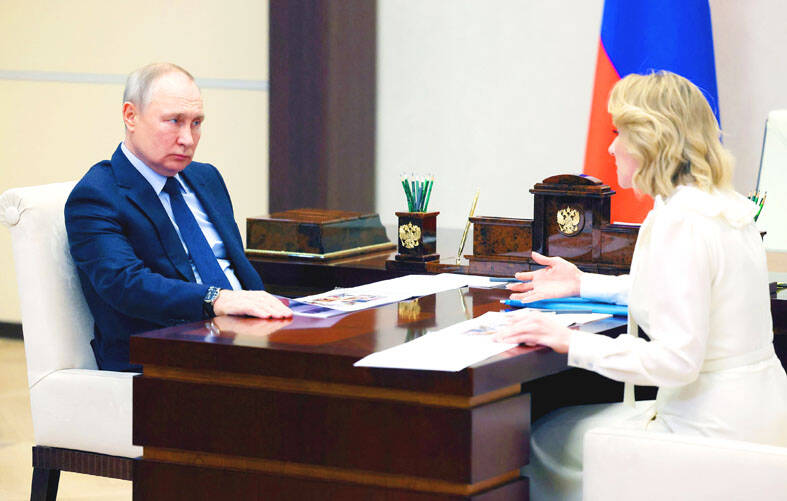 Russian President Vladimir Putin, left, talks with Russian Presidential Commissioner for Children's Rights Maria Lvova-Belova at the Novo-Ogaryovo state residence outside Moscow on Feb. 16.
Photo: REUTERS / Sputnik / Mikhail Metzel
Russia is not a party to the ICC so it was unclear if or how Putin could ever end up in the dock.
War-battered Ukraine welcomed the ICC announcement, with Ukrainian President Volodymyr Zelenskiy hailing the "historic decision."
The court's shock notice came hours after other news with the potential to significantly impact Russia's war on Ukraine, including a planned Moscow visit by Chinese President Xi Jinping (習近平) and more fighter jets for Kyiv's forces.
More than 16,000 Ukrainian children have been deported to Russia since the invasion began on Feb. 24 last year, with many allegedly placed in institutions and foster homes, the Ukrainian government said.
ICC Prosecutor Karim Khan said that Putin was now liable for arrest if he sets foot in any of the court's more than 120 member states.
He said the arrest warrants were "based upon forensic evidence, scrutiny and what's been said by those two individuals."
"The evidence we presented focused on crimes against children. Children are the most vulnerable part of our society," Khan said.
The ICC said that its judges found there were "reasonable grounds" to suspect Putin's criminal responsibility and grant Khan's application for the warrants, which were filed on Feb. 22.
ICC President Piotr Hofmanski said the execution of the warrants "depends on international cooperation."
Biden said the warrant against Putin was justified, because he "clearly committed war crimes."
While the US does not recognize the court, Biden told reporters at his Delaware home that the ICC "makes a very strong point" to call out the Russian president for his actions in ordering the invasion of Ukraine.
During a meeting with Putin in the middle of last month, Lvova-Belova said she had adopted a 15-year-old child from the devastated Ukrainian port city of Mariupol.
"Now I know what it means to be a mother of a child from Donbas — it is a difficult job, but we love each other, that is for sure," she told Putin.
She added that "we evacuated children's homes into safe areas, arranged rehabilitation and prosthetics for them and provided them with targeted humanitarian assistance."
The arrest warrant for Putin, a sitting head of state of a UN Security Council member, is an unprecedented step for the ICC.
Set up in 2002, the ICC is a court of last resort for the world's worst crimes, when countries cannot or will not prosecute suspects.
Additional reporting by AP
Comments will be moderated. Keep comments relevant to the article. Remarks containing abusive and obscene language, personal attacks of any kind or promotion will be removed and the user banned. Final decision will be at the discretion of the Taipei Times.