Election meddling by CCP feared
COGNITIVE WARFARE: Beijing might double down on its efforts, National Security Council Secretary-General Wellington Koo said, calling for unity against the CCP
The Chinese Communist Party's (CCP) cognitive warfare efforts against Taiwan have increased over the past few years, and Beijing is expected to attempt to intervene in next year's presidential and legislative elections, National Security Council Secretary-General Wellington Koo (顧立雄) said yesterday.
Koo made the remarks at an annual seminar held by the Lei Chen Foundation for Democracy and Human Rights.
Democracy is facing challenges worldwide, Koo said, citing a report published on March 2 by the University of Gothenburg's Department of Political Science.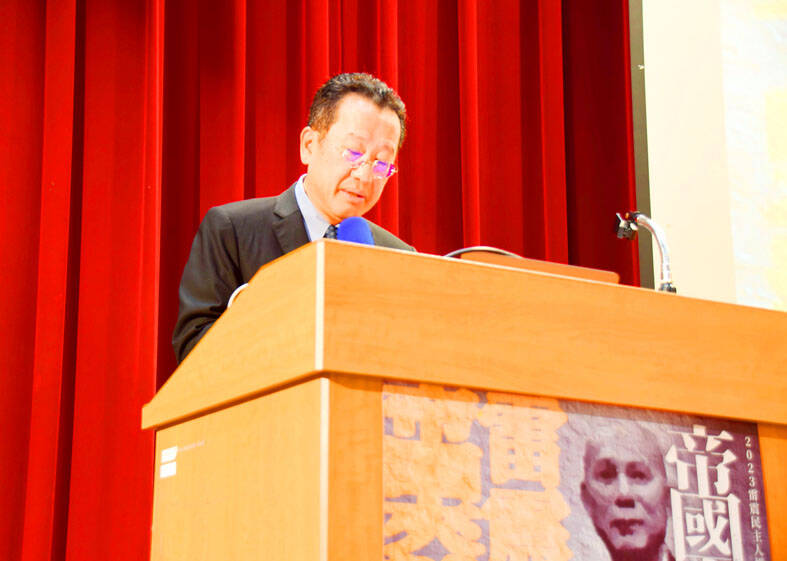 National Security Council Secretary-General Wellington Koo speaks at a symposium in Taipei yesterday.
Photo: CNA
The report by the Swedish university highlighted that 72 percent of the global population, or about 5.7 billion people, live under authoritarian rule, Koo said.
"The level of democracy enjoyed by the average world citizen in 2022 is back to 1986 levels," Koo cited the report as saying.
In terms of democratic freedoms, Taiwan ranks 30th globally and third in Asia, but as the nation is in the first island chain and at the center of a geopolitical confrontation between the US and China, its democratic way of life is greatly challenged, Koo said.
Escalating tensions in and near the Taiwan Strait should be a warning for the world, he said, adding that China not only attempts to compete with the US, but also seeks to challenge the world order.
Koo said Washington's plan to establish military bases in the Philippines is a response to the Chinese threat, as the US seeks to deter Beijing from spreading its autocratic system in the Indo-Pacific region.
Countries that have long hoped that China would maintain a "peaceful rise" have increasingly become aware of the threat and issued clear warnings regarding Chinese aggressions against Taiwan, Koo said.
Taipei's primary goal is to maintain peace and stability in the Taiwan Strait, safeguard Taiwan's hard-won democratic way of life and ensure that Taiwanese determine their own future, Koo said.
Taiwan is looking to deepen international collaborations and form closer ties with its democratic allies, Koo said.
Even though democracy is inherently fragile against manipulation by autocratic states, as long as Taiwanese remain united, democracy would be the aegis of our country, Koo said.
Comments will be moderated. Keep comments relevant to the article. Remarks containing abusive and obscene language, personal attacks of any kind or promotion will be removed and the user banned. Final decision will be at the discretion of the Taipei Times.