Xi to meet Putin as Beijing seeks bolder global role
AFTER UKRAINE CALL: The planned visit to Moscow was announced shortly after China's top diplomat told his counterpart in Kyiv about Beijing's 'fair stance'
Chinese President Xi Jinping (習近平) is to visit Russia from Monday to Wednesday, an apparent show of support for Russian President Vladimir Putin amid sharpening tensions with the West over Moscow's invasion of Ukraine and the latest sign of Beijing's emboldened diplomatic ambitions.
The Ukraine war is expected to dominate Putin and Xi's discussions.
China has refused to condemn Moscow's aggression and sought to project itself as neutral in the conflict, even while Beijing last year declared that it had a "no-limits" friendship with Russia.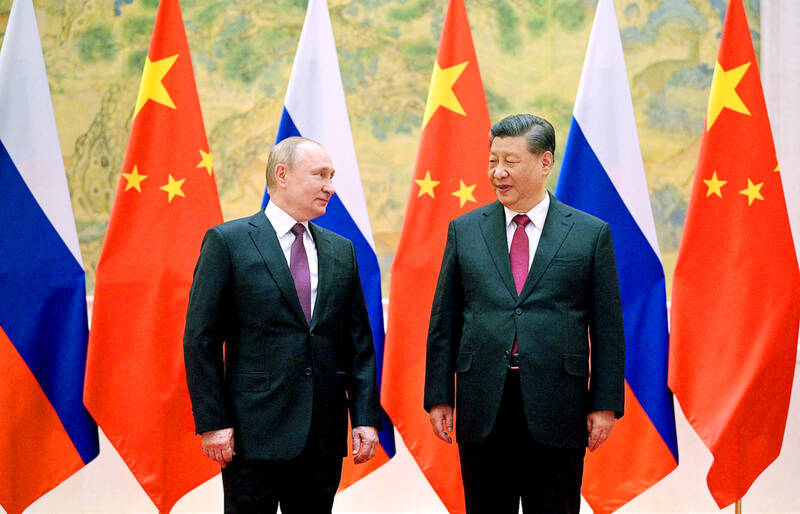 Chinese President Xi Jinping welcomes Russian President Vladimir Putin to a meeting in Beijing on Feb. 4 last year.
Photo: REUTERS
China and Russia yesterday announced Xi's trip to Moscow, shortly after Chinese Minister of Foreign Affairs Qin Gang (秦剛) held a teleconference with Ukrainian Minister of Foreign Affairs Dmytro Kuleba, telling him that China has "always upheld an objective and fair stance on the Ukraine issue."
Xi's visit is expected to offer a diplomatic shot in the arm for Putin, as Western leaders have sought to isolate him over the war.
China's refusal to condemn Russia while denouncing Western sanctions and accusing NATO and the US of provoking Putin's military action has irked Washington as it competes with Beijing for influence.
Kremlin spokesman Dmitry Peskov said that Putin and Xi would have a one-on-one meeting over an informal dinner on Monday, while broader talks involving officials from both countries are scheduled for Tuesday.
Peskov did not provide details about the discussions.
During the war in Ukraine, China has said the sovereignty and territorial integrity of all countries should be respected.
However, it remains unclear whether its position is intended to position China as a neutral peacemaker or suggests Beijing sympathizes with Moscow's claims to seized Ukrainian territory.
Ukraine has listed Russia's withdrawal from the occupied areas as the main condition for peace.
After the call with Qin, Kuleba wrote on Twitter: "I underscored the importance of [Ukrainian President Volodymyr Zelenskiy's] peace formula for ending the aggression and restoring just peace in Ukraine."
Kuleba later in the day spoke with US Secretary of State Antony Blinken.
Beijing's apparent deeper dive into Ukraine issues follows its success in brokering talks between Iran and Saudi Arabia.
Last week, the two countries agreed to restore their diplomatic ties after years of tensions.
The agreement cast China in a leading role in Middle Eastern politics, a part previously reserved for long-time global heavyweights such as the US.
On the back of the Iran-Saudi Arabia deal, Xi called for China to play a bigger role in managing global affairs.
Comments will be moderated. Keep comments relevant to the article. Remarks containing abusive and obscene language, personal attacks of any kind or promotion will be removed and the user banned. Final decision will be at the discretion of the Taipei Times.