Taipower rates to rise 11% on average
MOST HOUSEHOLDS UNAFFECTED: Private users that consume less than 700kWh and small businesses would be exempted from rate increases amid higher fuel costs
The Ministry of Economic Affairs yesterday raised electricity rates by an average of 11 percent on heavy users, while rates for most household and schools are to stay unchanged.
The rate increases would be halved for some heavy users in sectors affected by a downturn in the economy, the ministry added.
Industrial and service sector organizations expressed regret about the rate increases, saying they would drive up costs amid an economic slowdown.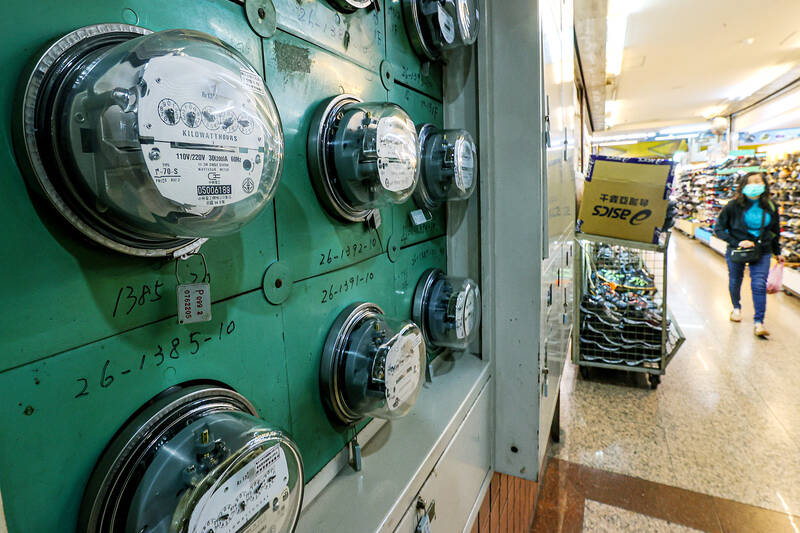 A woman walks by electricity meters on a wall in Taipei yesterday.
Photo: CNA
The rate increases came after policymakers sought to keep state-run Taiwan Power Co (Taipower, 台電) afloat, without sapping efforts to tame inflation or exacerbating the financial burden on the public.
"The electricity review committee decided to raise electricity rates as international fuel costs remain high," the ministry said in a statement.
For every kilowatt hour (kWh) of electricity Taipower sold last year, it incurred a loss of NT$1.2, the ministry said, adding that the utility's debt remained high despite government support.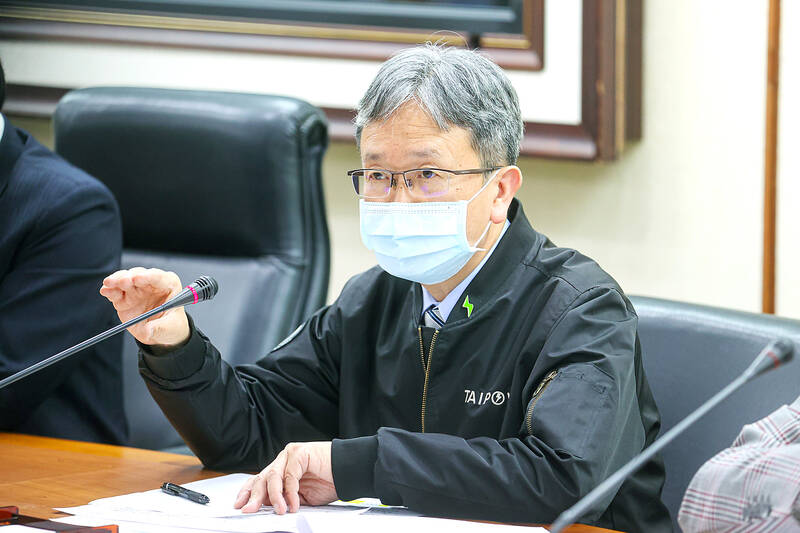 Taiwan Power Co president Wang Yao-ting attends a news conference in Taipei yesterday after experts from a special task force agreed to an average 11 percent hike in electricity rates.
Photo: CNA
The committee said that rates would rise 17 percent for high-voltage and ultra-high-voltage electricity users, which are mainly manufacturers of tech and non-tech products.
Rates for low-voltage electricity users, mainly businesses focused on domestic demand, would be raised 10 percent, it said.
The rate adjustment would not affect households that consume less than 700kWh of electricity per month and businesses that use less than 1,500kWh, it said.
This comprises 90 percent of households and 80 percent of businesses, it said.
Schools and companies in the agricultural and fisheries sectors would also not be affected, the ministry added.
Policymakers said the adjustment aims to encourage energy conservation and takes into account the needs of disadvantaged groups.
The rate increases would be halved for companies whose power consumption fell 10 percent year-on-year in the second half of last year, when global inflation and monetary tightening started to weigh on exports, the ministry said.
Electricity rates would rise 3 percent for households that use 701kWh to 1,000kWh of electricity per month and stores that consume 1,501kWh to 3,000kWh, it said.
Households that use more than 1,000kWh of power per month would face 10 percent higher rates and commercial facilities that use more than 3,000kWh would face a 5 percent increase, it said.
The Taipei-based Chinese National Federation of Industries (全國工業總會) called the rate increases regrettable.
"The 17 percent hike for heavy industrial users is steeper than last year's 15 percent increase," the federation said, adding that the higher rates would affect "companies that struggle with inventory corrections and business slowdown."
The rate increases should be halved for more companies facing economic hardship, it added.
The Third Wednesday Club (三三會), a trade group whose membership is limited to the top 100 firms in individual sectors, voiced concern that the rate increases would weaken local companies' global competitiveness and affect planned investments in Taiwan.
The Taipei-based Chinese National Association of Industry and Commerce (工商協進會) said the government should not raise electricity rates, as it would render its efforts to curb inflation futile.
Comments will be moderated. Keep comments relevant to the article. Remarks containing abusive and obscene language, personal attacks of any kind or promotion will be removed and the user banned. Final decision will be at the discretion of the Taipei Times.