Japan and South Korea renew ties at Tokyo summit
Japan and South Korea agreed to resume regular visits between their leaders and take steps to resolve a trade dispute at a highly anticipated summit yesterday, in what Japanese Prime Minister Fumio Kishida called a "big step" toward rebuilding the two nations' security and economic ties as they try to overcome a century of difficult history.
The summit could revise the strategic map of northeast Asia. The two US allies, who have long been at odds over their history, are seeking to form a united front, driven by shared concerns about a restive North Korea and a more powerful China.
Kishida and South Korean President Yoon Suk-yeol stressed the importance of improved ties as they opened the summit, hours after a North Korean missile launch, and encounters between Japanese and Chinese vessels in disputed waters.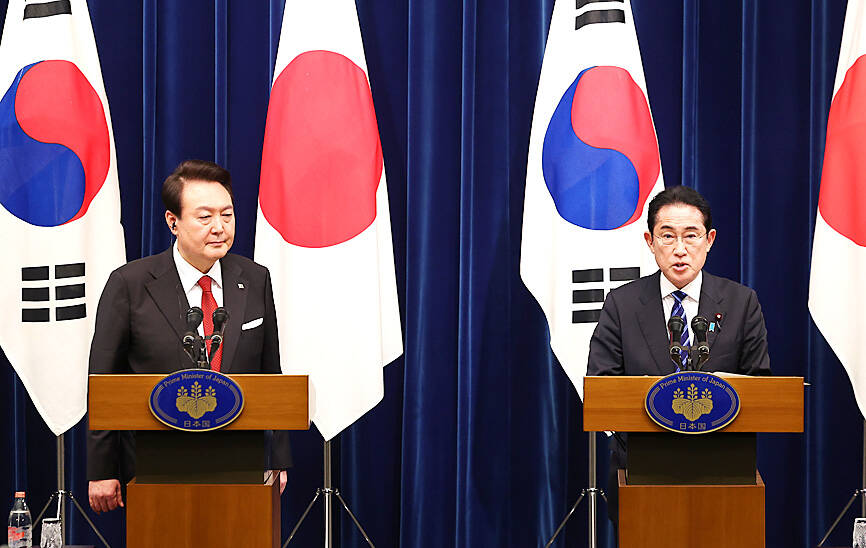 Japanese Prime Minister Fumio Kishida, right, speaks at a joint news conference with South Korean President Yoon Suk-yeol after their summit in Tokyo yesterday.
Photo: EPA-EFE
In his opening remarks, Kishida said that the meeting would mark the resumption of regular visits between the leaders, which have been on hold for more than a decade.
He told a joint news conference that the countries had agreed to resume defense dialogue and vice ministerial strategic talks, while also restarting a process of trilateral communication among Japan, South Korea and China.
Yoon said the meeting "has special significance as it shows the people of both countries that South Korea-Japan relations are off to a new beginning after being plagued by various issues."
He added that the two countries share the same democratic values and "are partners that must cooperate on security, economic issues and global agendas."
"The ever-escalating threat of North Korea's nuclear missile program poses a huge threat to peace and stability not only in East Asia, but also to the [broader] international community," Yoon said.
"South Korea and Japan need to work closely together and in solidarity to wisely counter the threat," he added.
Washington appears to have worked intensively to bring about the summit.
US Ambassador to Japan Rahm Emanuel said his country and its two allies had about 40 trilateral meetings and he thinks cooperation in the process helped to build up trust.
Hours before the summit began, South Korean Minister of Trade, Industry and Energy Lee Chang-yang said that Japan had agreed to lift export controls on South Korea following talks this week, and that South Korea would withdraw its complaint to the WTO once the curbs are removed.
Japan and South Korea have long had disputes over the 1910-1945 Japanese colonization of the Korean Peninsula and atrocities during World War II, which included forced prostitution of "comfort women" for Japanese soldiers, and territorial disputes over a cluster of islands.
Ties reached a nadir when the South Korean Supreme Court ordered Japanese companies to pay compensation to Korean victims or bereaved relatives in 2018, and Japan imposed trade sanctions on South Korea shortly after.
The Japanese Ministry of Economy, Trade and Industry said Tokyo acknowledged improvement in South Korean export controls during the talks and said that as a result of Seoul's decision to drop the WTO case, Japan decided to drop restrictions against South Korea and restore the country to the status it had before July 2019.
Comments will be moderated. Keep comments relevant to the article. Remarks containing abusive and obscene language, personal attacks of any kind or promotion will be removed and the user banned. Final decision will be at the discretion of the Taipei Times.