Taiwan still willing to help Honduras: foreign ministry
Taiwan is willing to assist Honduras, the Ministry of Foreign Affairs said yesterday, in response to speculation that the ally would switch diplomatic ties to China because Taiwan did not increase financial support.
Honduran President Xiomara Castro on Tuesday wrote on Twitter that her country would pursue diplomatic ties with China, but did not mention whether it would sever ties with Taiwan.
A day later, Honduran Minister of Foreign Affairs Eduardo Enrique Reina told TV network Canal 5 that the decision to pursue diplomatic relations with China was motivated by "pragmatism, not ideology."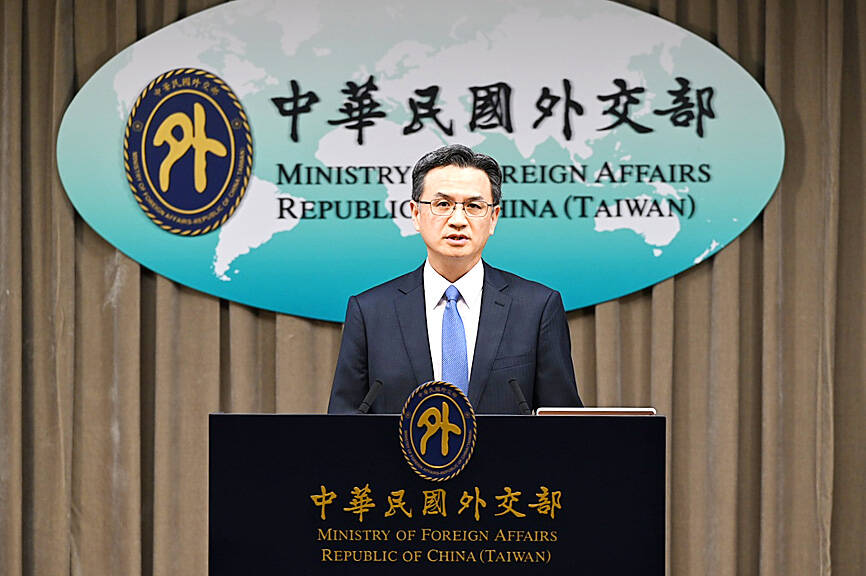 Ministry of Foreign Affairs spokesman Jeff Liu speaks at a routine news conference at the ministry in Taipei yesterday.
Photo: Chang Chia-ming, Taipei Times
Honduras asked Taiwan to double its annual aid of US$50 million to the country and explore ways to "realign" its US$600 million debt to Taiwan, but did not receive a positive response, he said.
Its domestic and foreign debt amounts to US$20 billion, which is "up to its neck," he said, adding that it forces Honduras "to make the decision."
In Taipei, the ministry said in a statement that Taiwan had been discussing cooperative projects with Honduras since Castro took office in January last year.
The government has repeatedly expressed willingness to assist the ally in promoting construction and development within Taiwan's capabilities, and reminded it not to heed China's "false promises," it said.
"Taiwan has always responded positively to Honduras' proposals and expressed our sincerity to assist Honduras within our capabilities out of goodwill," it said.
Reina's statement did not reflect the truth of the communication between the two sides, it said, adding that Taiwan's effort to communicate with Honduras has never stopped.
Taiwan would do its best to maintain diplomatic relations with Honduras, but it would never enter a "spending competition" with China, the ministry said.
The ministry said Honduras should not to "quench its thirst with poison and end up falling into a Chinese debt trap."
The ministry also dismissed reports that Honduras' move might be related to President Tsai Ing-wen's (蔡英文) plan to stop over in the US early next month on the way to visit Guatemala and Belize.
It is a fundamental right of Taiwan as a sovereign country to arrange such a trip for its president, and others "have no right to and shouldn't give reckless judgement," ministry spokesman Jeff Liu (劉永健) told a regular news briefing.
The government is preparing the trip as originally planned, he said.
The US Department of State said Honduras should be aware that China makes many promises that would remain unfulfilled.
It is monitoring the situation closely, it added.
"We encourage all countries to expand engagement with Taiwan and continue to stand on the side of good governance, transparency and the rule of law," a state department spokesperson said.
Taiwan is an important partner of the US and a trustworthy partner to the world, the spokesperson said, adding that the US would continue to deepen and expand exchanges with Taiwan according to its long-term policy.
Additional reporting by CNA
Comments will be moderated. Keep comments relevant to the article. Remarks containing abusive and obscene language, personal attacks of any kind or promotion will be removed and the user banned. Final decision will be at the discretion of the Taipei Times.