Motion passed to improve undersea cable capacity
The legislature's Transportation Committee yesterday passed a motion asking the National Communications Commission (NCC) and the Ministry of Digital Affairs to increase capacity to maintain undersea cables after two connections between Taiwan proper and Lienchiang County were broken, allegedly by Chinese vessels.
The motion, which was proposed by Chinese Nationalist Party (KMT) Legislator Chen Hsueh-sheng (陳雪生) and seconded by three other lawmakers, says that the two incidents on Feb. 2 and Feb. 8 severely disrupted communications for residents of the outlying islands.
Although Chunghwa Telecom Co (中華電信) has since last month expanded the bandwidth of a microwave signaling system to maintain telephone and Internet services in the county, it is only enough to sustain basic services, the motion says.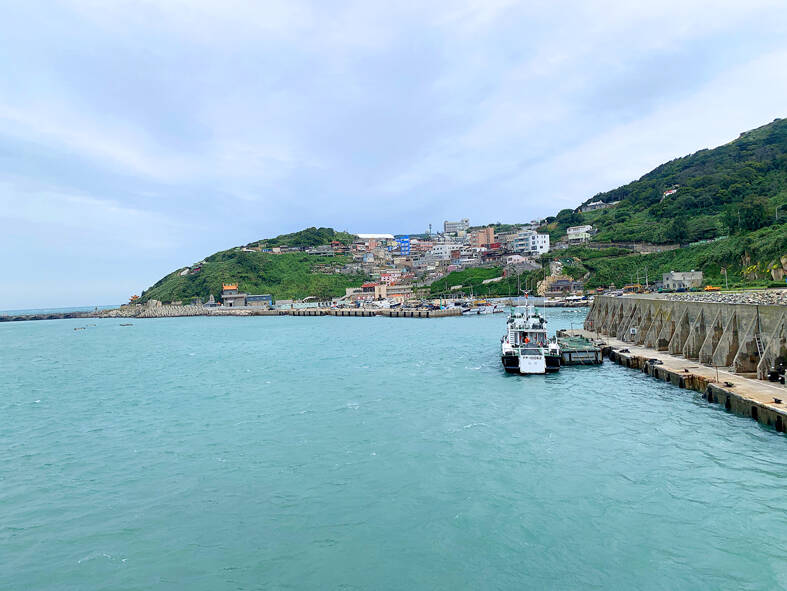 Lienchiang County's Dongyin Island is pictured on Dec. 30 last year.
Photo: CNA
Limited bandwidth in the microwave signaling system made it difficult for people to access mobile and broadband Internet services, and Chunghwa Telecom's multimedia-on-demand services, it says.
"Although Chunghwa Telecom has been trying to book an international cable maintenance ship to repair the broken cables, the earliest ship cannot arrive until April 20," the motion says.
"Taiwan has a strong manufacturing capability for information and communications equipment, and could become a key undersea cable hub with its geographical and technological advantages," it says. "The resilience of communication networks must be bolstered through multiple transmission media, and the capability to maintain and swiftly repair key facilities."
"The NCC and the ministry should study the possibility of expanding the capabilities of local operators to maintain undersea cables," it says.
Separately, the NCC proposed an amendment to the Telecommunications Management Act (電信管理法) that would mandate penalties for damaging undersea cables.
It must consult with ministry officials over the wording of the amendment and the amount of the fines, it said.
Article 72 of the act stipulates that damaging "submarine cable landing stations, international switchboard centers and satellite communications centers" is penalizable by three to 10 years in prison, NCC Deputy Chairman and spokesman Wong Po-tsung (翁柏宗) told a news conference in Taipei.
Those who damage such facilities due to negligence would be sentenced to no more than six months in prison or a fine of NT$200,000, Wong said.
However, the rules do not apply to undersea cables, he said.
NCC Chairman Chen Yaw-shyang (陳耀祥) pledged to toughen sanctions for those who damage undersea cables deliberately or negligently, by proposing an amendment to the act within one month.
The commission proposed to add an article 72-1 to the act stipulating penalties for breaking international and domestic submarine cables, Wong said, adding that the fines and other penalties would be increased.
Separately, the Financial Times reported that China is attempting to impede subsea Internet cable laying and maintenance in the South China Sea within its 12 nautical mile (22.2km) seabed territory by delaying permit approvals and lengthening administrative processes.
"China is attempting to exert more control over undersea activities in its region, in part to prevent US surveillance systems from being installed as part of undersea cable deployment," Bryan Clark, a former US submarine officer and senior US Navy official, and now a senior fellow at the Hudson Institute think tank, said in the report.
Chinese authorities have made the process to obtain permits long and onerous, three industry executives with knowledge of the situation said in the report.
Several industry sources said that China's policing of its waters — including maritime areas marked on maps by the disputed "nine-dash line" — is a response to Beijing being excluded from international projects and fears that companies could use cables as a front for espionage, the Financial Times reported.
To avoid a deadlock over permits, cable consortiums were seeking new routes that circumvent Chinese waters, the sources said.
Avoiding the South China Sea meant greater expenses, as shallow waters near Borneo require extra layers of protection for the fiber cables, they said.
Additional reporting by Jake Chung
Comments will be moderated. Keep comments relevant to the article. Remarks containing abusive and obscene language, personal attacks of any kind or promotion will be removed and the user banned. Final decision will be at the discretion of the Taipei Times.