Military unveils Taiwan-made drones
NINE TYPES: One of the devices can be carried by a single soldier and can destroy high-value, high-risk vehicles as well as target personnel, an official said
Taiwan's top military research body yesterday unveiled nine domestically developed drones in Taichung, including a loitering munition, or "suicide drone," similar to the US-made AeroVironment Switchblade 300.
The surveillance and attack drones shown to the media by the Chungshan Institute of Science and Technology included the Albatross medium-range uncrewed aerial vehicle Nos. 1 and 2, and the Teng Yun 2 and Cardinal 2 and 3 indigenous uncrewed combat aerial vehicles.
The institute also unveiled a domestically made drone inspired by the AeroVironment Switchblade 300, which Ukrainian forces have employed in the country's war with Russia.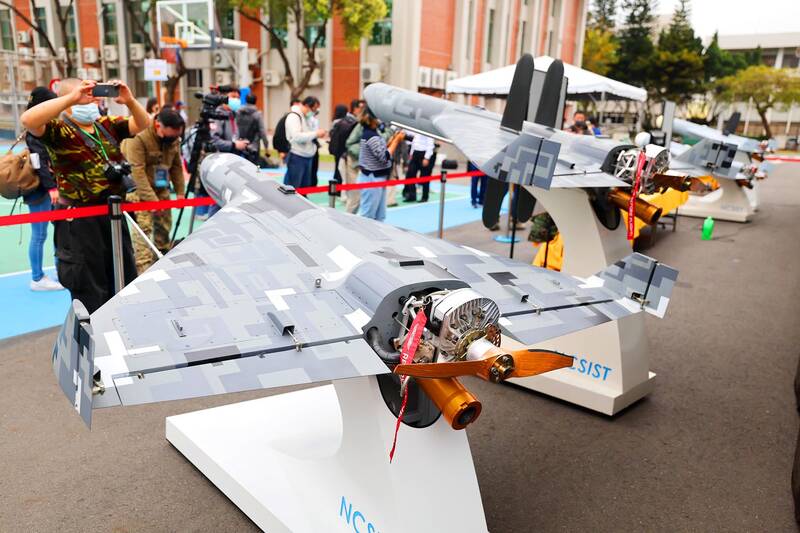 Domestically developed attack drones are displayed at the Chungshan Institute of Science and Technology in Taichung yesterday.
Photo: CNA
Aeronautical Systems Research Division head Chi Li-pin (齊立平) told reporters that the miniature loitering munition has a range of 10km, can fly for 15 minutes and can fit inside a rucksack.
The device, which has a high-performance electro-optical and infrared sensor, can be carried by a single soldier and can destroy high-value, high-risk vehicles as well as target personnel, Chi said.
"It is like a large grenade capable of flying," Chi said.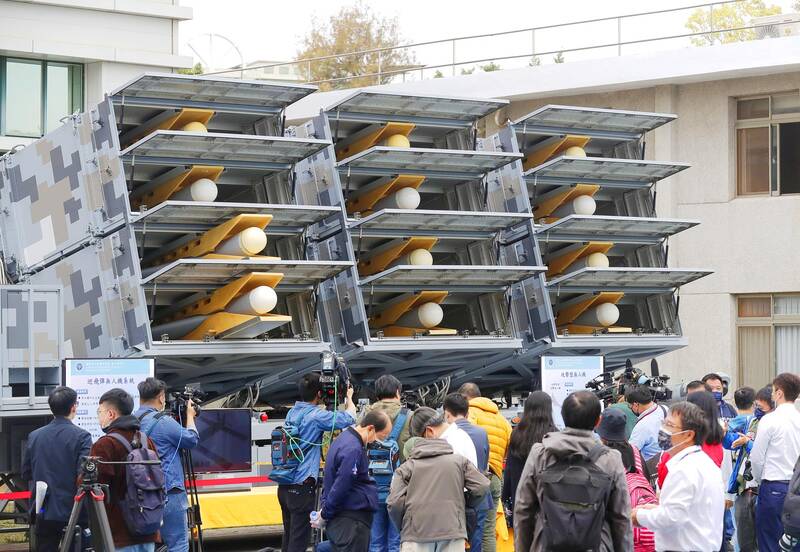 People stand near a multi-GPS positioning drone device at the Chungshan Institute of Science and Technology in Taichung yesterday.
Photo: Chiang Ying-ying, AP
The "suicide" drone would be well suited for attacking coastal and near-shore enemy targets, he said, adding that it was compatible with Taiwan's military needs with regards to conducting asymmetrical warfare against a much stronger rival.
Institute president Art Chang (張忠誠) said that the war in Ukraine had focused attention on drones and his institution has teamed up with Taiwanese companies to build a "national team" to develop military drones.
The military has announced a partnership with companies aimed at producing 3,000 drones next year.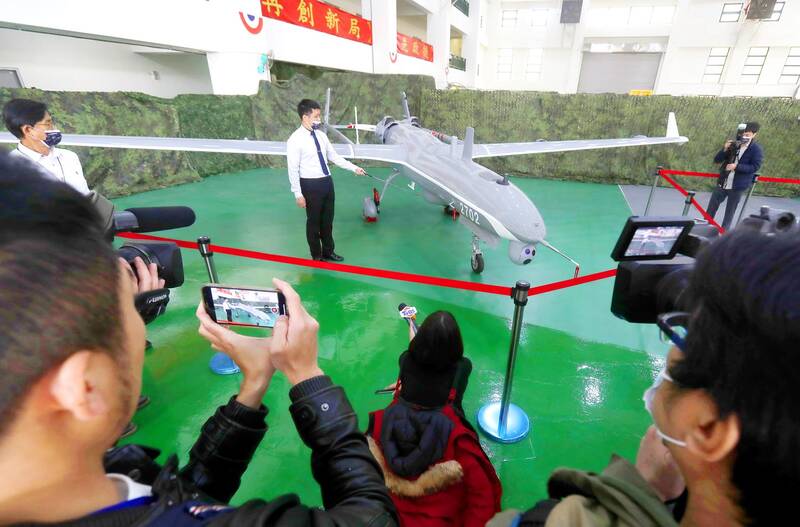 A staff member presents an Albatross II drone at the Chungshan Institute of Science and Technology in Taichung yesterday.
Photo: Chiang Ying-ying, AP
Separately yesterday, Minister of National Defense Chiu Kuo-cheng (邱國正) said that the military would adjust its deployments in Kinmen County amid security concerns after a missing soldier was later confirmed alive in China.
Chiu made the comment on the sidelines of a legislative session while discussing the case of a private first class surnamed Chen (陳), who was confirmed by the government to be safe in China's Xiamen after disappearing on Thursday last week.
Chen was reported missing from Erdan (二膽), a small islet in Kinmen less than 5km from Xiamen.
Asked if the military was worried that Chen's presence in China could pose a security risk, Chiu said that the private's access to confidential information was irrelevant because the military was going to take precautions one way or the other.
"We will make adjustments [concerning troop deployments] as we conduct a regular review of our deployments," he said.
Despite widespread speculation over what happened and why Chen would leave Erdan, including that he might have fled to escape debts, no clear explanation of the case has been provided.
Asked why Chen left his post, Chiu had little to offer yesterday other than saying an investigation had not found that the soldier had disputes with superior officers before going missing.
Responding to a Reuters report the day before about a sharp increase in British exports of submarine parts to Taiwan, Chiu declined to comment directly, saying that the domestic submarine program faces many difficulties, but is going according to plan.
Additional reporting by Reuters
Comments will be moderated. Keep comments relevant to the article. Remarks containing abusive and obscene language, personal attacks of any kind or promotion will be removed and the user banned. Final decision will be at the discretion of the Taipei Times.