US looks to boost Indo-Pacific budget to counter China
The administration of US President Joe Biden has proposed a budget asking for billions more dollars to boost its Indo-Pacific military command, enhance missile defense and strengthen regional economies, as part of a broader push to counter China's more assertive role in the region.
The White House is proposing US$9.1 billion for Pentagon investments in the Indo-Pacific region as part of the Pacific Deterrence Initiative, up from a US$6.1 billion request for this year. In the end, the US Congress appropriated US$11.5 billion for this year, suggesting that the initiative could get more than it asked for this time also.
Separately, the US Indo-Pacific Command this week in a congressionally mandated report listed the categories of Pentagon spending in which it wants increased funding. It listed US$15.3 billion in needs, up from the US$9 billion it recommended last year.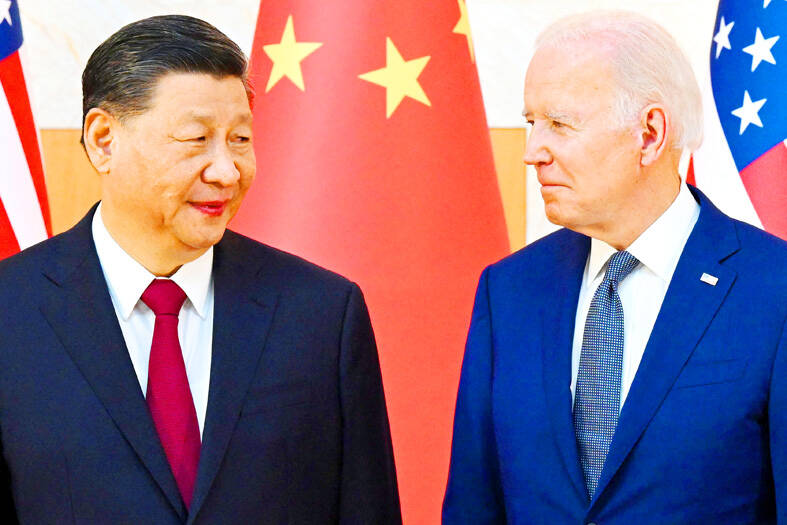 Chinese President Xi Jinping, left, meets with US President Joe Biden at a G20 Summit in Bali, Indonesia, on Nov. 14 last year.
Photo: AFP
The command wants to boost its arsenal for a potential China fight with underwater mines nicknamed Hammerhead and Quick Strike, and ground-launched Tomahawk cruise missiles that could be fired against Chinese ships.
Its wish list includes billions of dollars for missile defense in Guam and Hawaii, as well as broader missile-warning systems. Overall, the command recommended US$86.8 billion in those areas to shore up US defenses and military presence in the region over the next four years. Last year's four-year recommendation totaled US$67 billion.
The emphasis on funneling more money to US military assets in the Indo-Pacific highlights how much the Biden administration wants to reorient its defense posture to respond to China's growing military and economic might.
The administration is demonstrating that commitment with a pledge to sell Australia some of its Virginia-class submarines, part of a move to bolster an alliance that includes the UK.
Biden is set to unveil the agreement in a meeting with the prime ministers of Australia and the UK in San Diego on Monday.
US intelligence chiefs told a US House of Representatives hearing on Thursday that China does not want a military conflict over Taiwan, but remains determined to bring the independently governed island under its control.
The US must not "underestimate the ambitions of the current Chinese leadership in that regard, or their determination" to achieve unification with Taiwan, CIA Director William Burns said.
Meanwhile, the US Department of State is seeking US$2 billion to strengthen Indo-Pacific economies and a further US$2 billion to go toward strategic infrastructure projects — a move likely aimed at countering China's long-running Belt and Road Initiative, which has built roads, ports and power plants from Pakistan to Sri Lanka.
US Secretary of State Antony Blinken made no secret of the intended target. He said it was a move to "out-compete the People's Republic of China" and strengthen the US presence in the region.
The Indo-Pacific Command recommends US$172 million in continued development and procurement for the Hammerhead, a weapon it describes as "an offensive mining system" that would be delivered by a drone to "detect, classify and destroy submarines threats."
The command also highlighted the potential to attack China's surface vessels with Quickstrike air-launched sea mines developed by Boeing Co, which could hit water and seek out surface targets. The command recommends lawmakers shift US$142 million into that program.
China has the world's largest navy, with 340 surface ships and submarines. It operates six Jin-class submarines carrying nuclear-tipped intercontinental ballistic missiles, six nuclear-powered attack submarines and 44 diesel-powered attack subs. The US has fewer than 300 vessels.
Comments will be moderated. Keep comments relevant to the article. Remarks containing abusive and obscene language, personal attacks of any kind or promotion will be removed and the user banned. Final decision will be at the discretion of the Taipei Times.