COVID-19: Quarantine for mild COVID-19 to end
ADVISORY: Symptomatic COVID-19 cases would be encouraged, but not required, to stay at home until their symptoms ease starting from March 20, the CECC said
Starting from March 20, mild COVID-19 cases are no longer to be required to quarantine, the Central Epidemic Command Center (CECC) said yesterday, announcing the end of a policy that has been in place for more than three years.
Mandatory quarantine has been in effect since Jan. 15, 2020, when COVID-19 was designated a category 3 communicable disease.
The CECC said that as the COVID-19 situation in Taiwan has been easing, the reporting of mild or asymptomatic cases, as well as mandatory five-day quarantine for infected people, would be phased out from March 20.
Deputy Minister of Health and Welfare Victor Wang, who heads the Central Epidemic Command Center, speaks at the center's news conference in Taipei yesterday.
Photo: CNA
People who test positive in a rapid test would no longer have to confirm their results via a telemedicine appointment and would be asked to monitor their health for 10 days, said Centers for Disease Control Deputy Director-General Philip Lo (羅一鈞), who is also the CECC's spokesperson.
Symptomatic COVID-19 cases would be encouraged — but not required — to stay at home until their symptoms ease, or wear a mask at all times if they go out, Lo said.
The Ministry of Education said it would continue to advise students and teachers not to attend classes in person for five days after testing positive for COVID-19.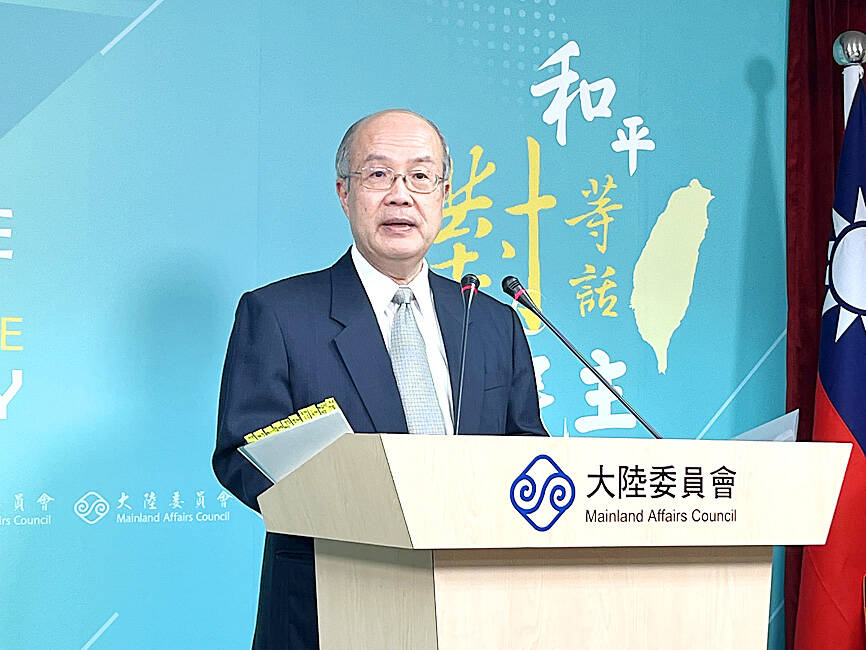 Mainland Affairs Council Deputy Minister Jan Jyh-horng speaks at a news conference in Taipei yesterday.
Photo: CNA
In terms of reporting, Lo said that only moderate-to-severe COVID-19 cases — defined as those that require hospitalization — would be reported to the government after March 20.
The rules that require the special handling and expedited cremation of deceased COVID-19 patients would also be lifted on that date, the CECC said.
The number of COVID-19 cases have been dropping steadily over the past five weeks and average at about 10,600 per day, CECC data showed.
Separately, the government has agreed to resume regular flights to 10 more Chinese airports, adding that airlines can today begin applying for regular flights to the destinations.
Prior to the announcement, China had limited cross-strait flights to Shanghai Pudong and Hongqiao International Airports, Chengdu Shuangliu International Airport, Beijing Capital International Airport and Xiamen Gaoqi International Airport to contain a COVID-19 outbreak in that country.
Last month, China's Taiwan Affairs Office (TAO) urged the government to quickly restore cross-strait direct flights between 16 Chinese destinations: Guangzhou, Shenzhen, Nanjing, Wuxi, Hangzhou, Ningbo, Wuhan, Fuzhou, Hefei, Chongqing, Changsha, Zhengzhou, Haikou, Xian, Shenyang and Harbin.
"We have decided to resume regular flight services to and from 10 Chinese airports after taking into account their proximity to areas densely populated by Taiwanese businesspeople and the balance in flights dispatched from Taiwan and China, as well as capacities of Taiwanese and Chinese carriers," Mainland Affairs Council (MAC) Deputy Minister Jan Jyh-horng(詹志宏) said.
The 10 destinations are Shenzhen, Guangzhou, Nanjing, Chongqing, Hangzhou, Fuzhou, Qingdao, Wuhan, Ningbo and Zhengzhou.
Charter flight services would be allowed to 13 other Chinese destinations, due to smaller demand: Shenyang, Wuxi, Haikou, Changsha, Xian, Jinan, Hefei, Nanchang, Tianjin, Wenzhou, Dalian, Guilin and Xuzhou, he said.
The number of cross-strait flights would be initially kept at 209 — 110 from Taiwan and 99 from China — Jan said.
Details of dispatching cross-strait charter flights would be announced by the Ministry of Transportation and Communications.
President Tsai Ing-wen (蔡英文) and Premier Chen Chien-jen (陳建仁) have supported orderly and healthy exchanges of all disciplines between Taiwan and China after both countries reopened their borders, Jan said.
Officials at the MAC, the transportation ministry and the Ministry of Health and Welfare have evaluated a wide range of factors before finalizing the plan to increase cross-strait flights, including travelers' demands, possible health risks, cross-strait relations and other supporting measures, Jan said.
"We have also tried our best to show goodwill by incorporating Beijing's suggestions in our considerations," he said. "We also hope that reinstating the cross-strait flights will facilitate positive interactions between Taiwan and China."
Jan said the MAC has agreed to allow Taiwanese returning home for the Tomb Sweeping long weekend next month to transit through the "small three links" connecting Kinmen and Lienchiang counties and China.
The timing to resume more cross-strait flights has nothing to do with Tsai's planned meeting with US House of Representatives Speaker Kevin McCarthy next month when she transits through the US to visit Taiwan's allies in Central America, he said.
Comments will be moderated. Keep comments relevant to the article. Remarks containing abusive and obscene language, personal attacks of any kind or promotion will be removed and the user banned. Final decision will be at the discretion of the Taipei Times.