US Senate calls for pact to end double taxation
A resolution introduced in the US Senate calls on Washington to sign a taxation agreement with Taiwan that would deepen bilateral economic ties and facilitate investment.
The resolution was introduced on Thursday by US Senator Chris Van Hollen — who chairs the Foreign Relations Subcommittee on East Asia, the Pacific, and International Cybersecurity Policy — subcommittee ranking member Senator Mitt Romney, and US senators Bill Cassidy, Tim Kaine, Todd Young and Chris Coons, Van Hollen said in a statement.
They called on the US government to negotiate a tax agreement "to further bolster economic ties" and eliminate double taxation for US businesses operating in Taiwan, the statement said.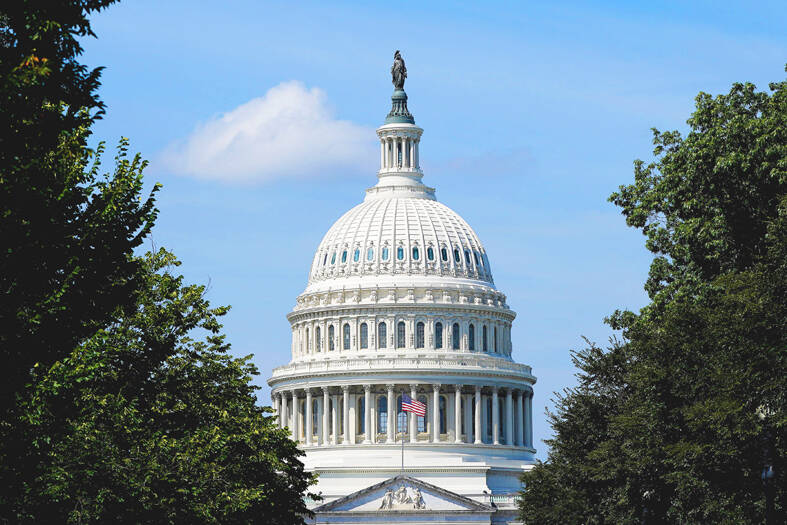 The US Capitol building in Washington is pictured on Sept. 4 last year.
Photo: Reuters
The resolution was initially introduced in the US Congress by Van Hollen and then-US senator Ben Sasse in July last year, during the previous legislative session.
The US has signed tax agreements with 66 countries, including China, but has no such agreement with Taiwan, its eighth-largest trading partner, data provided by Van Hollen showed.
Taiwanese investment in the US amounts to US$13.7 billion, and exports to Taiwan support nearly 190,000 US jobs, it showed.
Taiwan is a key economic partner of the US, but double taxation is "putting an undue burden on these enterprises and hampering opportunities for further partnership and investment," Van Hollen said.
Based on the "deep and close ties between our two economies," an agreement could ensure that a strong partnership would "continue to deliver tangible benefits to American and Taiwanese businesses and consumers," Kaine said.
"Our relationship with Taiwan has never been stronger, yet our tax policy fails to reflect the strength and importance of this relationship," Young said.
President Tsai Ing-wen (蔡英文) told US Senator Ed Markey that such an agreement is one of her priorities when he led a delegation to visit Taiwan in August last year.
US Senate resolutions have no legal weight, but they show where senate members stand on certain issues, and help apply pressure on the government.
Separately, the US-Taiwan Initiative on 21st-Century Trade might be signed by both sides "in the coming weeks" and lead to a bilateral trade or free trade agreement, should Washington wish to explore that option, a person familiar with the matter said.
The deal would be a "de factobilateral trade agreement" without addressing tariffs or free trade, the person said.
The initiative was unveiled by Taipei and Washington in June last year after Taiwan was excluded from the Indo-Pacific Economic Framework, a US-led multilateral partnership involving 13 other countries.
The framework has been touted as a counterweight to a China-initiated free-trade pact in the region.
Additional reporting by CNA
Comments will be moderated. Keep comments relevant to the article. Remarks containing abusive and obscene language, personal attacks of any kind or promotion will be removed and the user banned. Final decision will be at the discretion of the Taipei Times.