Newspaper asked to clarify mass Chinese spying claim
The Ministry of Foreign Affairs yesterday called on Japan's Nikkei newspaper to "seriously clarify" a report that "up to 90 percent" of Taiwan's military retirees have collaborated with China for money.
The report on Tuesday said that up to 90 percent of military retirees have spent time in China, where they provided information to Beijing in exchange for money.
Citing an unnamed source, the report attributed the issue to the top ranks of the military being dominated by people with family lineages in China, saying that the government is not aware of the "true face" of the situation.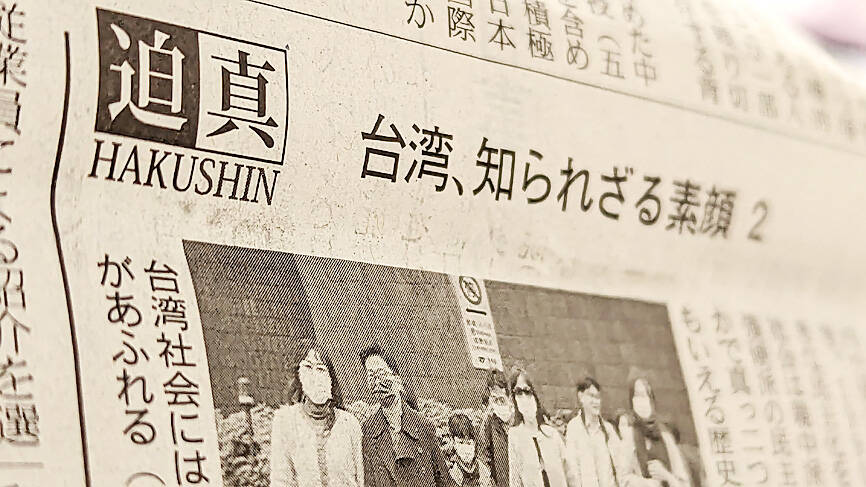 An article about Taiwan in Japan's Nikkei daily is pictured on Tuesday.
Photo: Lin Tsuei-yi, Taipei Times
The ministry said it doubts the veracity of the report.
"False news cannot be allowed to spread and mislead the public," the ministry said, adding that it had asked the representative office in Japan to urge the newspaper to clarify the details of its report.
The article was "fabricated out of thin air," and the newspaper used "sensational headlines to slander the integrity of national army officers and soldiers, and dividing troops," the Ministry of National Defense said in a statement on Wednesday.
The article was detrimental to peace and stability in the Taiwan Strait, it added.
"The national military fights for the survival and development of the Republic of China. We fight for the security and welfare of the people of Taiwan, Penghu, Kinmen and Matsu," it said. "We are unwavering in our resolve to safeguard the nation's freedom and democracy with the full extent of our forces."
The defense ministry said it has long been aware of China's ambitions to use military retirees to obtain information.
It has implemented measures to counter such activities, including investigating individuals considered "high risk," it added.
The defense ministry has implemented an information campaign at the administrative level of the military to improve awareness of Chinese threats, adding that it is working with intelligence officials to reduce China's intelligence-gathering abilities.
"We have worked hard to foster a spirit of loyalty among [military] personnel," it said.
Veterans Affairs Council Minister Feng Shih-kuan (馮世寬), who served as minister of national defense from 2016 to 2018, yesterday called the report "complete nonsense."
Comments will be moderated. Keep comments relevant to the article. Remarks containing abusive and obscene language, personal attacks of any kind or promotion will be removed and the user banned. Final decision will be at the discretion of the Taipei Times.