US has unique Taiwan responsibility: Burns
SHOW OF FORCE: US Secretary of the Army Christine Wormuth said the best way to avoid war in the Taiwan Strait is to show China that the US is capable of winning wars
US Ambassador to China Nicholas Burns on Monday said that the US has a unique responsibility to Taiwan and is obligated to maintain a military presence in the region.
Burns made the remark at an event held by the American Chamber of Commerce in Taiwan via videoconference, Voice of America reported yesterday.
The passing of the Taiwan Relations Act in 1979 meant that the US has the obligation to ensure that Taiwan is able to deter possible Chinese invasion, present or future, Burns said.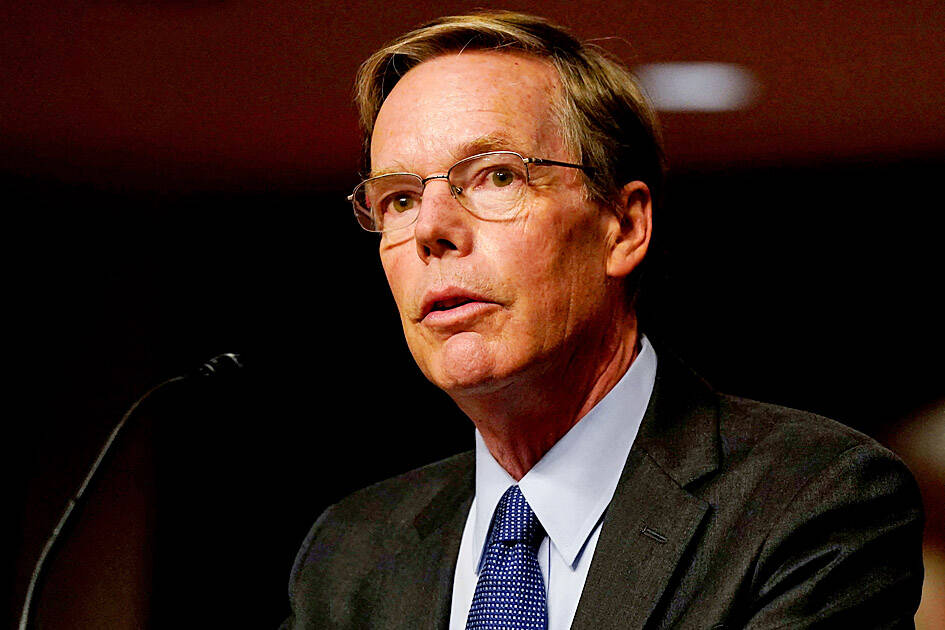 Nicholas Burns gives his opening statement during the Senate Foreign Relations Committee hearing on his nomination to be the US ambassador to China on Capitol Hill in Washington on Oct. 20, 2021.
Photo: Reuters
The US should also "encourage the rest of the world to ensure that China cannot escape responsibility for coercing or intimidating Taiwan," he said.
China's aggressive reaction against then-US House of Representatives speaker Nancy Pelosi's visit to Taiwan in August last year "violated the status quo across the Taiwan Strait in the past 70 years," he said.
With half of the world's shipping containers passing through the Taiwan Strait every day, any disruption caused by China would have inevitable and extremely negative consequences for the global economy, Burns said.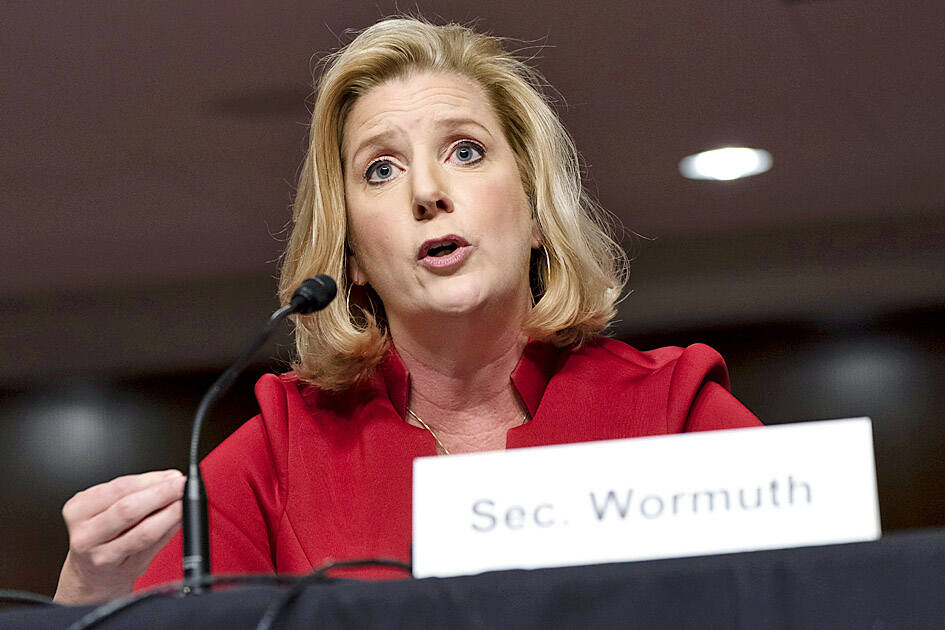 Army Secretary Christine Wormuth, testifies before a Senate Armed Services Committee on May 5, 2022, on Capitol Hill in Washington.
Photo: AP
The US and its allies hope the Chinese government shows respect for the cross-strait "status quo," acknowledges the need to solve cross-strait differences peacefully and stops provocative actions, he said.
Beijing should not turn a deaf ear to this message, which is the consensus among the US, European nations and Indo-Pacific countries, he said.
Separately, US Secretary of the Army Christine Wormuth said that there is no imminent threat of China launching an amphibious landing in Taiwan, as it is very complicated.
Wormuth made the remark on Monday during a talk with US Army Pacific Commanding General Charles Flynn at an event held by Washington-based think tank the American Enterprise Institute.
China has been modernizing its armed forces for the past 20 years, but an amphibious landing is full of difficulties that "even [Chinese] President Xi Jinping (習近平) might be dubious if it would be successful," Wormuth said.
"It is not that easy to invade Taiwan," as it would take more than Xian H-6 bombers, submarines and ships, Flynn said.
Carrying out offensive military operations requires a professional, well-trained and well-led force, which China has been working toward, but "still has work to do," he said.
The US should still be prepared, Wormuth said, adding that the best way to avoid war is to show China and other nations in the region that the US is capable of winning wars.
Many military simulations show that if a conflict breaks out in the Taiwan Strait, it might not be resolved quickly, which means that stocks of ammunition would be crucial, she said.
Additional reporting by CNA
Comments will be moderated. Keep comments relevant to the article. Remarks containing abusive and obscene language, personal attacks of any kind or promotion will be removed and the user banned. Final decision will be at the discretion of the Taipei Times.