New ChatAI chatbot generates traditional Chinese text
Software company MixerBox Inc yesterday launched MixerBox ChatAI, the world's first artificial intelligence (AI) chatbot Web browser optimized for traditional Chinese.
ChatAI, which uses OpenAI's GPT-3 language processing model, allows users to create, translate "and even write love letters," the company said in a statement.
To demonstrate its abilities, the team asked the AI to write a poem about Taiwan.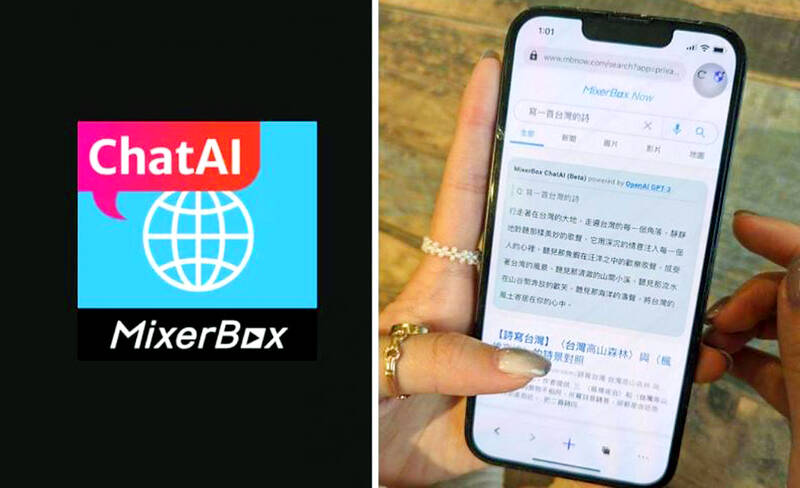 The logo of software company MixerBox, left, is displayed alongside a picture of a person holding a smartphone displaying the company's ChatAI software.
Photo courtesy of MixerBox
The 72-character response, written in less than a second, praises Taiwan's natural beauty and its "friendly, warm" people whose "warmth and laughter make Taiwan even more beautiful."
Taiwanese are being offered first access to ChatAI during a trial period to ensure that they "do not need to wait in line," MixerBox said.
Headquartered in Palo Alto, California, MixerBox has a large footprint in Taiwan.
In December last year, it launched the location-based social network BFF (冰友) to immediate success, drawing more than 500,000 downloads in the first three days and 3 million to date.
Chen Po-chun (陳柏均), leader of the ChatAI team in Taiwan, said that MixerBox aspires to make people's lives easier with a suite of essential "super apps."
ChatAI aims to make Internet browsing more convenient and interesting, he said.
Microsoft Corp-backed OpenAI in November last year released ChatGPT, which can write natural-language responses to text prompts.
ChatAI is much the same, Chen said, adding that MixerBox is continuing to explore other uses and possibilities for the software.
Attracting more than 100 million users since its launch, ChatGPT has generated controversy around its potential use by students.
The University of Hong Kong has banned its use, while educators in Taiwan are discussing response measures.
Jou Jing-yang (周景揚), convener of the Joint Board of College Recruitment Commission and president of National Central University (NCU), said he has called a special meeting to discuss the issue.
ChatGPT is just one stage in the development of AI and is expected to quickly become more sophisticated, Jou said.
Universities must consider how AI tools can be used to the benefit of teachers, students and research, he added.
NCU vice president for academic affairs Wang Wen-june (王文俊), who serves as executive secretary of the commission, said the commission would hold a meeting to inform universities about how to review application materials for plagiarism or misrepresentation.
These would include checking for similarities against other materials and whether the level of expression is suited to a high-school level, he said.
NCU distributed a questionnaire to students regarding the use of ChatGPT and AI tools, to be completed next week, Wang said.
The results would be used to formulate clear measures to utilize these tools' benefits and mitigate their drawbacks, he said.
Additional reporting by Rachel Lin
Comments will be moderated. Keep comments relevant to the article. Remarks containing abusive and obscene language, personal attacks of any kind or promotion will be removed and the user banned. Final decision will be at the discretion of the Taipei Times.