Chinese balloons over Taiwan for weather: general
All of the Chinese balloons that have been detected in Taiwan's airspace were weather balloons and did not pose a security threat that justified shooting them down, the military said yesterday.
The Financial Times on Monday reported that dozens of Chinese military balloons have been spotted flying in Taiwanese airspace in the past few years.
"They come very frequently, the last one just a few weeks ago," an unnamed senior Taiwanese official was quoted as saying.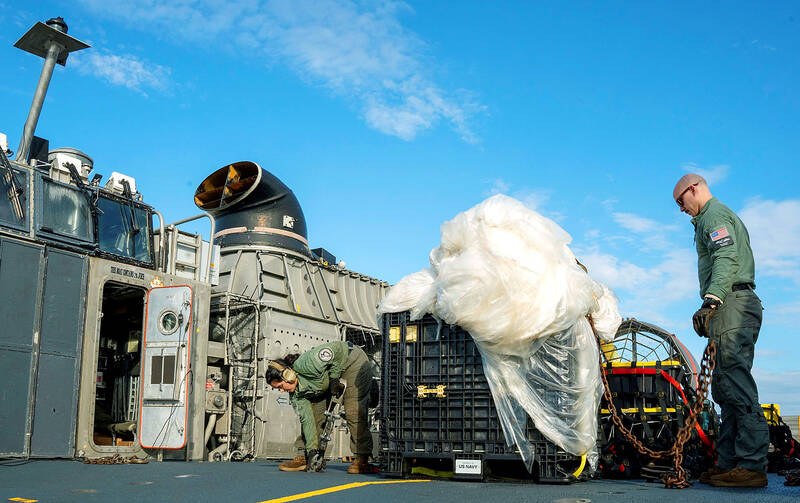 US Navy sailors manage material recovered from a high-altitude Chinese balloon on a ship docked at Virginia Beach in Virginia on Friday last week.
Photo: Reuters
Similar incursions happen once a month on average, another unnamed official was cited as saying by the Financial Times.
Major General Huang Wen-chi (黃文?), who is with the Office of Deputy Chief of the General Staff on Intelligence, told a news conference yesterday that the Ministry of National Defense had no comment on the report.
The military would not make public the exact number of such incursions detected "to avoid giving away the sources of our intelligence gathering," Huang said.
The number of detected balloons from China "are in accordance with the number of weather balloons it sends each year," he said, implying that all of the balloons were likely for meteorological purposes.
Asked if the military had shot down any Chinese balloons, Huang said that the military has so far not found any of them to pose a serious threat to the degree that they needed to be destroyed.
However, the military would take such action if it found that a balloon was a major threat to Taiwan's security, he added.
Previously, the ministry had only confirmed one instance of a flyover by Chinese balloons, when four batches flew over northern Taiwan in February last year.
Chinese balloon programs have drawn global attention after a suspected Chinese spy balloon was spotted in US airspace and shot down by the US on Feb. 4.
Taiwan has been circumspect about previous sightings of Chinese balloons.
On Feb. 27 last year, it said that prior to that day, there had been four sightings of balloons over Keelung, Taoyuan, Hsinchu and Taichung, and that they were likely for meteorological or scientific research purposes.
Meanwhile, China yesterday said that high-altitude balloons released by the US since May last year had entered its airspace.
Chinese Ministry of Foreign Affairs spokesman Wang Wenbin (汪文斌) said that US balloons "flew around the world and illegally entered the airspaces of China and other relevant countries at least 10 times."
"The United States should conduct a thorough investigation and give China an explanation," he said.
The US denied the allegation.
Separately, the US military on Monday said it had recovered electronics from the suspected Chinese spy balloon downed by a US fighter jet off South Carolina's coast, including key sensors presumably used for intelligence gathering.
"Crews have been able to recover significant debris from the site, including all of the priority sensor and electronics pieces identified, as well as large sections of the structure," the US military's Northern Command said in a statement.
The balloon led to the US military to scour the skies for other objects that were not being captured by radar, leading to an unprecedented three shootdowns from Friday to Sunday.
US Secretary of Defense Lloyd Austin on Monday downplayed the risks posed by the objects.
"I want to reassure Americans that these objects do not present a military threat to anyone on the ground," Austin said, speaking to reporters as he landed in Brussels for a NATO gathering. "They do, however, present a risk to civil aviation and potentially an intelligence collection threat."
US officials have declined to connect the incidents, but Canadian Prime Minister Justin Trudeau on Monday said without elaborating that the four aerial objects shot down were somehow connected.
Comments will be moderated. Keep comments relevant to the article. Remarks containing abusive and obscene language, personal attacks of any kind or promotion will be removed and the user banned. Final decision will be at the discretion of the Taipei Times.