MAC issues warning as KMT group to visit China
Any politicians visiting China must reflect the will of Taiwanese to maintain democracy and peace, the Mainland Affairs Council (MAC) said yesterday, after the Chinese Nationalist Party (KMT) announced a trip by party officials this week that is to include a meeting with Beijing's top official on Taiwan.
The KMT said that a delegation led by Vice Chairman Andrew Hsia (夏立言) is to fly to China tomorrow, where they would meet with Taiwanese in Shanghai, Nanjing, Wuhan, Chongqing and other cities in central China before returning on Feb. 17.
They would also stop in Beijing, where Hsia, KMT Mainland Affairs Department head Lin Chu-chia (林祖嘉) and other party officials are to meet with China's new Taiwan Affairs Office Director Song Tao (宋濤), the KMT said.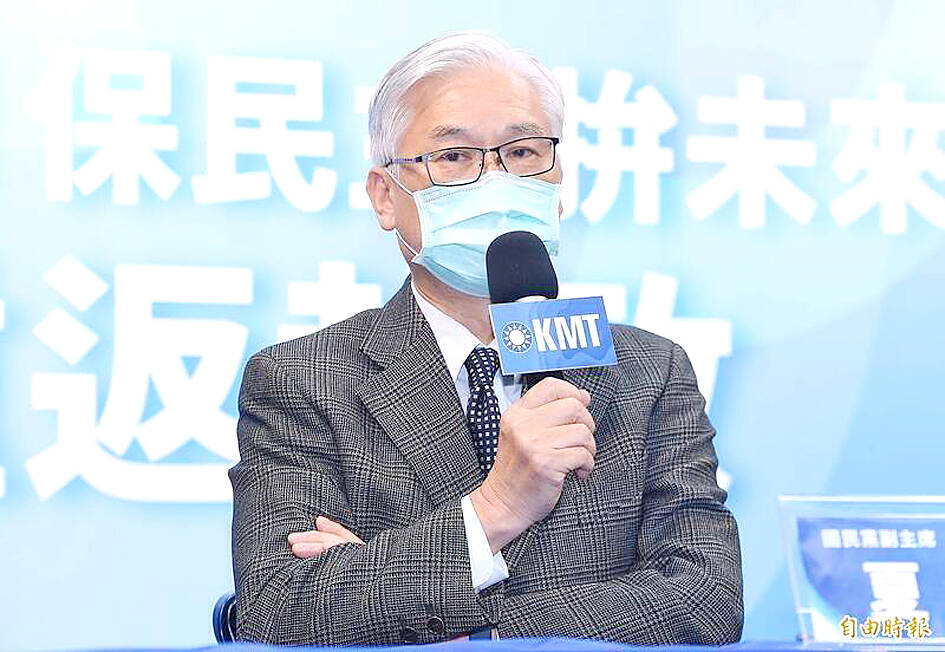 Chinese Nationalist Party (KMT) Vice Chairman Andrew Hsia speaks in Taipei in an undated photograph.
Photo: Taipei Times
Media reports said they might also meet with Wang Huning (王滬寧), a member of the Chinese Communist Party Politburo who has reportedly been tasked with redefining the party's vision for cross-strait relations away from "one country, two systems."
The MAC said it received notice of the trip from the KMT yesterday morning.
The government has always upheld that any cross-strait exchange must be based on the principles of reciprocity and dignity, it said.
Visiting politicians must also promote mutual understanding and cannot unilaterally put forth political prerequisites or desired outcomes, it added.
They should reflect the will of Taiwanese to maintain democracy and peace, as well as their opposition to the use of force to resolve cross-strait issues, it said.
The MAC also called on the authorities in Beijing to recognize the reality that neither side is subordinate to each other and to promote pragmatic communication.
Hsia's last visit to China in August last year drew controversy because of the timing — days after Beijing held large-scale military drills around Taiwan in response to then-US House of Representatives speaker Nancy Pelosi's visit to Taipei.
The Democratic Progressive Party (DPP) also questioned the timing of this trip, saying that visiting immediately after US Secretary of State Antony Blinken postponed his trip to Beijing over a suspected Chinese spy balloon over the US would only exacerbate "unnecessary associations" between Taiwan and China in the international community.
Hsia must not "carelessly abandon Taiwan's interests and rush to surrender to China," the DPP said.
The KMT said the delegation would engage in dialogue "on the basis of equality and dignity" to reflect the "newest" will of the people.
The officials are to reflect the hope among Taiwanese for regional peace and stability, as well as convey the desire among farmers, fishers and other small business owners for mutual prosperity, it said.
Whether in power or in opposition, the KMT will always support "defending the Republic of China, protecting Taiwanese democracy and safeguarding regional peace," it said.
Faced with the current deadlock in cross-strait relations, the party "cannot sit idly by and do nothing," it added.
It also called on the governments on both sides not to abandon mutual prosperity and economic relations because of their differences, but rather to resolve problems through active communication.
Meanwhile, an expert suggested that the visit was intended to obtain approval from Beijing's new leaders before the KMT begins choosing a presidential nominee.
The KMT is positioning itself as the "spokesperson for peace" and needs Chinese approval to support this claim, Taiwan Association of University Professors deputy chairman Chen Li-fu (陳俐甫) said.
When Hsia visited last year, he was "stood up" by Chinese officials, he said, adding that the KMT needs to build trust with China's new leaders, as cross-strait relations would be important to next year's election.
Additional reporting by Lin Liang-sheng and Chen Yun
Comments will be moderated. Keep comments relevant to the article. Remarks containing abusive and obscene language, personal attacks of any kind or promotion will be removed and the user banned. Final decision will be at the discretion of the Taipei Times.