ASEAN ministers meet under shadow of Myanmar
Southeast Asian ministers of foreign affairs began a summit in Indonesia's capital yesterday for talks bound to be dominated by the deteriorating situation in Myanmar, despite an agenda focused on food and energy security, and cooperation in finance and health.
Myanmar belongs to the 10-member organization, but the annual ministers' retreat is being held in Jakarta without Burmese Minister of Foreign Affairs Wunna Maung Lwin.
The absence was forced by the fallout over Myanmar's lack of cooperation in implementing a five-step agreement made in 2021 between ASEAN leaders and Myanmar's military leader, Burmese Army Senior General Min Aung Hlaing.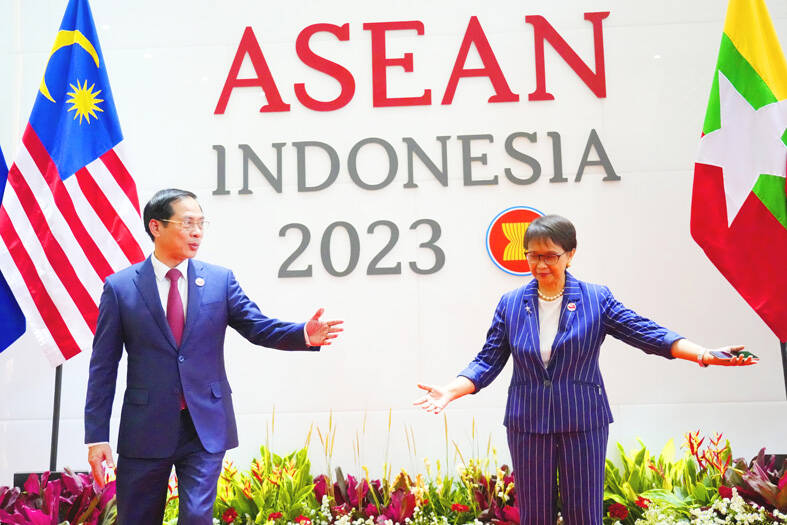 Indonesian Minister of Foreign Affairs Retno Marsudi, right, attends a media event with Vietnamese Minister of Foreign Affairs Bui Thanh Son at an ASEAN meeting in Jakarta, Indonesia, yesterday.
Photo: AP
In the agreement, Myanmar's military promised to allow a special ASEAN envoy to meet the ousted and jailed leader Aung San Suu Kyi and others to foster dialogue aimed at easing the crisis.
When ASEAN was chaired by Cambodia in November last year, Min Aung Hlaing was not invited to the leaders' meeting in Phnom Penh after Myanmar declined to let an ASEAN envoy meet with Aung San Suu Kyi.
Analysts said the shadow of the military takeover in Myanmar looms large over the foreign ministers' meeting, even as Indonesia, the chair of ASEAN this year, seeks to dampen concerns that the issue could hold the bloc "hostage."
While launching the country's year chairing the regional bloc, Indonesian President Joko Widodo said late last month that ASEAN would continue contributing to peace and stability in the Indo-Pacific region, and maintain regional economic growth.
"Economic crisis, energy crisis, food crisis as well as warfare, we face all of them this year," Widodo said. "ASEAN will remain essential and relevant for people in the region and beyond as ASEAN is the epicenter of growth."
Indonesian Minister of Foreign Affairs Retno Marsudi said her country would ensure that the focus is on the development of the regional bloc as a community and to capitalize on ASEAN's economic growth, which always records stronger growth than the global economy.
"The issue of Myanmar will not be allowed to hold hostage the process of strengthening the ASEAN community development," Marsudi said last month while outlining Indonesia's foreign policy for the year.
She said ASEAN was disappointed by its lack of progress in the past two years in Myanmar, despite growing countermovement and global threats of sanctions and political exclusion.
Marsudi said Indonesia is setting up an office in Jakarta for an ASEAN special envoy on Myanmar to spearhead how the bloc deals with the crisis and she would seek to engage with "all stakeholders" in Myanmar, adding that it is crucial to enable a national dialogue to address the crisis.
Gajah Mada University international analyst Randy Nandyatama said that ASEAN under Indonesia's chairmanship should review its bedrock principles of non-interference in other members' affairs and decisions by consensus.
"Some of its mechanism are too loose, making it difficult for member countries to comply with the existing principles," he said.
Resolving the Myanmar issue is important not only for maintaining stability and prosperity in the region, but also for strengthening the legitimacy and function of ASEAN itself as a regional organization that can build dialogue with Myanmar, he said.
"Resolving the crisis in Myanmar is the main challenge of Indonesia's chairmanship," Nandyatama said.
Another area of focus for Indonesia as this year's ASEAN chair is peace and stability in the Indo-Pacific region, signaling that ASEAN would not allow itself to become a pawn in the growing tensions between the US and China, Marsudi said.
"Many countries have an Indo-Pacific concept, and this is where a synergy is needed, so that the various concepts will not exacerbate the rivalry," she said
She added that the Indo-Pacific region must be approached not only from a security aspect, but also from an economic development aspect, and implementing ASEAN's outlook on the region would be a big step to countering tensions.
Comments will be moderated. Keep comments relevant to the article. Remarks containing abusive and obscene language, personal attacks of any kind or promotion will be removed and the user banned. Final decision will be at the discretion of the Taipei Times.