US, Taiwan ties can deepen: admiral
THINK TANK VISIT: The former US Indo-Pacific official said that a capture of Taiwan's outlying islands by China rather than a large-scale attack is a grave security concern
The US and Taiwan can deepen their relations on many fronts, former head of the US Indo-Pacific Command Philip Davidson said yesterday while visiting President Tsai Ing-wen (蔡英文) at the Presidential Office.
Davidson is leading a six-member delegation from the National Bureau of Asian Research, a US-based think tank. They arrived on Monday and are scheduled to depart tomorrow.
Tsai met with the delegation yesterday morning, welcoming the organization on its first visit to Taiwan since the start of the COVID-19 pandemic, the office said in a statement.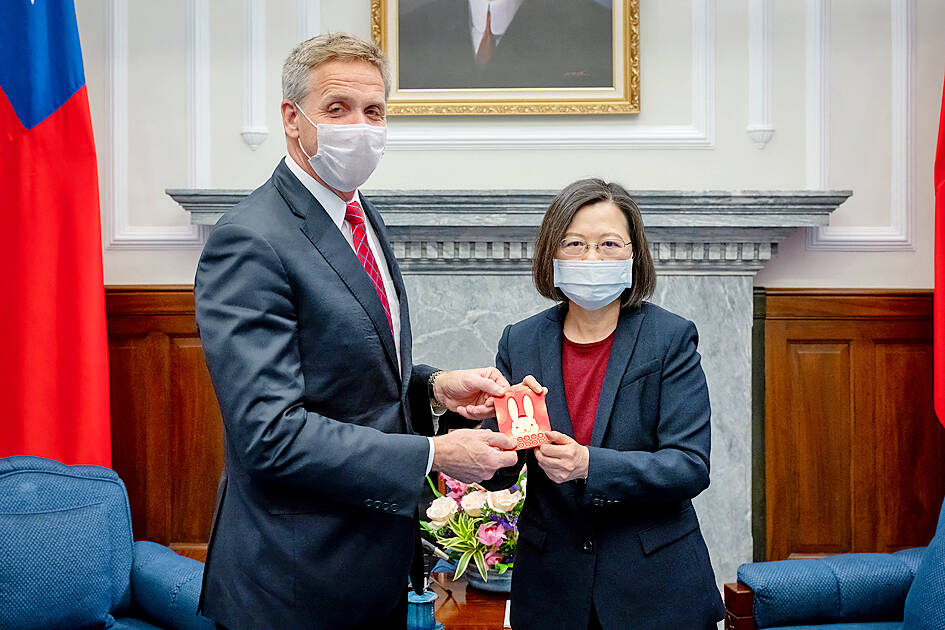 Former head of the US Indo-Pacific Command Philip Davidson, left, poses for a picture with President Tsai Ing-wen at the Presidential Office in Taipei yesterday.
Photo: Makoto Lin, EPA-EFE
She thanked Davidson, a retired admiral, for paying close attention to matters regarding the Taiwan Strait during his tenure from 2018 to 2021, and calling on the US government to continue his efforts after retiring, the statement said.
Taiwan must boost its defense capabilities in the face of authoritarian expansion to ensure national security, and safeguard the values of democracy and freedom, Tsai said in the statement.
"We have the faith, confidence and ability" to protect the country, Tsai said, adding that Taiwan would continue to work with the US and other like-minded partners.
Taiwan and the US continue to facilitate military exchanges, economic cooperation and trade partnerships, Tsai said.
The latest meeting of the US-Taiwan Initiative on 21st-Century Trade last month facilitated trade with convenient customs clearance protocols and bilateral platforms, she said.
Taiwan is looking forward to cooperating more closely with the US in supply chain matters, telecommunications security, science and technology, and other areas, she added.
Taiwan is a force for good that maintains regional peace and protects democracy and freedom, Tsai said, adding that the nation contributes to the prosperity of the region.
Davidson thanked Tsai for the warm welcome and said that he is honored to visit Taiwan for the first time.
He had in-depth discussions with US and Taiwanese bodies, along with think tanks in Taipei, he said.
Discussions since the delegation's arrival focused on Taiwan's democratic progress and civil society, as well as China's actions against Taiwan, he said.
Taiwan has robust infrastructure and industrial development, he said, adding that he has found Taiwanese to be very friendly.
Prior to his arrival, Davidson was in Japan, where he clarified a remark he made in 2021 that China might attack Taiwan in abut 2027, saying that such a move would not necessarily manifest as an invasion of Taiwan proper.
"In my mind, that can be many lesser things than an all-out invasion. One of those would be the threats to outer islands, and I think it's a grave security concern," he said.
Comments will be moderated. Keep comments relevant to the article. Remarks containing abusive and obscene language, personal attacks of any kind or promotion will be removed and the user banned. Final decision will be at the discretion of the Taipei Times.