New mask rules set to be unveiled
INCREASED RISK: The Omicron BA.2.75 subvariant has higher immune evasive capacity, but the CECC is more concerned about newer subvariants such as XBB and BQ.1
With the peak season for infectious respiratory diseases coming to an end, the Central Epidemic Command Center (CECC) yesterday said that details of the next phase of lifting COVID-19 masking rules — removing the mask requirement in most indoor settings — are to be announced this week.
Discussions on lifting other COVID-19 restrictions are also being held, including further easing border control measures, home isolation requirements and revising the definition for reporting cases, while also downgrading COVID-19 to a lower category of notifiable communicable disease, said Deputy Minister of Health and Welfare Victor Wang (王必勝), who heads the CECC.
As the daily case counts in the past few days have significantly increased, the CECC would need to monitor the situation for a few more days to determine whether the increase in cases has been caused by fewer people seeking medical attention during the Lunar New Year holiday or if another wave of infections has arrived, Wang said.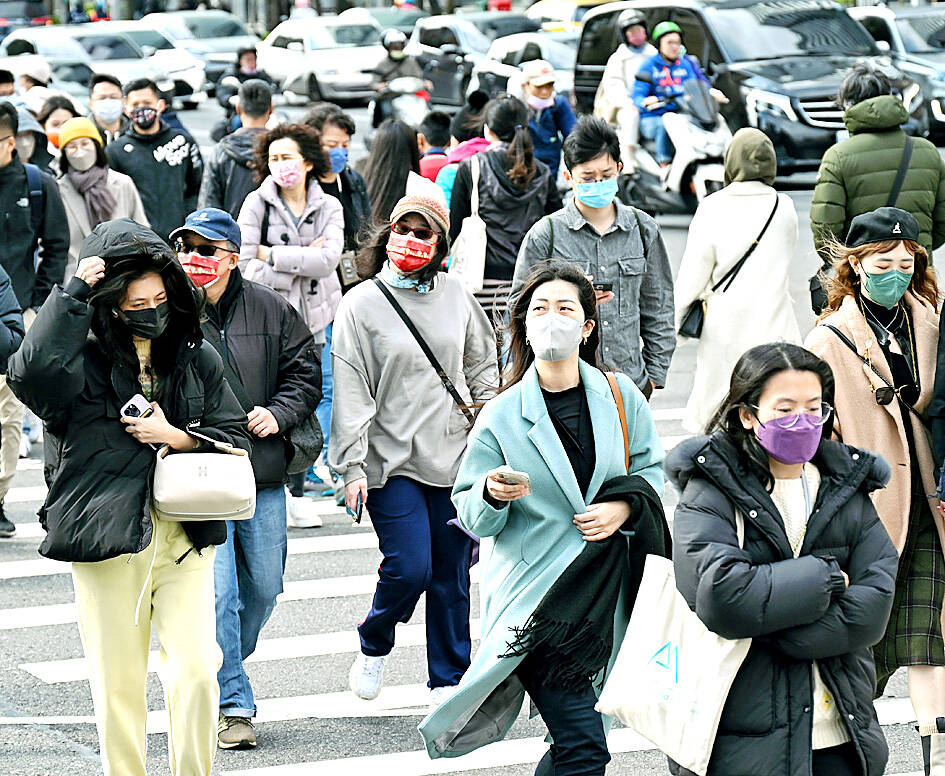 People wearing masks walk along a street in Taipei on Sunday.
Photo: Fang Pin-chao, Taipei Times
The CECC yesterday reported 22,138 new domestic cases, 153 imported cases and 30 deaths, while the number of local cases increased by 110.8 percent compared with the number reported on Monday last week.
The total number of new local cases last week increased by 5.7 percent compared with the week before, Wang said.
The CECC's weekly genomic surveillance data suggested that the Omicron BA.2.75 subvariant had become the dominant strain circulating in the nation, while 11 cases of the Omicron CH.1.1 subvariant had been detected, he said.
Centers for Disease Control (CDC) Deputy Director-General Philip Lo (羅一鈞), deputy head of the CECC's medical response division, said the weekly genomic surveillance data showed that of the sequenced local cases last week, 53 percent were the BA.2.75 subvariant, which has replaced the BA.5 subvariant in becoming the dominant strain circulating in local communities.
The BA.5 subvariant made up 35 percent of the sequenced local infections, while the BQ.1 subvariant made up about 13 percent, Lo said.
Of the sequenced imported cases (not including China), 54 percent were infected with the BA.2.75 subvariant, 23 percent with BA.5 and 23 percent with BQ.1, he said, adding that the sequenced imported cases from China showed that 60 percent were infected with BA.5, 39 percent with BF.7 and 1 percent with BA.2.75.
Lo said the BA.2.75 subvariant derived from the BA.2 lineage and has immune evasive capacity that can lead to an increased risk of reinfection, but the CECC is more concerned about newer subvariants that are even more transmissible and immune evasive, including the XBB and the BQ.1 subvariants of Omicron.
Eleven cases of the Omicron CH.1.1 subvariant, or "Orthrus," have been detected in Taiwan, four domestic infections and seven imported cases, but it has not caused a widespread outbreak, he said.
The CH.1.1 subvariant is a descendent of BA.2.75 that was first reported in Australia and New Zealand in November last year, and data from those and other nations show that it has not caused more severe disease, he added.
In related news, CDC Deputy Director-General Chuang Jen-hsiang (莊人祥), who is the CECC's spokesman, said that there is still demand for at-home rapid test kits, so the 10th round of the rationing program for purchasing rapid test kits would begin tomorrow.
Each person can buy up to six packs (five kits per pack) of rapid test kits by taking their National Health Insurance card or residence permit to a contracted pharmacy or public health center, Chuang said.
He also reminded eligible recipients of government-funded free rapid test kits — children aged six and younger and people aged 65 or older — who had not picked up a free pack to take their National Health Insurance card to a contracted pharmacy or public health center and pick it up before Feb. 28.
Comments will be moderated. Keep comments relevant to the article. Remarks containing abusive and obscene language, personal attacks of any kind or promotion will be removed and the user banned. Final decision will be at the discretion of the Taipei Times.