Taiwan 'trustworthy partner,' Pavel tells Tsai
DEMOCRATIC SYSTEM: Czech president-elect Petr Pavel said his nation stands firmly on the side of democracy and would boost cooperation with Taipei in all aspects
Czech president-elect Petr Pavel spoke by telephone with President Tsai Ing-wen (蔡英文) yesterday, a highly unusual move given the lack of formal ties and a diplomatic coup for Taipei.
Tsai spoke with Pavel for 15 minutes in a harmonious atmosphere, Presidential Office spokeswoman Lin Yu-chan (林聿禪) said, adding that Minister of Foreign Affairs Joseph Wu (吳釗燮) was also present during the conversation.
Lin quoted Pavel as telling Tsai that Taiwan is a trustworthy partner, adding that the Czech Republic stands firmly on the side of democracy and supports Taiwan in maintaining a lively democratic system free from authoritarian coercion.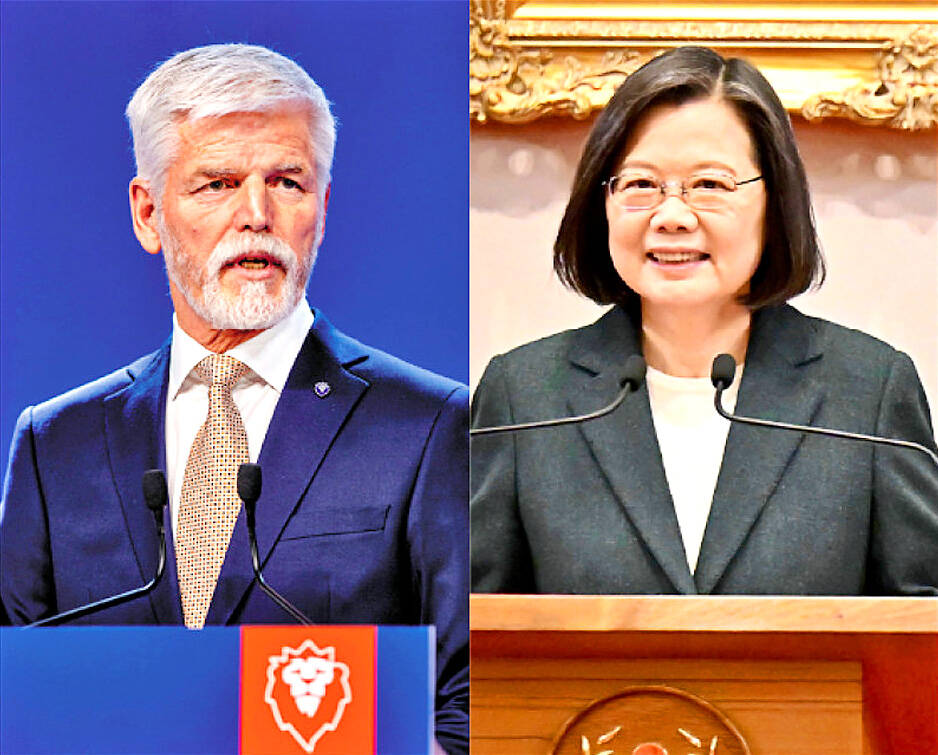 Czech president-elect Petr Pavel, left, and President Tsai Ing-wen are pictured in a composite image.
Photo: EPA and Taipei Times
The Czech Republic would boost cooperation with Taiwan in all aspects, he added.
Most nations' leaders avoid high-level public interactions with Taiwan and its president, not wishing to provoke China, the world's second-largest economy.
Then-US president-elect Donald Trump in 2016 spoke by telephone with Tsai shortly after winning the election, setting off a storm of protest from Beijing.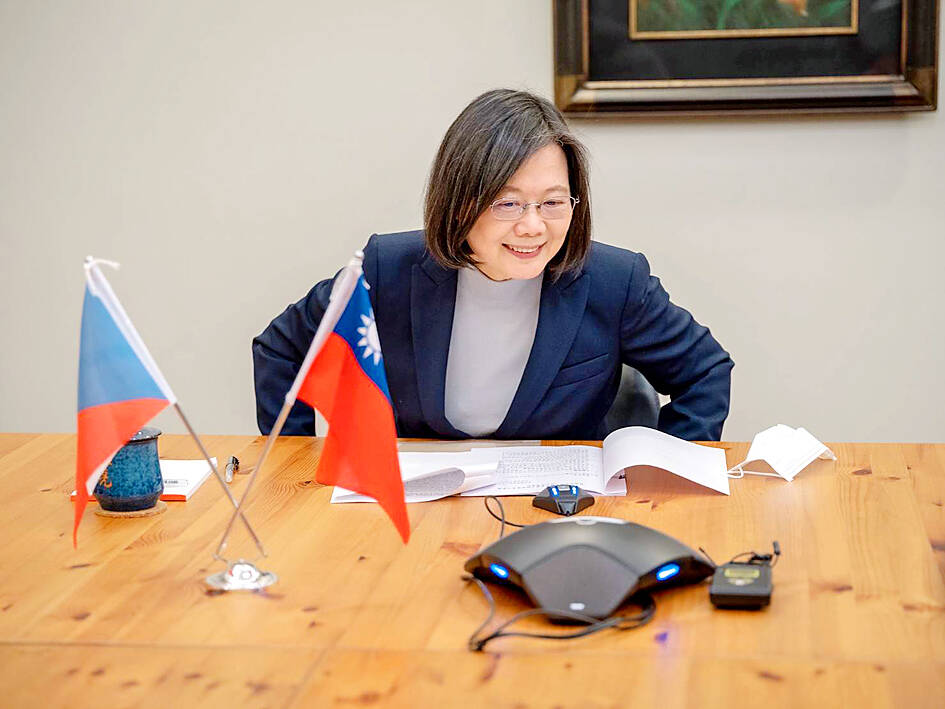 President Tsai Ing-wen speaks with Czech president-elect Petr Pavel by telephone at the Presidential Office in Taipei last night.
Photo courtesy of the Presidential Office
Pavel, a retired general who served as the head of NATO's military committee from 2015 to 2018, beat populist billionaire Andrej Babis in a presidential runoff.
He is due to take the oath of office on March 9 and replace Czech President Milos Zeman, who promoted friendly ties with China and Russia until Moscow invaded Ukraine in February last year.
Analysts said that Pavel's approach would be very different from Zeman's with a strong pro-Western drive focusing on ties with the EU and NATO.
Pavel, a staunch supporter of war-torn Ukraine and of its bid to join the EU, talked to Ukrainian President Volodymyr Zelenskiy by telephone on Sunday.
In an interview with the Czech Radio, Pavel said he would support his nation's links with Taiwan, a major investor in the Czech Republic.
Prague officially pursues a "one China" policy, like the EU, but Czech officials foster close ties with Taiwan.
Pavel said the "one China" policy should be supplemented with a "two system" principle.
"There is nothing wrong if we have specific relations with Taiwan, which is the other system," Pavel said. "It is definitely in our interest to retain active business and maybe also scientific relations with Taiwan."
The Presidential Office on Sunday said that Tsai had offered her congratulations to Pavel on his victory.
Asked about Tsai reportedly having the call with Pavel, Chinese Nationalist Party (KMT) Chairman Eric Chu (朱立倫) yesterday said that all dialogues and friendships with democratic nations or other countries are welcome.
Taipei has sought to bolster its relations with European nations by stressing the shared values of freedom and democracy, especially as Beijing ratchets up its threats.
Czech Senate President Milos Vystrcil visited Taiwan in 2020 and declared himself to be Taiwanese in a speech at the legislature in Taipei, channeling late US president John F. Kennedy's defiance of communism in Berlin in 1963.
Additional reporting by Chen Yun and Lin Liang-sheng
Comments will be moderated. Keep comments relevant to the article. Remarks containing abusive and obscene language, personal attacks of any kind or promotion will be removed and the user banned. Final decision will be at the discretion of the Taipei Times.