US sentences Chinese spy to eight years in jail
A Chinese engineer was on Wednesday sentenced to eight years in a US prison for providing a provincial government in China with information on possible recruitment targets.
Ji Chaoqun (紀超群), who first traveled to the US on a student visa in 2013 and later enlisted in the US Army Reserve, was accused of identifying US scientists and engineers that could be recruited by the Jiangsu Ministry of State Security.
The body is a key Chinese intelligence unit involved in numerous schemes to illegally obtain US industrial and trade secrets.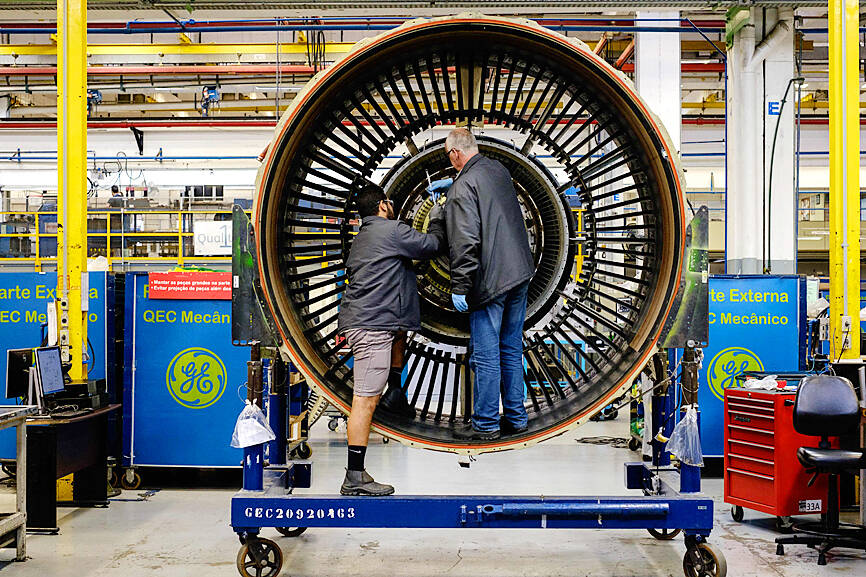 Mechanics work on a GE Aviation LLC engine in Petropolis, Brazil, on June 11, 2016.
Photo: AP
Ji was arrested in September 2018 on charges that he had supplied Chinese intelligence bodies with biographical information about eight people, all naturalized US citizens originally from Taiwan or China, and some of whom were US defense contractors.
Ji, who is about 31 years old, was in September last year convicted of illegally acting as an agent of a foreign government and of making false statements after a two-week trial in Chicago.
The charge is often used by federal prosecutors in espionage-related cases in which the accused is not clearly a foreign intelligence agent.
The US Department of Justice said that Ji acted at the direction of Xu Yanjun (徐延軍), a deputy division director in the Jiangsu ministry.
Ji's case was apparently linked to Chinese efforts over several years to steal trade secrets from Ohio-based GE Aviation LLC — one of the world's leading aircraft engine manufacturers — and other aviation companies, including US military suppliers.
Xu was a key figure in that effort. Arrested in Belgium in 2018, he was extradited to the US to stand trial
He was in November 2021 convicted of economic espionage and attempted theft of trade secrets.
In November last year, he was sentenced to 20 years in prison.
Comments will be moderated. Keep comments relevant to the article. Remarks containing abusive and obscene language, personal attacks of any kind or promotion will be removed and the user banned. Final decision will be at the discretion of the Taipei Times.