Rising prices, food insecurity adding to ranks of hungry: UN
Growing numbers of people in Asia lack enough to eat as food insecurity rises with higher prices and worsening poverty, a report released yesterday by the Food and Agriculture Organization (FAO) and other UN agencies said.
Nearly a half-billion people, more than eight in 10 of them in South Asia, were undernourished in 2021, and more than 1 billion faced moderate to severe food insecurity, the report said.
For the world, the prevalence of food insecurity rose to more than 29 percent in 2021 from 21 percent in 2014.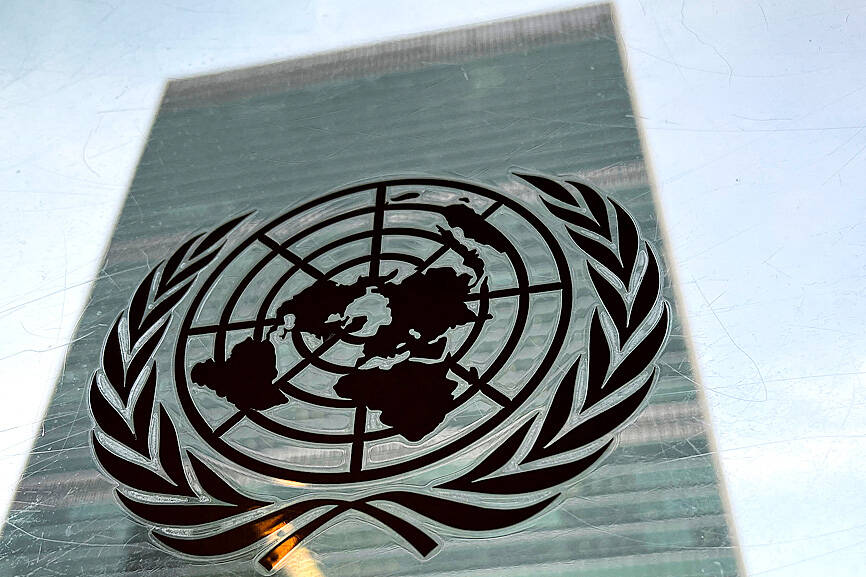 The United Nations headquarters building is pictured with a UN logo in the Manhattan borough of New York City on March 1 last year.
Photo: Reuters
The COVID-19 pandemic was a huge setback, causing mass job losses and disruptions, and the war in Ukraine has pushed up prices for food, energy and fertilizer, putting an adequate diet out of the reach of many millions, it said.
The report is the fifth annual stocktaking on food insecurity and hunger by UN agencies including the FAO, UNICEF, the WHO and the World Food Programme.
Over those years, progress toward alleviating hunger and malnutrition has stalled and then backslid, as growing numbers of people lost the wherewithal to get enough to eat. The prevalence of undernourishment as measured by the UN agencies was 9.1 percent in 2021, better than the 14.3 percent in 2000, but up slightly from 2020.
Such figures show that "the slowdown in the fight against hunger continues," said the report, which also highlights the growing food insecurity faced by people who have moved into cities, where they have less easy access to affordable food.
"Reforming our agrifood systems to produce nutritious food and ensure equitable access to healthy diets is critical," it said.
The FAO's Food Price Index has risen in the past several years, hitting a record in March last year. It fell back as commodity prices declined somewhat later in the year, but is still 28 percent above the 2020 level.
The Asia-Pacific region imports nearly US$2 trillion of food a year. Rising prices for basics like rice, wheat and oil hit the poor the hardest.
It is part of what the UN agencies call the "5F" crisis of not enough food, feed, fertilizer, fuel and financing. The conflict in Ukraine has dealt a heavy blow in many countries that depended on the region for wheat, edible oils and fertilizers.
Nearly 2 billion people — or almost 45 percent of people living in Asia — cannot afford healthy diets, contributing to problems with anemia and obesity, as well as hunger, it said.
Comments will be moderated. Keep comments relevant to the article. Remarks containing abusive and obscene language, personal attacks of any kind or promotion will be removed and the user banned. Final decision will be at the discretion of the Taipei Times.