Blinken renews warning on China's Taiwan plans
US Secretary of State Antony Blinken on Friday said that tensions have eased with China as he prepares for a rare visit, but he renewed alarm over Beijing's intentions over Taiwan.
Asked in an appearance at the University of Chicago if the temperature had subsided with China, Blinken replied: "I think so, because when you're talking and engaging, it tends to have that effect."
"The rest of the world expects us to manage this relationship responsibly. They know that the way we manage it is actually going to affect them, too," he said.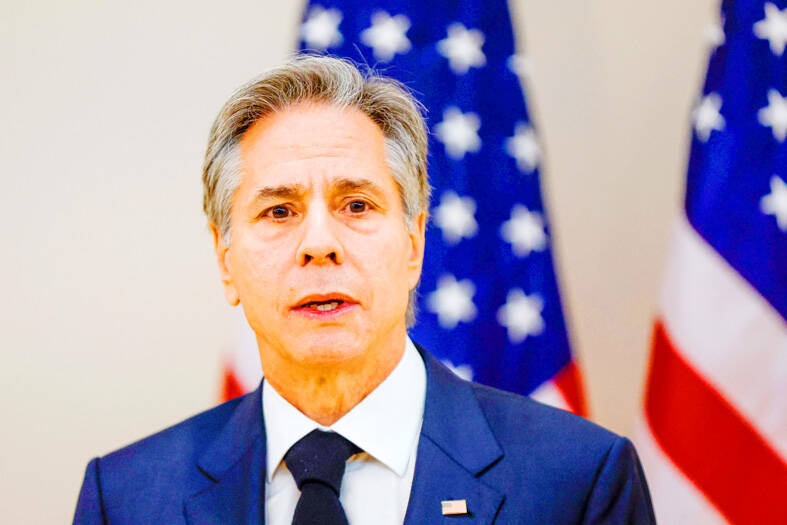 US Secretary of State Antony Blinken speaks at the Ukrainian Cultural Center in Chicago, Illinois, on Friday.
Photo: AFP
Blinken is to visit Beijing from Feb. 5 to 6, a US official said, in the first trip by a US secretary of state to the rising Asian power since October 2018.
The trip was decided after US President Joe Biden and Chinese President Xi Jinping (習近平) in November held talks in Bali, Indonesia, on wide-ranging friction between the world's two largest economic powers.
However, Blinken again voiced alarm over Taiwan, pointing to Beijing's growing efforts to isolate the nation and the major military exercises it carried out near it in August.
"What we've seen over the last few years is, I think, China make a decision that it was no longer comfortable with the status quo, a status quo that had prevailed for decades that had actually been successful in terms of the relationship between our countries and managing what is a difficult situation," he said.
"What we say to China is this — they say this is a sovereign issue for us; our response is this is an interest to the United States and to countries around the world," Blinken said, pointing to Taiwan's dominance in semiconductors crucial for the global economy.
Any disruption of the peace and stability across the Taiwan Strait would be a disaster to the world economy, he said, adding that 50 percent of container ships operating around the world go through the Taiwan Strait and 70 percent of higher-end computer chips are manufactured in Taiwan.
Blinken was on a trip to Chicago that included visiting the midwestern metropolis' historic Ukrainian community to discuss the response to Russia's invasion.
Additional reporting by CNA
Comments will be moderated. Keep comments relevant to the article. Remarks containing abusive and obscene language, personal attacks of any kind or promotion will be removed and the user banned. Final decision will be at the discretion of the Taipei Times.