Poll predicts tight contest between Lai, Hou and Ko
It would be a tight contest between Vice President William Lai (賴清德), New Taipei City Mayor Hou You-yi (侯友宜) and former Taipei mayor Ko Wen-je (柯文哲) if next year's presidential election involved the three potential candidates, a public opinion poll released yesterday said.
Lai, Hou and Ko received 34 percent, 31.4 percent and 22.3 percent support respectively in the poll, the Taiwan Public Opinion Foundation told a news conference in Taipei.
The foundation's poll for this month found that 36.7 percent of respondents backed Hou to run for the Chinese Nationalist Party (KMT), while 28.6 percent supported Hon Hai Precision Industry Co (鴻海精密) founder Terry Gou (郭台銘), 7.9 percent supported KMT Chairman Eric Chu (朱立倫), 4 percent supported Broadcasting Corp of China (中國廣播) chairman Jaw Shaw-kang (趙少康) and 22.8 percent said they did not know.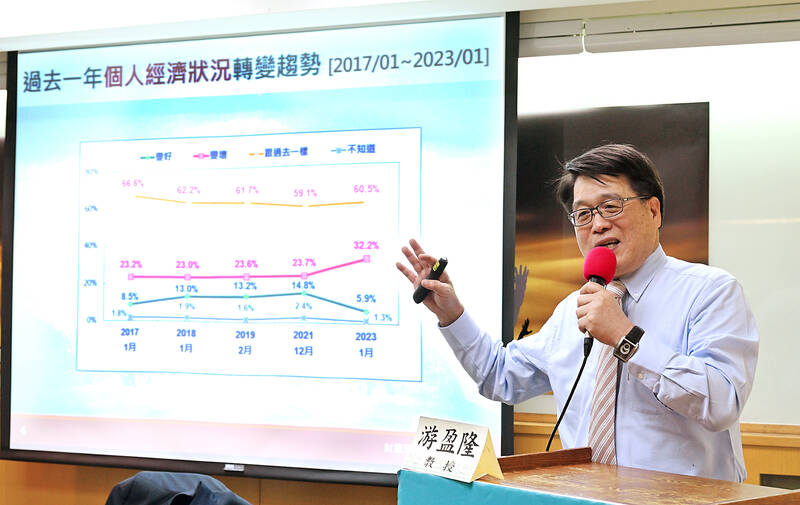 Taiwan Public Opinion Foundation chairman Michael You introduces the results of a political poll at a news conference in Taipei yesterday.
Photo: Liao Chen-hui, Taipei Times
Of the respondents, 57.7 percent supported Lai, who is chairman of the Democratic Progressive Party (DPP), in the presidential election, while 16.7 percent picked former vice president Chen Chien-jen (陳建仁) to represent the party, 5.9 percent chose Premier Su Tseng-chang (蘇貞昌) and 19.8 percent said they did not know.
Compared with the foundation's poll last month, Hou's support rating dropped 7.3 percentage points, Lai's increased 5 percentage points and Ko's rose 4.5 percentage points.
Hou's declining support shows that people are becoming aware that he has a limited say in national affairs in his current role, foundation chairman Michael You (游盈隆) said, adding that Lai's support increased because his bid to become DPP chairman made him the focus of the recent news cycle.
In terms of party support, 26.1 percent backed the DPP, 21.5 percent chose the KMT and 20.3 percent supported the Taiwan People's Party, while the New Power Party and the Taiwan Statebuilding Party each received the backing of 4.3 percent, the poll showed.
Of the remainder, 1.2 percent supported other political parties, 21.3 percent said they do not support any party and 1 percent said they did not know who to choose.
The poll found that 49.5 percent were dissatisfied with President Tsai Ing-wen's (蔡英文) cross-strait policies, 38.5 percent were satisfied, 9.8 percent had no opinion and 2.2 percent said they did not know.
Seventy-two percent supported extending mandatory military service to one year, 17.3 percent opposed the policy, 7.9 percent did not have an opinion and 2.1 percent said they did not know.
Fifty-seven percent were dissatisfied with the performance of Su's Cabinet, 35.8 percent approved of it, 5.4 percent had no opinion and 1.8 percent did not know.
Regarding the Taiwan-friendly portions of the US National Defense Authorization Act for Fiscal Year 2023 passed last month, 59.1 percent said they welcomed military assistance from Washington, while 28.4 percent did not, 7.8 percent had no opinion and 4.8 percent did not know.
Asked whether US military aid would push Taiwan into a war, 53.4 percent disagreed, 38.1 percent agreed, 5.5 percent did not have an opinion and 3 percent did not know.
The poll was conducted from Monday to Wednesday last week by calling landline telephones, and targeted adults aged 20 or older. The poll had a valid sample of 1,085 and a margin of error of 2.98 percentage points.
Comments will be moderated. Keep comments relevant to the article. Remarks containing abusive and obscene language, personal attacks of any kind or promotion will be removed and the user banned. Final decision will be at the discretion of the Taipei Times.