Dual-track reservist program unveiled
BONUS: To encourage reservists who have already completed four mandatory stints in eight years to join the program, the military is to provide each of them NT$5,000
Reservists would soon be allowed to voluntarily enroll in dual-track reservist training, which would also be open to female reservists, the Ministry of National Defense said yesterday.
The voluntary program, to be launched in the second quarter, would be the first time that the military has included discharged female military personnel in its reservist training program.
The military runs a dual-track reservist training program that began last year with a comparatively small number of reservists undergoing two weeks of intensive training twice in eight years, while the majority undergo a five-to-seven-day regimen four times in eight years.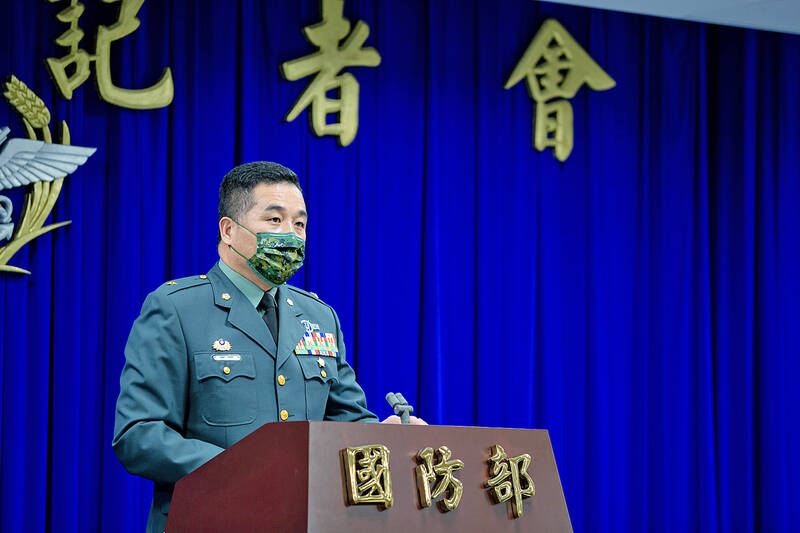 All-Out Defense Mobilization Agency head Major General Yu Wen-cheng speaks to reporters in an undated photograph.
Photo courtesy of the Ministry of National Defense
Volunteer reservists in the new program would be able to choose one or two-week training.
For the current training, only male reservists are required to join, with participation decided by a lottery.
Major General Yu Wen-cheng (俞文鎮), a division head of the ministry's All-Out Defense Mobilization Agency, told a news conference that the new voluntary training would be open to about 500 male reservists and about 200 females.
To encourage reservists who have already completed the required maximum four stints of mandatory training in eight years to join the new voluntary program, the military would give a NT$5,000 one-time bonus to each person who joins the program for a fifth round of training, Yu said.
Those who want to join the voluntary program can log on to the All-Out Defense Mobilization Agency's Web site to sign up or visit a reserve command or reservist service center, he said.
Previously, the military said it only trained male reservists because it did not have sufficient training capacity to accommodate men and women.
While men are required to take part in compulsory military conscription and reservist training, women can join the armed forces voluntarily to serve as soldiers or officers.
As of 2021, 8,915 women were listed as reservists. Among Taiwan's 180,000 active military personnel, 15 percent are women, military data showed.
The ministry also gave more details on its planned acquisition of anti-tank munitions, following fears that a proposed purchase of Volcano mine-dispensing systems from the US would litter Taiwan with landmines.
The army would only lay mines on potential landing sites, Army Chief of Staff Chang Yuan-hsun (章元勳) told reporters.
The Volcano system — vehicle-launched anti-tank munition-laying systems and M977A4 HEMTT 10-tonne trucks — were part of a US$180 million package approved by the US Department of State on Dec. 28.
The mines are "smart" and have a digital timer for self-destruction, mitigating worries that they would affect noncombatants, Chang said, adding that the mines are not buried, making them easier to spot.
This would make mine removal after combat much easier and worries about collateral damage — as there has been with older mines buried in Kinmen County — are unnecessary.
The mines would not be deployed "half a year" before an invasion, instead waiting until a landing attack has been confirmed, he said.
The army would be fully responsible for the mine-laying system and would endeavor to minimize the potential of accidental injuries, he added.
Additional reporting by Aaron Tu
Comments will be moderated. Keep comments relevant to the article. Remarks containing abusive and obscene language, personal attacks of any kind or promotion will be removed and the user banned. Final decision will be at the discretion of the Taipei Times.