Bureau probing secret files for sale on Web site
CLASSIFIED DATA? A military analyst said that the online post provided snippets of information on people that agencies have gathered intelligence on
The Ministry of Justice Investigation Bureau is investigating a claim on an international online forum that offered classified Taiwanese intelligence files for sale.
The bureau issued a statement about the probe yesterday after the Chinese-language Liberty Times (the sister paper of the Taipei Times) reported earlier in the day that the advertisement published on the forum was for confidential documents allegedly from the nation's intelligence agencies.
The report quoted a seasoned military analyst with the pseudonym "Malan" as saying that the posting provided snippets of the information, detailing people the agencies have gathered intelligence on.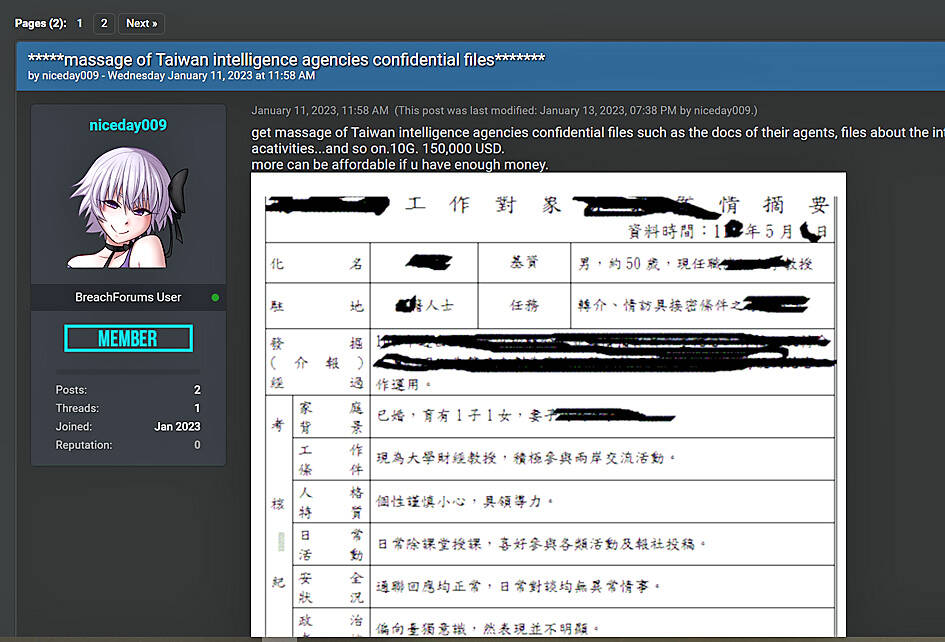 A posting on a Web site asking for US$150,000 for 10 gigabytes of Taiwanese intelligence data is pictured yesterday.
Photo: screen grab from the breached.vc Web site
It was not immediately known why these people were targeted, but the information included descriptions of the work, hobbies, politics and personalities of the targeted people.
For example, one post described someone as "facing a diminished income" and "intending to go to China in the future for further development," while another described another person as "a business professor who is active in cross-strait exchanges" and their "outward showing is not obvious, although they harbor ideology inclined toward Taiwan independence," the report quoted "Malan" as saying.
The seller is asking for US$150,000 for 10 gigabytes of classified data, the report said.
The bureau yesterday said it is aware of the situation and is investigating the advertisement, but that it could not disclose details of an ongoing probe.
It does not matter whether the data was leaked or obtained by a hacker, the incident still constitutes a breach of national security, Democratic Progressive Party (DPP) Legislator Wang Ting-yu (王定宇) said yesterday.
As such, national security officials must take responsibility and give the public an explanation as soon as possible, he added.
DPP Legislator Liu Shih-fang (劉世芳) called for answers to a few questions, including why national intelligence information was posted on a foreign Web site in the first place.
Officials should also explain whether an individual or a group is responsible, and whether it is true or false information intended to create disorder, he added.
Additional reporting by Chen Yu-fu
Comments will be moderated. Keep comments relevant to the article. Remarks containing abusive and obscene language, personal attacks of any kind or promotion will be removed and the user banned. Final decision will be at the discretion of the Taipei Times.