Change to status quo must not be allowed: Kishida
Japanese Prime Minister Fumio Kishida on Friday pledged alongside US President Joe Biden to modernize his country's military, warning that Russia's invasion of Ukraine had opened a dangerous new era and could embolden China.
Welcoming Kishida at the White House, Biden hailed the Japanese government's announcement last month that it would double defense spending over the next five years and develop new capabilities.
"Let me be crystal clear: the United States is fully, thoroughly, completely committed to the alliance and, more importantly, to Japan's defense," Biden said.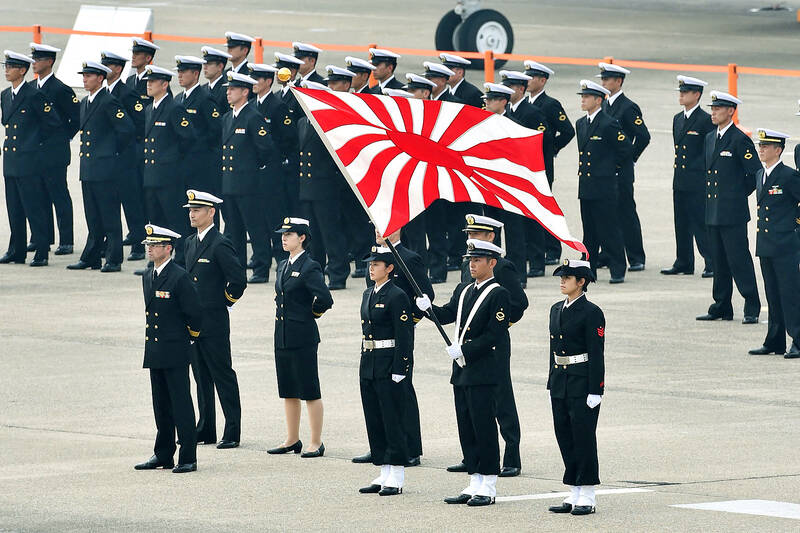 Members of the Japanese Self-Defense Forces stand with the Japanese navy's flag prior to a ceremony on a runway at the Hyakuri Air Base in Omitama, Japan, on Oct. 26, 2014.
Photo: AFP
Japan has been officially pacifist since its defeat in World War II, but has been shedding past sensitivities as China rapidly expands its military and North Korea tests new missile capability.
In a speech after his White House meeting, Kishida cast his defense strategy as a historic turning point in the US-Japan alliance, in the same league as the mutual defense treaty of 1960.
"Russia's aggression against Ukraine has marked the complete end of the post-Cold War world," Kishida said at Johns Hopkins University's School of Advanced International Studies.
"If we let this unilateral change in the status quo by force go unchallenged, it will happen elsewhere in the world, including Asia," Kishida said, in an apparent allusion to fears of a Chinese invasion of Taiwan.
"It is absolutely imperative for Japan, the United States and Europe to stand united in managing our respective relationship with China," he added.
Japan has joined Western powers in imposing sanctions on Russia and has provided humanitarian — although not military — aid to Ukraine since Russia invaded in February last year.
Kishida called it a "major shift" in Japan's policy toward Russia following unsuccessful marathon talks to resolve a dispute over islands seized by Soviet troops shortly after Tokyo's surrender in 1945.
Kishida was visiting Washington at the end of a tour of G7 nations in Europe and North America.
"Japan's participation in the measures against Russia transformed the fight against Russia's aggression against Ukraine from a transatlantic one to a global one," Kishida said.
Biden hailed Japan's firmness on Ukraine during the leaders' meeting in the Oval Office.
Kishida also discussed with Biden Washington's restrictions on the export of key technology to China, announced in October, in an effort to stifle Beijing's development of a semiconductor supply chain.
Kishida told Biden that he would deal with chip export restrictions appropriately, an official told reporters following the leaders' meeting.
"They agreed on the importance of managing exports of sensitive technology, particularly from the point of view of economic security," Japanese Deputy Chief Cabinet Secretary Seiji Kihara said.
Japan will continue to deal with the issue based on the direction of regulations of partner countries, including the US, Kihara cited Kishida as saying in the meeting.
Additional reporting by Bloomberg and Reuters
Comments will be moderated. Keep comments relevant to the article. Remarks containing abusive and obscene language, personal attacks of any kind or promotion will be removed and the user banned. Final decision will be at the discretion of the Taipei Times.