Taipei condemns raised China tensions
MEDIAN LINE INCURSIONS: Beijing is using the exercises to send a message to the US, while normalizing increased forays to lower early-warning time, an analyst said
The Presidential Office yesterday condemned continued Chinese military activity around Taiwan, after 28 People's Liberation Army (PLA) aircraft crossed the median line of the Taiwan Strait within 24 hours.
From 6am on Sunday to 6am yesterday, the PLA deployed 57 aircraft and four navy vessels near Taiwan, the Ministry of National Defense said.
Twenty-eight of the aircraft crossed the median line of the Strait and entered the nation's southwest air defense identification zone.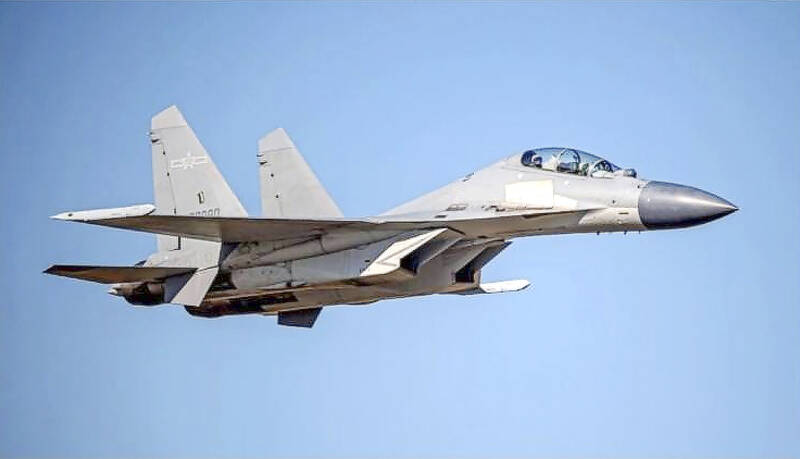 A Chinese PLA J-16 fighter jet flies in an undisclosed location in an undated photograph.
Photo: Taiwan Ministry of Defense via AP
They included two Sukhoi Su-30 fighter jets, 12 J-16 multipurpose fighters, two J-10 jets and two BZK-005 uncrewed aerial vehicles (UAVs), a ministry map showed.
There were also two nuclear-capable H-6 bombers and one BZK-005 UAV that flew around Taiwan into southeastern airspace before turning back.
The PLA's Eastern Theater Command in a statement described the actions as "joint combat readiness patrols and actual combat drills."
It was the PLA's second major incursion within a month, after it on Dec. 25 and Dec. 26 deployed 71 aircraft around Taiwan — 47 of which crossed the median line — as well as seven warships.
Presidential Office spokesman Xavier Chang (張惇涵) responded to the activity with "strong condemnation."
He also reiterated that Taiwan's well-established stance is to avoid escalation and refrain from provoking disputes.
Beijing uses any kind of baseless charge to continue its military activity around Taiwan, Chang said, adding that peace and stability in the Strait is the joint responsibility of both sides.
However, the nation would resolutely defend its sovereignty and security, and protect democracy and freedom, he said.
The ministry in a statement said that it uses aircraft, ships and shore-based missile systems to closely monitor and respond to PLA activity.
Military personnel are also trained for war preparedness based on the principle of no escalation and no provocation, it said.
These latest drills were likely intended to intimidate the US against implementing Taiwan-friendly sections of a recently passed defense spending bill, said Chieh Chung (揭仲), an associate research fellow at the National Policy Foundation think tank.
US President Joe Biden last month signed into law the National Defense Authorization Act for Fiscal Year 2023, which includes up to US$10 billion in security assistance to Taiwan over five years and fast-tracked weapons procurement.
Recent PLA exercises have been relatively insignificant in military terms, Chieh said.
In Sunday's exercises and those on Friday and Dec. 31, the PLA craft turned back shortly after crossing the median line, showing that the moves are intended to exert political pressure, he said.
The exercises likely serve to remind Washington that if it fails to seriously consider Beijing's stance on cross-strait matters, there can be no effective "guardrails" against conflict, Chieh said.
At the same time, Beijing is seeking to normalize incursions across the Strait's median line, which until August last year was tacitly accepted as a demarcator and rarely crossed, Chieh said.
By eroding Taiwan's defensive space, Beijing is seeking to minimize its early-warning time, he said.
The two H-6 bombers and accompanying UAV traveling into airspace southeast of Taiwan appeared to be a practice run for long-distance joint combat capabilities under the direction of a KJ-500 airborne early warning and control plane stationed inside Taiwan's southwest air defense identification zone, he said.
Chieh said that the PLA is likely to continue sending long-distance UAVs to conduct reconnaissance for strike fleets, and potentially serve as a guide for long-distance precision ammunition.
Comments will be moderated. Keep comments relevant to the article. Remarks containing abusive and obscene language, personal attacks of any kind or promotion will be removed and the user banned. Final decision will be at the discretion of the Taipei Times.