CECC to monitor Chinese travel situation
END OF QUARANTINE: Some Chinese travelers might face hurdles, as some nations have restarted testing regimes for them after Beijing announced the Jan. 8 easing
The Central Epidemic Command Center (CECC) yesterday said that it would conduct a rolling review of entry restrictions and testing requirements for arrivals from China after Beijing on Monday announced that mandatory COVID-19 quarantine for overseas arrivals would end on Jan. 8.
However, Taiwan would not follow Japan in tightening quarantine measures for travelers from China, said Centers for Disease Control Deputy Director-General Chuang Jen-hsiang (莊人祥), the CECC's spokesman, after people in China yesterday rushed to book trips abroad given the promise of eased requirements at home.
The CECC would continue to provide at-home rapid test kits for travelers arriving at international airports, Chuang said.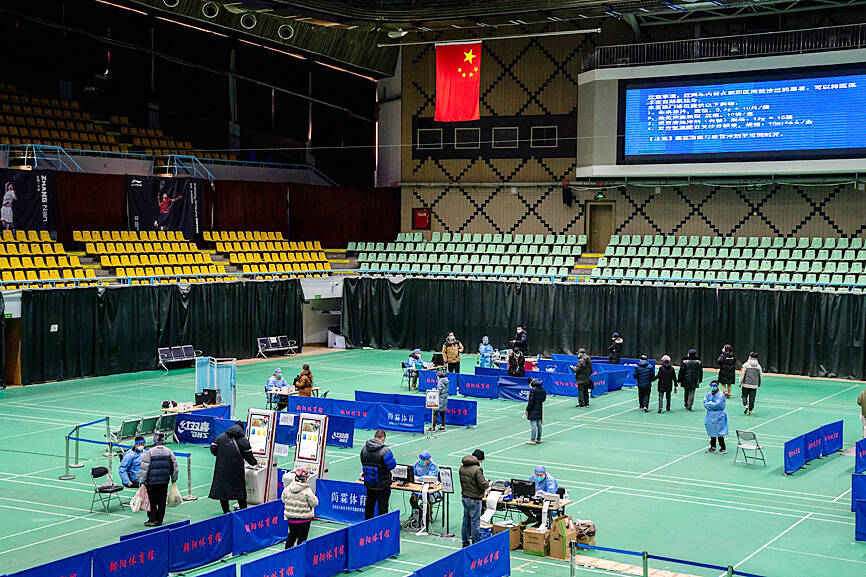 People wait at a temporary fever clinic at a sports center in Beijing on Monday last week.
Photo: Bloomberg
They would also be subject to the "5+N" rule — five days of home isolation, followed by up to seven days of self-health management until they test negative with a rapid test — if they are diagnosed with COVID-19 in Taiwan, he said.
Some Chinese might face hurdles when they go abroad as some countries have reinstated testing requirements for incoming travelers from China, including India and Italy, while Japan yesterday announced that from Friday it would require COVID-19 testing on arrival for travelers from China.
Rising cases in China were "causing growing concern in Japan," Japanese Prime Minister Fumio Kishida said.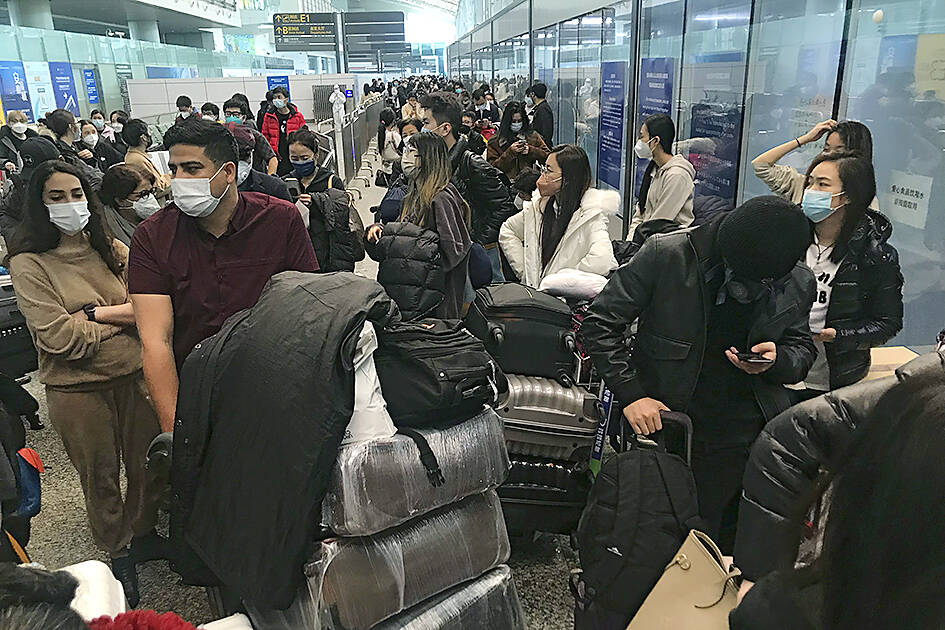 Inbound travelers wait for hours to board buses to leave for quarantine hotels and facilities from Guangzhou Baiyun Airport in southern China`s Guangdong province on Dec. 25 2022. Japanese Prime Minister Fumio Kishida announced Tuesday that Japan will tighten border controls against COVID-19 by requiring tests for all visitors from China starting Friday as a temporary emergency measure against the surging infections there.
Photo: AP
In Beijing, the Chinese Ministry of Foreign Affairs said that countries should uphold "scientific and appropriate" disease controls that "should not affect normal personnel exchanges."
Asked if Taiwan might follow China in downgrading COVID-19 to a lower category of notifiable communicable disease, Deputy Minister of Health and Welfare Victor Wang (王必勝), who heads the CECC, said that Taiwan is moving at its own pace, so adjustments would be announced at an appropriate time.
The CECC would reference other countries such as Japan and the US when determining the right time to downgrade COVID-19, Wang said.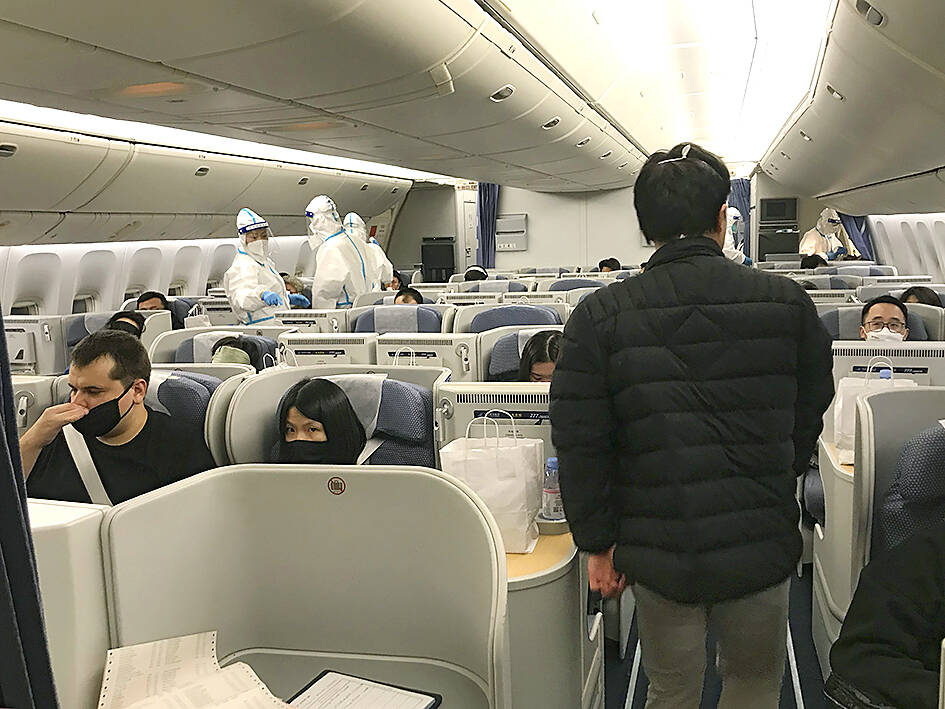 Cabin crew wearing protective gear watch as travelers heading to China board a flight leaving from the JFK airport in New York on Dec. 24 2022. China will drop a COVID-19 quarantine requirement for passengers arriving from abroad starting Jan. 8, the National Health Commission announced Monday, Dec, 26, 2022 in the latest easing of the country`s once-strict virus-control measures.
Photo: AP
It would be shortly after the Lunar New Year holiday at the soonest, he said.
Meanwhile, Chinese reacted with joy and rushed to book trips after Beijing's announcement that it would scrap mandatory quarantine after almost three years of self-imposed isolation.
"I felt like the epidemic is finally over... The travel plans I made three years ago may now become a reality," said Fan Chengcheng, 27, a Beijing office worker.
A Shanghai resident surnamed Chen said that the policy shift "felt like someone has pressed the button to end the movie," adding that it would allow her parents in Britain to visit her more easily.
"Finally, China's going back to normal," she said. "It shows there are people who still care about global commerce and the impact on the Chinese economy."
Online searches for flights abroad surged on the news, with travel platform Tongcheng reporting an 850 percent jump in searches and a 10-fold spike in inquiries about visas, state media reported.
Rival platform Trip.com Group said that the volume of searches for popular overseas destinations rose by 10 times year-on-year within half an hour of the announcement.
Users were particularly keen on trips to Macau, Hong Kong, Japan, Thailand and South Korea, it said.
Additional reporting by Lee I-chia and CNA
Comments will be moderated. Keep comments relevant to the article. Remarks containing abusive and obscene language, personal attacks of any kind or promotion will be removed and the user banned. Final decision will be at the discretion of the Taipei Times.