China pans US bill that boosts Taiwan
FASTER ARMS PROCUREMENTS: Taipei thanked the US for passing the legislation, while Beijing called the bill a threat to peace and interference in its internal affairs
Taipei yesterday lauded the US for a newly eneacted defense spending bill, while China panned the legislation, which would boost military assistance for Taiwan.
US President Joe Biden on Friday signed the US$858 billion defense bill into law, authorizing up to US$10 billion in security assistance and fast-tracked weapons procurement for Taiwan.
It also includes about US$45 billion more than Biden had requested, as lawmakers looked to offset inflation and boost the nation's military competitiveness with China and Russia.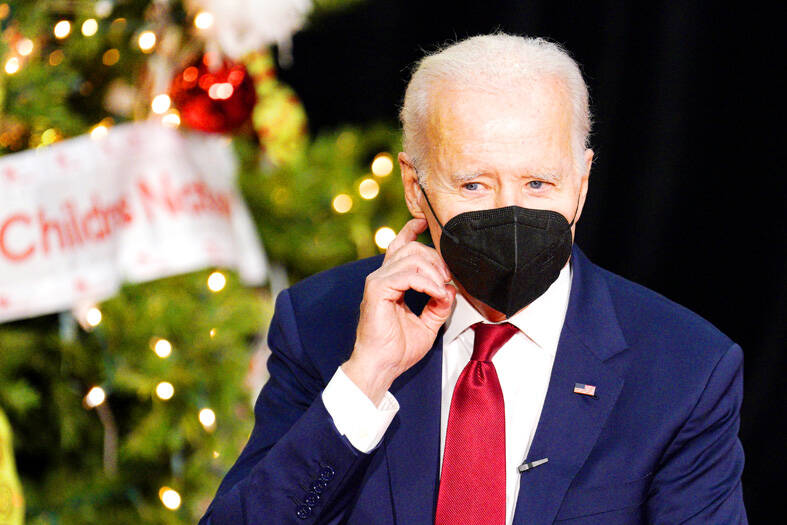 US President Joe Biden attends a Christmas book reading at a children's hospital in Washington on Friday.
Photo: EPA-EFE
In the Indo-Pacific region, the legislation authorizes increased security cooperation with Taiwan and requires expanded cooperation with India on emerging defense technologies, readiness and logistics.
In Taipei, the Ministry of Foreign Affairs in a statement thanked the US Congress "for showing the great importance it attaches to Taiwan-US relations and strengthening Taiwan's security."
The Ministry of National Defense also thanked Washington for the legislation, saying it showed the importance the US attaches to its ties with Taiwan and bolstering the nation's security.
Taipei is to discuss the details of the act with Washington and "gradually push forward the budget formulation and actual disbursement of the various Taiwan-friendly provisions," the defense ministry said.
Meanwhile, the Chinese Ministry of Foreign Affairs said in a statement that the US defense bill "severely affects peace and stability across the Taiwan Strait."
"The case ignores the facts to exaggerate a 'China threat,' wantonly interferes in China's internal affairs and attacks and smears the Chinese Communist Party, which are serious political provocations to China," the statement said.
The US is Taiwan's most important international backer and arms supplier, despite the absence of formal diplomatic ties.
Taiwan's military is dwarfed by that of China. Its air force in particular has come under strain from having to scramble repeatedly to see off Chinese incursions near the nation over the past couple of years.
Separately, the defense ministry yesterday reported that 11 Chinese military aircraft and three naval ships had been detected near Taiwan between 6am Friday and 6am yesterday.
Taiwanese fighter jets were deployed to warn the Chinese aircraft, and air defense missiles were deployed to monitor the activities, it added.
China in August staged major military exercises around Taiwan proper, after US House of Representatives Speaker Nancy Pelosi visited Taipei.
Comments will be moderated. Keep comments relevant to the article. Remarks containing abusive and obscene language, personal attacks of any kind or promotion will be removed and the user banned. Final decision will be at the discretion of the Taipei Times.