COVID-19: Crematoriums are strained as virus toll in China rises
Crematoriums across China are straining to deal with an influx of bodies as the country battles a wave of COVID-19 cases that authorities have said is impossible to track.
Cases are soaring across China, with hospitals struggling and pharmacy shelves stripped bare.
From the country's northeast to its southwest, crematorium workers told reporters that they are struggling to keep up with a surge in deaths.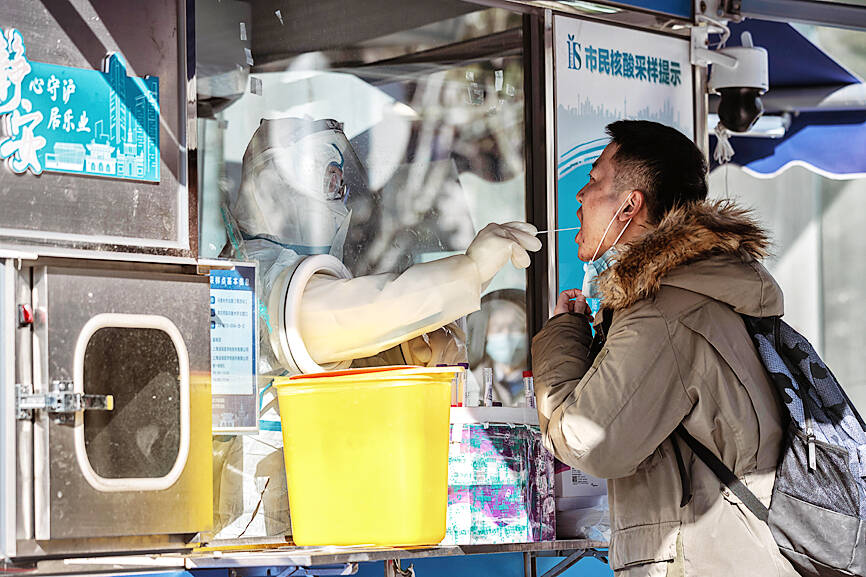 A man submits to a test for COVID-19 in Shanghai yesterday.
Photo: EPA-EFE
In Chongqing — a city of 30 million people where authorities this week urged people with mild COVID-19 symptoms to go to work — one worker said that their crematorium had run out of space to keep bodies.
"The number of bodies picked up in recent days is many times more than previously," said the staffer, who did not give their name.
"We are very busy, there is no more cold-storage space for bodies," they said. "We are not sure [if it's related to COVID-19], you need to ask the leaders in charge."
In Guangzhou, an employee at one crematorium in Zengcheng District said that they were cremating more than 30 bodies a day.
"We have bodies assigned to us from other districts. There's no other option," the employee said.
Another crematorium in the city said that it was also "extremely busy."
"It's three or four times busier than in previous years, we are cremating over 40 bodies per day when before it was only a dozen or so," a staffer said.
"The whole of Guangzhou is like this," they said, adding that it was "hard to say" whether the surge in bodies was linked to the virus.
In Shenyang, a staff member at a funeral services business said that bodies were being left unburied for up to five days because crematoriums are "absolutely packed."
Asked whether the rise in demand was due to COVID-19, he said: "What do you think? I've never known a year like this one."
The end to mandatory testing has made the toll of China's COVID-19 surge difficult to track, with authorities last week saying it is now "impossible" to tally how many have fallen sick.
Beijing health officials yesterday said that only those who had directly died of respiratory failure caused by the virus would be counted under COVID-19 death statistics.
Comments will be moderated. Keep comments relevant to the article. Remarks containing abusive and obscene language, personal attacks of any kind or promotion will be removed and the user banned. Final decision will be at the discretion of the Taipei Times.