Electric scooter subsidies extended by four years
ENERGY SAVINGS: In addition to scooters, individuals can receive subsidies ranging from NT$3,000 to $15,000 for trading in other vehicles, fridges and air conditioners
Premier Su Tseng-chang (蘇貞昌) has approved an extension of a subsidy program for the purchase of new electric scooters to 2026.
The NT$5.885 billion (US$191.6 million) extended subsidy program, proposed by the Ministry of Economic Affairs, was approved last month as part of the government's efforts to achieve net zero emissions by 2050, Executive Yuan spokesman Lo Ping-cheng (羅秉成) told a news conference after a weekly Cabinet meeting.
Over the past five years, the government has spent NT$7.2 billion on the subsidies, with the number of electric scooters rising from 110,000 in 2017 to 610,000 today, while the number of swap and charge stations has grown from 8,400 to almost 50,000.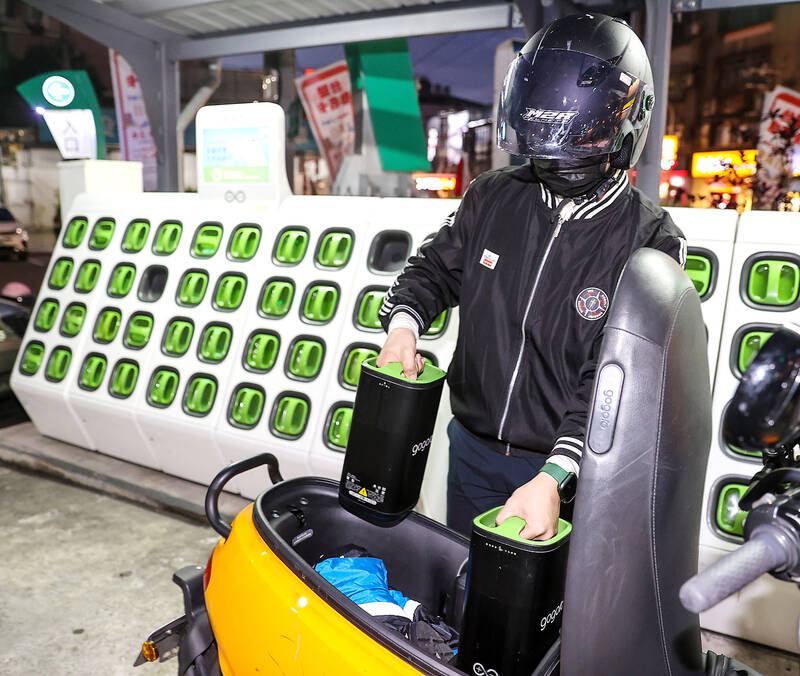 A person exchanges a battery for an electric scooter at a Gogoro battery station in Taipei on March 30.
Photo: CNA
A NT$7,000 subsidy is available for the purchase of a new heavy or lightweight electric scooter, while a NT$5,100 subsidy is available for the purchase of a mini electric scooter from next year to 2026.
Additionally, the Environmental Protection Administration is to grant NT$1,000 to those who retire their old scooters in a trade for carbon credits — permits that allow the owner to emit a certain amount of carbon dioxide or other greenhouse gas.
The program aims to cover 500,000 electric scooters and is seeking to boost their use outside the six special municipalities, Deputy Minister of Economic Affairs Tseng Wen-sheng (曾文生) said.
The Cabinet has also approved a NT$3,000 subsidy for every air-conditioning unit or refrigerator retired by households if their owners switch to more energy-efficient products, effective from next month, Lo said.
Businesses would be provided up to NT$200,000 and NT$50,000 subsidies if they shift to power-saving air-conditioning systems and LED lighting respectively, Lo quoted Su as saying.
Under the program, approximately 640,000 more energy-efficient air-conditioners and refrigerators could be installed over the next year, the Ministry of Economic Affairs estimated.
The government plans to allocate a NT$3 billion budget to fund the program.
The Environmental Protection Administration on Thursday announced that from next month, people would receive up to NT$15,000 in subsidies and incentives when replacing older vehicles with a new electric vehicle, depending on the type chosen.
Those who replace their a vehicle with a hybrid electric vehicle would receive a subsidy of up to NT$8,000, Climate Change Office Director Tsai Ling-yi (蔡玲儀) said.
Comments will be moderated. Keep comments relevant to the article. Remarks containing abusive and obscene language, personal attacks of any kind or promotion will be removed and the user banned. Final decision will be at the discretion of the Taipei Times.