Taipei rejects Hanoi labeling military exercise as 'illegal'
Taipei on Friday rejected Hanoi's characterization of its recent live-fire drill near Itu Aba Island (Taiping Island, 太平島) as "illegal," saying that Taiwan's claim to the small island in the South China Sea was "unquestionable."
The Ministry of Foreign Affairs (MOFA) said in a statement that the comments made by its Vietnamese counterpart about the military's routine live-fire drills near Itu Aba on Tuesday were "unacceptable."
Earlier on Friday, Vietnamese Ministry of Foreign Affairs spokeswoman Le Thi Thu Hang called Taiwan's military activity "a serious violation of Vietnam's territorial sovereignty," saying it had caused tensions and complicated the situation in the region.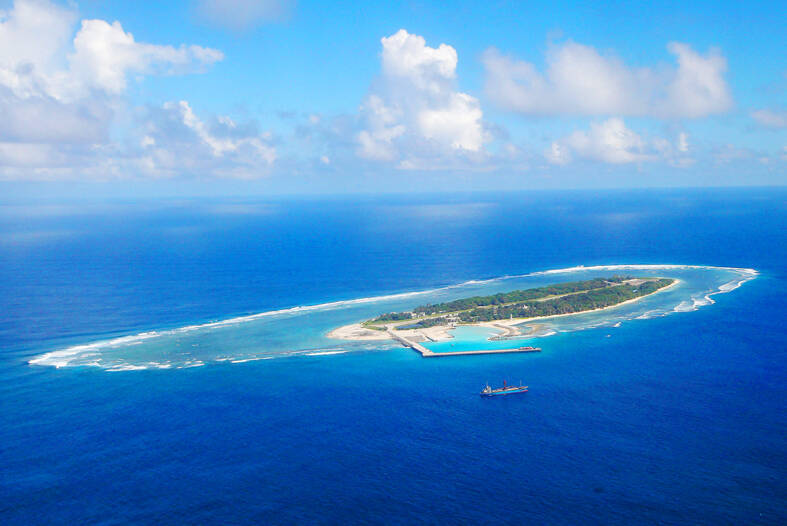 A ship is moored off Itu Aba (Taiping Island) in the South China Sea on Nov. 29, 2016.
Photo: Fabian Hamacher, Reuters
Hang said that Vietnam "resolutely opposes" Taiwan's "illegal activities" while calling on Taipei to not repeat the drill.
Neither Taiwan nor Vietnam has given details about the live-fire exercise, including the type of weapons used.
MOFA said in its statement it was "unquestionable that Itu Aba is part of the Republic of China territory" and that the government had a right to exercise its sovereign powers on the island and its territorial waters.
Taiping, the largest of the naturally occurring Spratly Islands (Nansha Islands, 南沙群島), lies 1,600km southwest of Kaohsiung and is administered as part of the special municipality's Cijin District (旗津).
The island is also claimed by Vietnam, China and the Philippines.
Taiwan administers control over the island, which is occupied by Taiwanese coast guard personnel trained by the Marine Corps, with drills regularly held there.
Comments will be moderated. Keep comments relevant to the article. Remarks containing abusive and obscene language, personal attacks of any kind or promotion will be removed and the user banned. Final decision will be at the discretion of the Taipei Times.