UK lawmaker urges Taiwan's WHO inclusion
UNDETERRED: Alicia Kearns urged closer cooperation between the UK and Taiwan, and said that she was disappointed about China's criticism of her Taipei visit
Visiting British lawmaker Alicia Kearns yesterday called for Taiwan's full formal membership in the WHO.
Allies should stand together in welcoming Taiwan to participate in more multilateral organizations such as the WHO, at which it has specialized experience to offer, Kearns told a news conference in Taipei, following her delegation's meetings with government officials.
The seven-member delegation led by Kearns, a Conservative lawmaker who chairs the British House of Commons Foreign Affairs Select Committee, has met with President Tsai Ing-wen (蔡英文) and Premier Su Tseng-chang (蘇貞昌), as well as foreign affairs and national security officials since their arrival on Tuesday.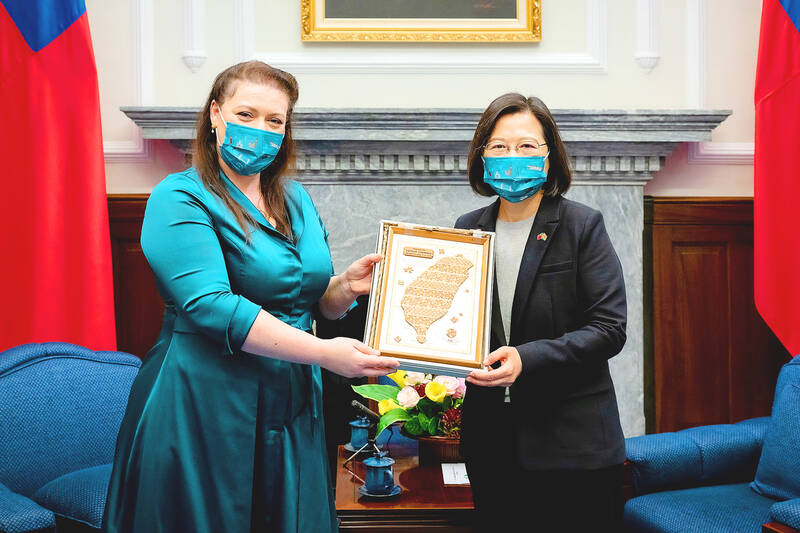 President Tsai Ing-wen, right, and British lawmaker Alicia Kearns pose for a photograph during a meeting in Taipei yesterday.
Photo: Makoto Lin, EPA-EFE
The two sides discussed military conflict, cyberthreats, defense cooperation and security issues, with a focus on safeguarding and maintaining the cross-strait "status quo," Kearns told reporters.
"And we talked about how we as the international community work together to prevent [conflict], and therefore the importance of deterrence diplomacy," she said.
"We must prevent conflict, we must ensure that Taiwan is respected, and we must safeguard its sovereignty, safeguard the Strait, and safeguard all of those who live in Taiwan and wish to continue living in a democratic way," Kearns said.
The cross-party House of Commons delegation met with Tsai earlier yesterday at the Presidential Office Building, where Tsai called on democracies to "stand more united than ever in the face of authoritarian expansion."
Tsai said that Taiwan attaches great importance to its relations with the UK and that Taipei is looking forward to collaborating more with London.
The visit came just one day after British Prime Minister Rishi Sunak said in a major policy speech that the "golden era" of UK-China relations was "over."
Kearns said Sunak's remarks did not mean the UK would "cut off" China, but rather suggested that Britain should take a more robust and pragmatic approach toward Beijing.
"We will continue to trade with China ... but we also have to be resilient, and that means supply chain resilience," she said.
In this regard, Kearns said that the foreign affairs committee would welcome deeper economic trade ties between the UK and Taiwan, as the two have "complementary economies."
Kearns told Tsai in the earlier meeting that apart from established cooperation on offshore wind power and language education, the committee hoped to further bilateral trade and investment.
Kearns also expressed the hope that Taiwan could help improve Chinese-language education in the UK, while Britain could help Taiwan reach its goal of becoming a bilingual nation by 2030.
Kearns also expressed disappointment with the Chinese embassy in London's criticism of the trip.
In a statement on Wednesday, the Chinese embassy said the lawmakers' visit to Taiwan was "a flagrant violation of the one China principle" and "a gross interference in China's internal affairs."
The embassy also said that undermining China's interests would be met with "forceful responses."
"I would be disappointed if the Chinese ambassador has criticized us for coming here," Kearns said. "We are open for dialogue and discussion, and we would always want to have dialogue with all partners to avoid miscalculations and to be able to make clear our own views."
Comments will be moderated. Keep comments relevant to the article. Remarks containing abusive and obscene language, personal attacks of any kind or promotion will be removed and the user banned. Final decision will be at the discretion of the Taipei Times.