Students sent home as China boosts police presence
Chinese universities sent students home and police fanned out in Beijing and Shanghai to prevent more protests yesterday after crowds angered by severe anti-virus restrictions called for Chinese President Xi Jinping (習近平) to resign in the biggest show of public dissent in decades.
Authorities have eased some controls after demonstrations in at least eight mainland cities and Hong Kong — but showed no sign of backing off their larger "zero COVID" strategy that has confined millions of people to their homes for months at a time. Security forces have detained an unknown number of people and stepped up surveillance.
With police out in force, there was no word of protests yesterday in Beijing, Shanghai or other major mainland cities. A far smaller group gathered at the University of Hong Kong to protest virus restrictions.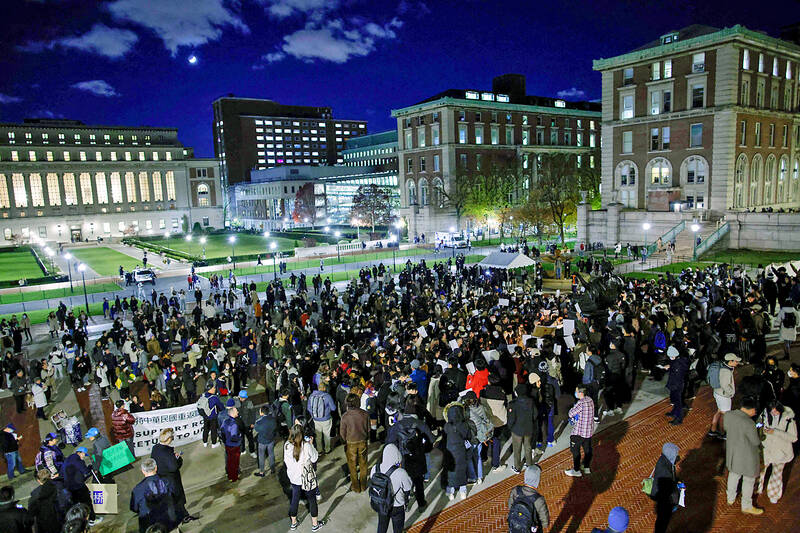 People gather at Columbia University in New York City on Monday during a protest in support of protests in China calling for an end to harsh COVID-19 curbs.
Photo: AFP
Beijing's Tsinghua University, where students rallied over the weekend, and other schools in the capital and the southern province of Guangdong said they were protecting students from COVID-19 by sending them home. However, dispersing them to far-flung hometowns also reduces the likelihood of more demonstrations.
Beijing Forestry University also said it would arrange for students to return home. It said its faculty and students all tested negative for the virus.
Universities said classes and final exams would be conducted online.
In Shanghai, police stopped pedestrians and checked their phones on Monday night, a witness said, possibly looking for apps such as Twitter that are banned in China or images of protests. The witness, who insisted on anonymity for fear of arrest, said he was on his way to a protest, but found no crowd there when he arrived.
Sympathy protests were held overseas, and foreign governments called on Beijing for restraint.
US Secretary of State Antony Blinken told reporters that Washington's position on the protests in China was the same as it was for demonstrations anywhere.
"We support the right of people everywhere to peacefully protest, to make known their views, their concerns, their frustrations," he said yesterday in Bucharest.
In London, the British government summoned Chinese Ambassador to the UK Zheng Zeguang (鄭澤光) as a protest over the arrest and beating of a BBC journalist in Shanghai.
British Secretary of State for Foreign, Commonwealth and Development Affairs James Cleverly, who was attending a NATO summit in Bucharest, said that "it is incredibly important that we protect media freedom. It is something very, very much at the heart of the UK's belief system."
Chinese Ministry of Foreign Affairs spokesman Zhao Lijian (趙立堅) disputed the UK's version of events, saying Edward Lawrence failed to identify himself as a journalist and accusing the BBC of twisting the story.
Asked about criticism of the crackdown, Zhao defended Beijing's anti-virus strategy and said the public's legal rights were protected by law.
The government is trying to "provide maximum protection to people's lives and health while minimizing the COVID impact on social and economic development," he said.
Comments will be moderated. Keep comments relevant to the article. Remarks containing abusive and obscene language, personal attacks of any kind or promotion will be removed and the user banned. Final decision will be at the discretion of the Taipei Times.